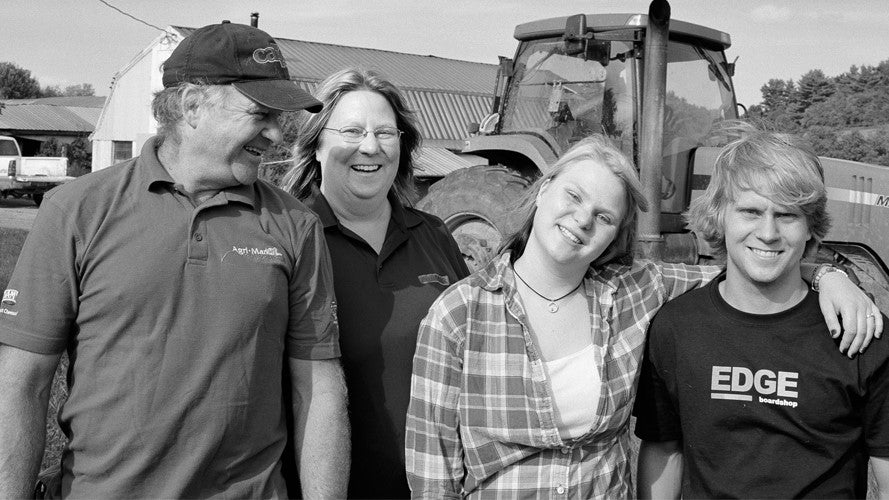 Farmer Friday: Jennifer Banker, Blue Hill Farm
Morrisville, New York
For this week's Farmer Friday we have Jennifer Banker, a 4th year student of a 5-year Equine Science program at SUNY Cobleskill. Although she grew up on a Cabot Dairy Farm, Blue Hill Farm in Morrisville, NY, she decided that working with horses is where her passion lies. She says jokingly, "It was difficult to convince my dad to let me be a horse person but my love for equine studies came from my love for animals, which I learned from him at a young age." Jennifer hopes to become a licensed therapeutic riding teacher and is a member of the Varsity Equestrian Team and the Student Horseman Association, both at SUNY Cobleskill, and she also volunteers her time in the Agriculture Birthing Center at the New York State County Fair.
This past June, Jennifer had a month long internship volunteering to work at a Therapeutic Riding Center called "Horses Healing Humans" in Stonington, Connecticut. Jennifer took the time to answer a few questions about her volunteerism, and also her internship:
When did you start volunteering?

"I started volunteering when I was in high school. I did little projects here and there. But the big volunteer trip that sparked my interest in giving back, was when I went to New Orleans in 10th grade. I participated in a project called "Operation Southern Comfort", where I rebuilt homes for Hurricane Katrina victims."
At your internship, what would your normal day consist of?

"A Day in the Life of Jennifer at Horses Healing Humans: I woke up at 7:30. Then I would go help feed the horses, clean stalls, and then clean paddocks (which are fenced-in pastures). After everything was cleaned I was given little projects to do until clients arrived. These projects ranged from doing paperwork, gardening, and training horses. Once the clients came I would lead walk (lead the horses around), side walk (stand next to the client on the horse) or use a specified hold on the client (to help keep them balanced while riding the horse). Normally, I would end my day around 6pm. Some days were extremely busy, and some days were very relaxed. Throughout my internship I had a lot of hands on experience with both the clients and the horses."
Do you work on your Family Farm when you're home on breaks from school?

"I work on the farm as much as I can. Mostly in the summer, but also during the school year on weekends when my dad needs my help. I can be found feeding calves, driving tractors, and milking cows; I can do anything on the farm. But my studies are very important to me, so when I am not working on the farm, I am at school studying. I am consistently on the Dean's List – which is a great accomplishment for me!"
What drives your passion for Equine Science, and therapeutic riding?

"My passion for Equine Studies came from my love for animals. I wanted to work hands-on with animals, which is also the best way to learn about them. When I was little, I had a horse, and I took riding lessons. I had the honor to meet Olympic gold medalist, Beezie Madden. But my interest for therapeutic riding came from my older brother, Ben, who works in adaptive sports. I love how he has a positive impact on many people through his job. It made me realize I wanted to use animals to help people with disabilities and change as many lives as I possibly could."
What have you learned from being away from home and doing this internship?

"Living away from home was kind of tough. I never knew what I would take for granted at home, like being woken up by my dog at 6:30 in the morning. But at the same time I learned how to fend for myself and how to make decisions; in a way, I discovered who I really was. Plus it was a great opportunity to work directly in the field that I hope to spend the rest of my life in."
What is one thing you would like people who have never experienced farm life to know?

"I want people to know that farm life is not easy. It's not all about the coveralls and straw hats. It's about getting dirty when you need fix the mower, chase a cow when it gets out at 2am, or even having to assist with the birth of a calf when you're on your way to an important event."
Do you see agriculture as a part of your future?

"I see agriculture as a big part of my future! If I don't end up working directly with horses or cows, I hope to be in the classroom teaching agriculture to the future kids of America."