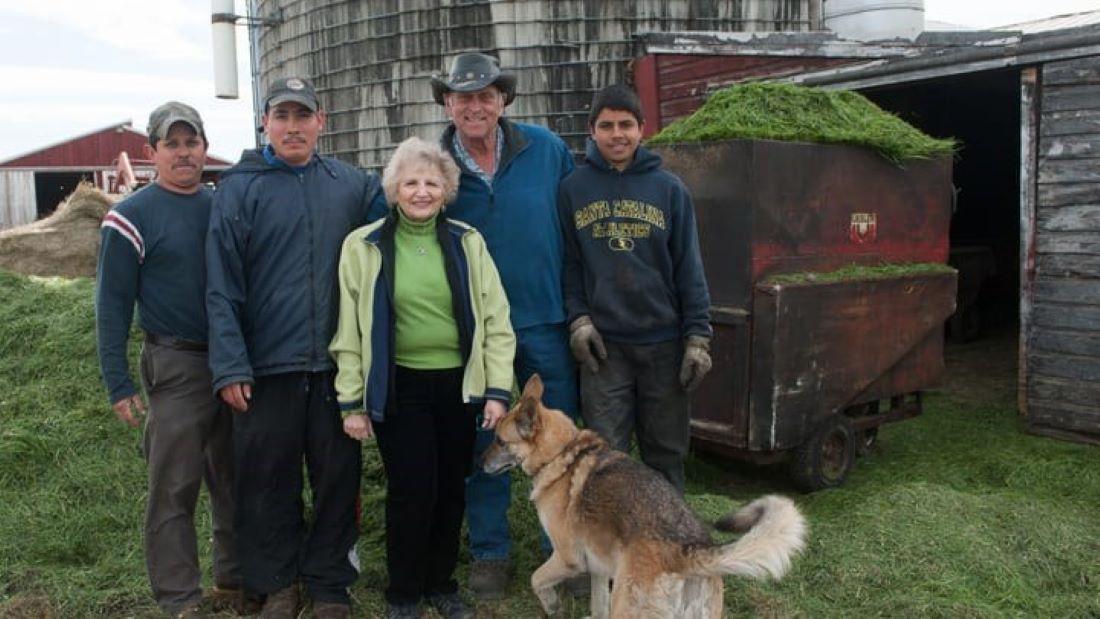 Farmer Friday: Morgan Hill Farm & Mountain View Inn
Addison County, Vermont is known as the "Land of Milk and Honey" for its natural bounty and wealth, which is apparent to any visitor who has spent even a few hours among its lakes, forests, and fields. It is home to hundreds of dairy farms which cover the land from the Champlain Valley east to the foothills of the Green Mountains. Here, in the small town of Bridport, is where Jerry and Cheryl Connor call home.
In addition to their successful dairy operation, which became fully organic in May 2012, the Connors decided to open their historic home – the Mountain View Inn – to visitors as a relaxing Bed & Breakfast. Guests could choose to spend their days on the porch enjoying views of the Champlain Valley and the Adirondack Mountains, or they could join Cheryl and Jerry as they milked the cows and fed the calves and chickens. The B & B is now closed.

Each morning, Cheryl served a home-cooked organic breakfast that rivals meals served at the finest gourmet restaurants. This included her famous frittatas, made with farm fresh eggs and seasonal vegetables and herbs, as well as homemade butter, and her jellies and jams, which regularly win the blue ribbon at the annual Addison County Fair.
Cheryl took a moment out of her busy day to give us a sense of what it's like to be an innkeeper. Thanks Cheryl!
Do visitors every help with the chores?
Most visitors just want to do a farm tour, with the exception of Middlebury College freshmen, who tour regularly. They always want to milk a cow!
What surprises visitors most about life on the farm?
Most visitors are amazed at the amount of work it takes to produce organic milk.
Do you have many repeat visitors?
Yes. We have many Middlebury College parents and others who enjoy the farm tour experience and come back to visit often.
What time is the busiest for guests?
Our busy season starts in May with Middlebury College graduation followed by weddings in our area. We work with a couple of wedding venues and book our rooms for their weddings. The busiest time is fall with foliage guests.
Do visitors have a favorite dish you serve?
One of my signature breakfast dishes is a blueberry stuffed French toast that makes a custard as it bakes. I serve it with Vermont maple syrup. I always use Cabot products and organic vegetables in my frittata.
What are some of the local activities for guests?
The Middlebury area is booming with activities throughout the year. In June, Monument Farms celebrates another farm anniversary with antique tractor parades and other activities. The Festival on the Green, in early July is the kick off for many free concerts and activities. The UVM Morgan Horse Farm is open throughout the summer with many scheduled activities.
Addison County Field Days starts the first full week of August. This is a true agricultural fair with cows, sheep, horses, demolition derby and tractor pulls. There is something for everyone at the fair. There is a bike Tour de Farm that brings many bikers to the area in late summer and again during apple time. Fort Ticonderoga is directly across the lake and is filled with history. We are only 8 miles away from Mount Independence historical site and Lake Champlain. These are just a few of the activities close to our farm!