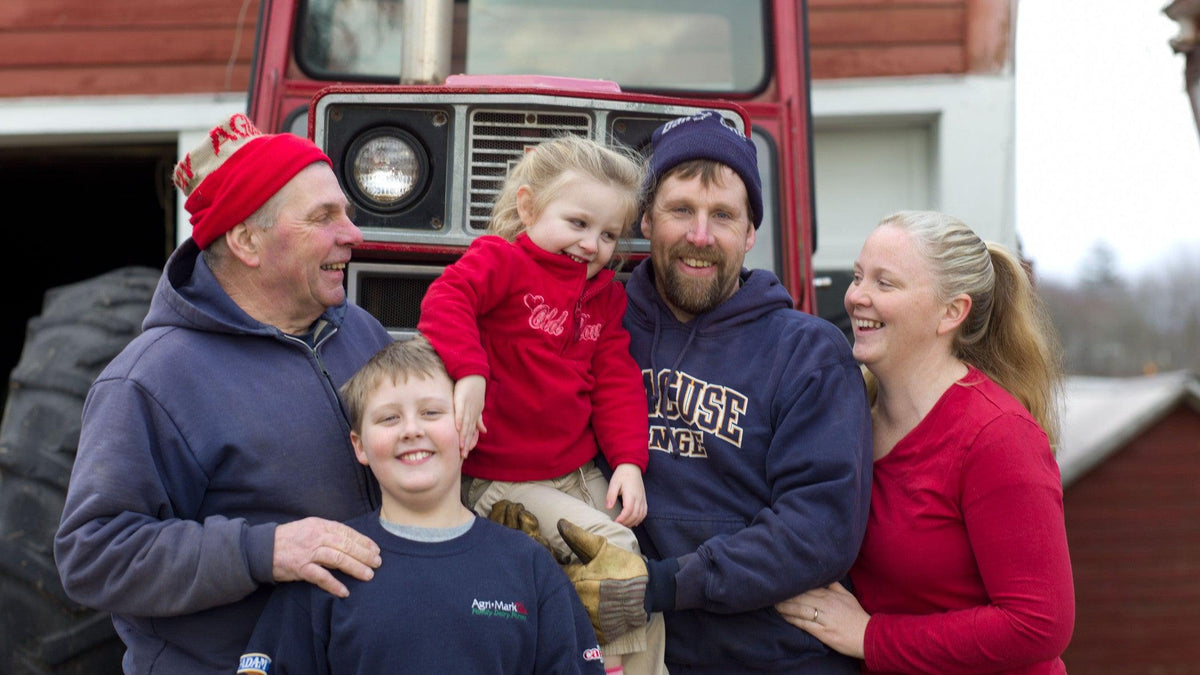 Farmer Friday: Neal Rea
Cambridge, New York
If you were to visit one of our Cooperative's Annual Meetings, it would remind you of a family gathering. Family members from our 1,200 member farms are invited to attend, learn and vote on the issues important to the cooperative. The various committees are represented; the Board of Directors, Voting Representatives, Legislation and Education Committee, Sustainability Committee, Young Cooperators, Hauling Committee and Resolutions Committee – all made up of farmers.
There are meetings throughout the day to discuss the year's business. There are presentations and there are votes. There are meals where everyone takes the time to sit down and catch up with one another. Those fortunate enough to have Town Meeting would feel right at home. There are always many familiar faces and excitement to meet the new comers, as well. No matter what the milk price is or how much cheese was sold, there is a sense of community and good will.
As Chairman of the Board for the past 8 years and Board veteran since 1995, Neal Rea sets the tone for the Cooperative. Neal is an exceptionally cordial, patient, thorough and hard-working man. He often talks of the pleasure he gets in working side-by-side with his family and the pride he takes in working in harmony with the rest of the Board of Directors to develop policies that will benefit all the farm families who own Cabot. His involvement at the Board level also runs through his blood, with his father serving as a Director for Agri-Mark and the predecessor Co-ops.
It's easy to see how our Board applies the lessons taught on the farm to guiding the cooperative. Just like back home, it's a family affair. Neal's enthusiasm for teamwork, education, patience and commitment to family and community all serve the Cooperative well. Farmers are the embodiment of the 7 Cooperative Principals, and none more so than Neal.
Neal himself is a 6th generation dairy farmer on his family's farm in Cambridge, NY. He works side-by-side with his wife Carol, their two sons Thane & Travis, and Travis's wife Karen. Carol handles all the financial responsibilities. Thane's wife, Dawn, is also involved, but works off the farm. Neal and Carol's grandchildren have shown a strong interest in the farm and can often be found helping out.
Reafield Farm has been in operation for more than two centuries. In 1913 Neal's grandfather purchased his first registered Holstein. The Rea Family now milks 260 registered Holsteins and they own about 500 acres in the upper Hudson Valley. Neal recalls growing up hearing stories of milk cans being loaded on trains bound Boston in the early 20th Century and there is every indication those stories will be handed for many generations to come.
This week, Neal sat down to answer our Farmer Friday questions:
What is your favorite part of being a farm family?
We get to work side by side daily with our family members planning our daily activities and even developing our long range plans. It is a great joy for Carol and I to watch our grandchildren grow and be so involved on the farm.
What is your least favorite farm chore?
Probably fixing fence. However, the satisfaction of keeping the animals out of the road and off the neighbor's lawn outweighs the tedious task.
What is your Next Sustainability Story?
We have done energy audits and successfully installed a variable speed vacuum milking pump and installed solar panels to preheat water before it enters the hot water tanks. We also have used conservation tillage practices for some time on our farm. Conservation tillage reduces soil erosion and runoff.
Does anyone on the farm volunteer in your community?
Our son Thane has been a Boy Scout leader for 20 plus years with many of his troop achieving the rank of Eagle Scout. Our son Travis is active on the Town Board and with NY Farm Bureau.
What is your favorite time of year?
Definitely Fall: the corn harvest, crisp fall air and great colors…who could wish for more?
Click here to see the interview with Neal Rea.