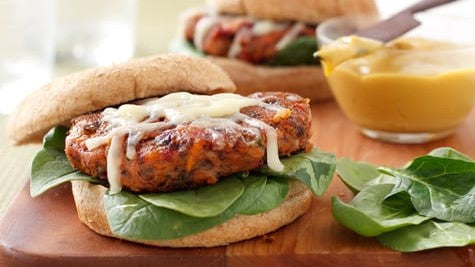 Grilled Burger Recipes
They are the Superstars of the grilling season. Whether they're plain or gussied up, grilled burgers are a perennial favorite. And one of the best things about burgers is that there are so many ways to enjoy them.
Sure, a traditional hamburger on a toasted bun is American soul food at its most basic, but there are myriad other ways to enjoy a burger's charms. Whether you're a carnivore or a vegetarian, there's a burger to tickle your fancy.
First, let's explore ways to make each burger come off the grill as a thing of perfection. Our friend, and Cabot Cheese Board member, Chef Perry Perkins of Hautemealz.com shares his secrets on how to grill a perfect hamburger with us. I thought I was a grill master, but Chef Perry's post taught me a few new burger tips that I can't wait to try.
You can also go to this quick YouTube video from The Art of Manliness for more burger grilling tips and tricks.
 She had us at "Fried Pickle." At least that's one of the many awesome things about this Cheese Bellied Fried Pickle Burger from What's Gaby Cooking. The crunchy pickles give the cheesy burger just the right bite – a perfect quirky addition that makes this burger pickalicious.
Are you a fan of turkey burgers? They're kind of a big deal in my house. So these Taco Turkey Burgers from Rachel Cooks are always a welcome addition to the menu. In addition to adding taco seasoning to the ground turkey, the secret to these yummy burgers is….no, I'm not giving it away. Check out the recipe yourself. You won't be sorry.
Do you love mushrooms? These Portabello Alpine Beef Burgers, a popular recipe from the Cabot website, add chopped mushrooms to lean ground beef to impart flavor as well as yielding a deliciously most burger.
If you're not a meat eater, it doesn't mean you have to miss out on all the burger fun. Here are two great vegetarian options for you to try. They're a tasty change of pace for the whole family.
First, try our Black Bean Veggie Burgers. They're loaded with sweet potatoes, black beans, and Cabot Seriously Sharp Cheddar for a filling and tasty alternative to traditional beef.
Another meat-free burger alternative are these Quinoa Burgers from Eating Well, Living Thin. Quinoa is a versatile, healthy, and delicious alternative to rice and pasta and makes these vegetarian burgers a treat for all who try them. Of course the addition of veggies and cheddar cheese only adds to their appeal.
Here's a burger that combines classic tastes to rock your burger world. This Horseradish Burger with Cheddar and Grilled Onions has bold, traditional flavors that will set things right from the very first bite. Intense deliciousness will ensue.
Rachel Matthews of A Southern Fairy Tale calls her Roasted Poblano Chipotle Cheddar Burgers "moment-of-silence, moan-worthy." We love her description: "This is the burger that you want to make for special occasions, for backyard barbecues, to impress the neighbors, to feed your favorite people, or just because today ends in Y and you're feeling the need to get your grill on." And all we can do is nod in agreement.
One last delicious addition to our Burger Roundup is from How Sweet It Is. Her Smoky Sweet Cherry Pepper Cheeseburgers produce a tiny explosion of delicious tastes in your mouth. Bacon! Cheddar! Smokey spread! And peppers! Really, you could probably rule the world with this burger.
So now that we've primed your burger-grilling pump, try one of these outrageously yummy recipes or just steal a few great ideas and head off in your own direction.
Carpe the grilling diem. It won't last forever.