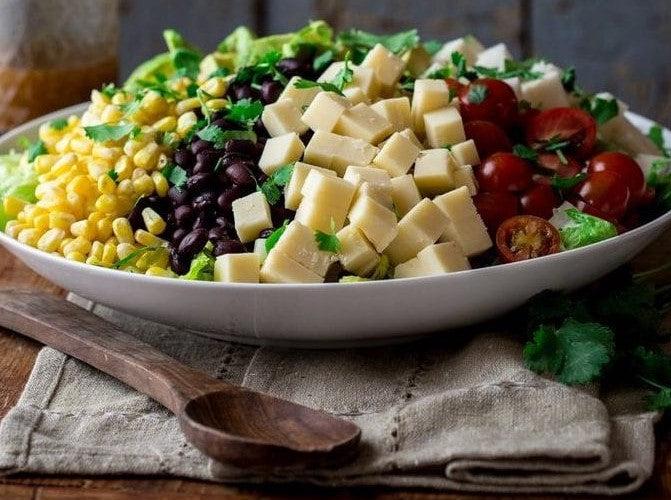 Host an Easy Summer Potluck Party
One of the easiest ways to bring friends, family and neighbors together this summer? Throw a potluck party! It's minimal effort for everyone involved. As the host, you just need to start a shared online doc and asks guests to sign up to bring one dish. And it's always fun to see what appetizers, entrees and desserts everyone will show up with.
Here are 5 of Cabot's best potluck recipes for your party:

A host of our favorite summer veggies are the feature of this pasta dish, along with creamy Tzatziki dressing made with Cabot Greek Yogurt. Option: Add chicken for an even heartier version. (This is one of our most popular potluck ideas!)
A delicious grain-free recipe, this dish features an ultra-creamy sauce made from Cabot Plain Greek Yogurt, lime and peanut butter. Red bell pepper, cilantro and purple onion dress it up for the party.

This is one of those perfect potluck recipes that takes only minutes to throw together. It's a mix of chicken, chickpeas and good-for-you veggies, plus olive oil, lemon juice, red wine vinegar and Cabot Sharp Cheddar.

Tell whoever is bringing the chips to bring this party dip too! It only takes a few minutes to come together, and it can be prepared a day in advance.
This healthy potluck recipe is perfect for a crowd. Not only does it look beautiful—a rainbow of romaine hearts, yellow corn, black beans and red tomatoes—it serves 16!
5 Tips For Planning Your Potluck Party
You'll likely be setting up outside, in a front or backyard if the weather is nice. (Fingers crossed!) Here are a few tips and tricks to set up your space:
1. Make It Pretty: Easy Potluck Ideas
-Set out tablecloths in coordinating colors but different patterns for a fun yet cohesive look.
-Add some flowers to the tables in colorful mugs or mason jars. Pick your own if you have a garden!
-Spend $5-10 on balloons from your local grocery store to really add to the festivities.
-If you're hosting an evening potluck, set out candles on your tables.
-Buy some paper plates and napkins in the same color as the rest of your decor.
---
2. Remember Serving Utensils
-Remind potluck-guests to bring along a serving utensil for their dish, since you likely won't have enough to go around.
-For a sustainable option, ask attendees to bring their own silverware. For easy clean-up, pick up some plastic forks, knives and spoons.
---
3. Label The Dishes
-This is especially important so people with allergies can tell what they can and cannot have (and so everyone will know what that dish from Aunt Margaret actually is!)
-This is also a fun opportunity to make it pretty (see step 1): you can also provide place cards and markers so guests can get creative drawing a cute label for their dish when they arrive.
---
4. String up Twinkle Lights
-Get out your twinkle lights from the holidays to wrap around your porch or deck for a fun vibe.
-Most hardware stores also sell inexpensive outdoor hanging lights you can purchase before the potluck to decorate.
---
5. Set Out Bug Spray & Sunscreen
-Provide a can of bug spray and a spray-on sunscreen for guests, depending on what time of day or night you are hosting the potluck.
-Tiki lights and citronella candles are nice touches too, and can be found at your local dollar store or hardware store.
Have fun!
---