Hearty & Spicy Chili Recipe
Category
Soups Stews & Chili
Servings
If you're looking for a spicy chili recipe that will warm you right up, try our Hearty & Spicy Chili! Seasoned with chili powder, ground cumin, garlic powder and red chili pepper flakes, this will surely satisfy your desire for spicy flavor. And if you or some family members aren't big fans of dishes that are too spicy, you can always reduce the red chili flakes to ½ (or even ¼) teaspoon to lessen the heat a bit. Prepare, enjoy, and then share this hearty chili recipe with family and friends on Facebook, Pinterest, Instagram and Twitter.
Our Hearty & Spicy Chili serves six and is just the meal to warm you up on a chilly winter night. To make this chili, you'll need: a pound of ground beef, a cup of chopped white onion, garlic cloves, a cup of finely diced red bell pepper, a can of kidney beans, two cans of diced tomatoes, one tablespoon of tomato paste, the seasonings listed above (adjusted to your liking), and salt and pepper to taste. And, of course, chili just wouldn't be the same without a generous amount of tasty garnishings that serve to balance out the spiciness. Our Cabot Sharp Cheddar cheese or Cabot Pepper Jack cheese will perfectly compliment this hearty chili recipe. We also recommend topping it with fresh cilantro and our Cabot Sour Cream.
When you're in the mood for a meatless chili dish, be sure to try out our Vegetable and Bean Chili! Kidney beans and black beans provide a great source of protein and are combined with veggies, spices, and our Cabot Sharp Cheddar cheese to make a chili that's lactose-free and delicious. Cabot is a cooperative of 800 farm families and we work hard to produce our award-winning cheeses. We know you and your family will enjoy our Hearty & Spicy Chili recipe and we'd love to hear your thoughts. After trying the dish, please rate and review the recipe – and let us know if you tried it as is, or if you adjusted the spices to better suit your tastes.
Ingredients
Chili:

1 pound of ground beef
1 cup chopped white onion
3 cloves garlic, minced
1 cup finely diced red bell pepper
1 15.5 ounce can of rinsed and drained kidney beans
2 15.5 ounce cans of diced tomatoes
1 tablespoon tomato paste

2 tablespoons Simply Organic Chili Powder

2 teaspoons Simply Organic Ground Cumin

1 teaspoon Simply Organic Garlic Powder

1 teaspoon Simply Organic Red Chili Pepper Flakes*

Salt and ground black pepper to taste

Garnish:

2 ounces Cabot Sharp Cheddar or Cabot Pepper Jack Cheese, grated (about ½ cup)

Fresh cilantro sprigs, chopped red onion, Cabot Sour Cream
Directions
HEAT a large heavy skillet over medium-high heat; add beef and cook, breaking up with spoon, until cooked through.
ADD fresh onion, fresh garlic and red bell pepper and cook for 3 to 4 minutes longer.
ADD beans, diced tomatoes, tomato paste, chili powder, cumin, garlic powder, and red chili flakes, stirring to combine.
COVER and cook on low setting for 30 minutes to 1 hour, or longer in a slow cooker if desired.
SEASON with salt and pepper.
SERVE in bowls topped with grated cheese and other garnishes.
Nutrition
Amount/Serving
% Daily Value
Fat

15 grams
23%

Saturated Fat

6 grams
30%

Cholesterol

60 milligrams
20%

Sodium

560 milligrams
23%

Carbs

30 grams
10%

Fiber

10 grams
40%

Protein

24 grams

Calcium

130 milligrams
15%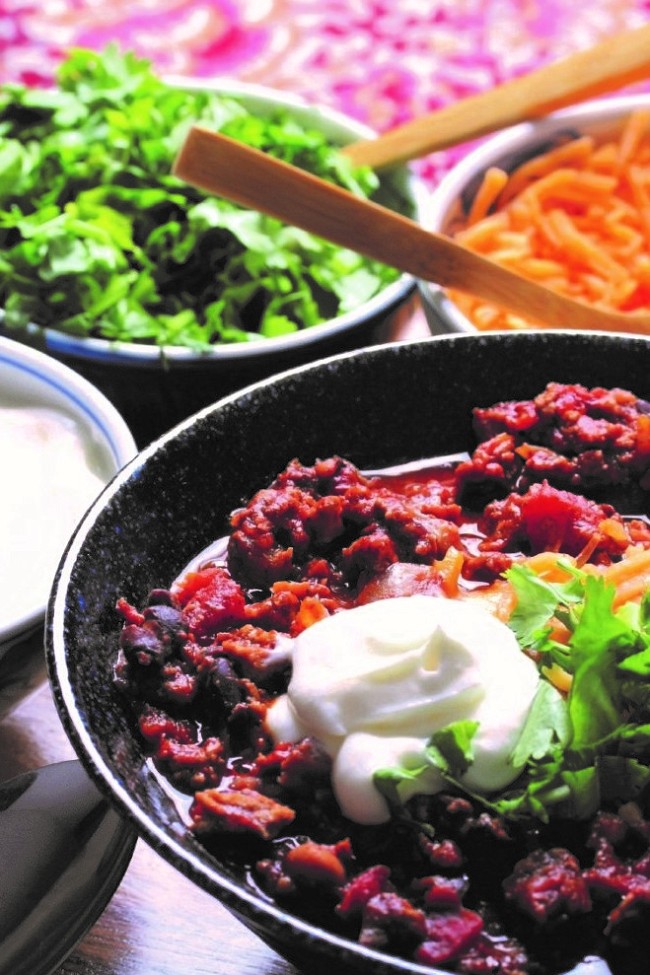 Recipe Tips
*If you prefer less spice, reduce the red chili flakes to ½ teaspoon.