Hot as a Torch! Jalapeño Poppers (aka Baked Jalapeno Poppers)
If you love spicy food, then these jalapeño poppers are a must! Whether you're looking for the perfect hors d'oeuvre for a Mexican meal or you're on snack duty for the big game, this baked jalapeño poppers recipe will quickly become a go-to. This dish is easy to prep and will win the hearts of anyone who loves a little spice in their snack. You can pair these baked jalapeño poppers with chips and guacamole or veggies and dip for a balanced spread. No matter how you serve them, everyone will be a winner when they pass around the plate of poppers! Be sure to rate the recipe and leave us a review. We would love to hear your thoughts and tips on this fiery recipe!

Our baked jalapeño poppers are not for the faint of heart. Be prepared to light up the taste buds and add a little zest to the snack spread! Our award-winning Cabot Cheddar combines with rich Cabot Cream Cheese for a smooth, delicious filling that balances out the spicy pop of the peppers. Garlic powder and chipotle pepper round out the cheese filling with extra spice flavors. Round out the dish with our breadcrumb topping for a little crunchy, buttery flair. Cabot Sour Cream makes the ideal dipping sauce for these zesty jalapeño poppers!
This recipe makes 24 jalapeño poppers, but they'll be such a hit that you might have to make more! When the poppers have been popped and the plates wiped clean, don't forget to head back over to rate the dish and write a review. Your tips and ideas can help fellow spicy-lovers make their jalapeño poppers even more perfect!
Ingredients
12 jalapeño peppers, about 2½ inches long

4 ounces Cabot Alpine Cheddar, Cabot Mild Cheddar or Cabot Sharp Cheddar, grated* (about 1 cup)

3 ounces Cabot Premium Cream Cheese

¼ teaspoon garlic powder
¼ teaspoon ground chipotle pepper
2 large eggs
⅔ cup unflavored dry bread crumbs
½ teaspoon salt

3 tablespoons Cabot Sour Cream, plus more for dipping

2 tablespoons milk
2 scallions, sliced
Directions
PREHEAT oven to 325°F. Lightly oil baking sheet and set aside.
CUT peppers in half lengthwise; scrape out and discard seeds.
MIX together cheddar, cream cheese, garlic powder and chipotle pepper in a small bowl.
FILL each pepper half with some of mixture.
BEAT eggs in a bowl until combined and frothy. In another bowl, stir together bread crumbs and salt. Roll each filled pepper in egg, then in bread crumbs. Place on baking sheet.
BAKE until tender and browned, about 30 minutes. Whisk 3 tablespoons sour cream with milk. Drizzle over the poppers and sprinkle with scallions. Serve warm, with additional sour cream for dipping.
Nutrition
Amount/Serving
% Daily Value
Fat

13 grams
20%

Saturated Fat

8 grams
40%

Cholesterol

106 milligrams
35%

Sodium

893 milligrams
37%

Carbs

5 grams
2%

Fiber

1 grams
0%

Protein

8 grams

Calcium

212 milligrams
21%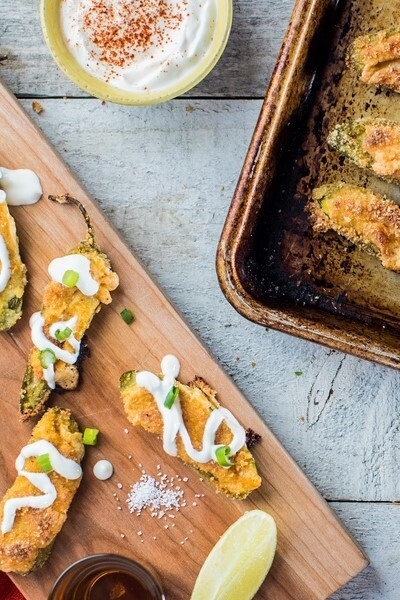 Recipe Tips
*TIP: Or use a spicy flavor, such as Cabot Habanero Cheddar, omitting ground chipotle pepper.