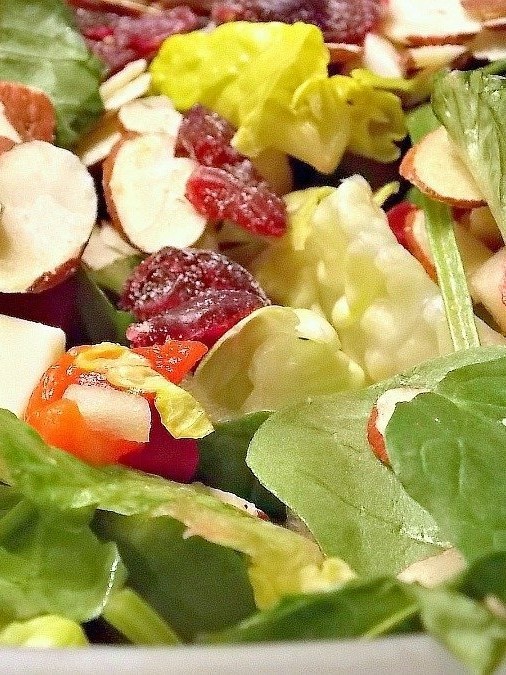 Leslie Loves Veggies Chopped Vegetable Dinner Salad
If the family is looking to eat light and healthy, then make sure to try this chopped vegetable salad recipe. It's easy to make, features tons of delicious and refreshing vegetables and it also packs plenty of flavor—because it calls for the use of Cabot White Oak Cheddar (diced), this salad has plenty of tangy bite that will surely make for one satisfying dinner or lunch. After making this tasty salad, rate and review it, and also make sure to share any tips or tricks you might have about this recipe with your friends and family on Facebook or Twitter. We're eager to hear your feedback!
Salads are simple to make, and this particular chopped salad recipe only calls for the simplest of ingredients: romaine lettuce, spinach leaves, grape tomatoes, chopped beats, garbanzo beans, red peppers, an apple, olives and a cucumber. You can also make the dish a little more flavorful by adding six ounces of Cabot White Oak, and by tossing in some almonds and roasted pomegranate seeds. For the dressing, mix together one packet of Zesty Italian Dressing mix with olive oil and balsamic vinegar.
Cabot produces some of the most popular cheeses in the nation—our cheddar cheeses are award winning and incredibly delicious. We're confident that if you try any of these recipes that feature our cheeses, you and your family will not be dissatisfied. Furthermore, we understand the importance of eating right, which is why we do our best to feature recipes like this chopped vegetable salad. After trying this recipe out for yourself, please rate and review it—we're eager to hear some feedback about this dish!
Ingredients
Romaine lettuce
Spinach leaves
1 cup grape tomatoes
½ can beets, chopped
½ can garbanzo beans, rinsed and drained
Roasted red peppers, chopped
1 medium apple, peeled and chopped
6 or 7 green olives, sliced or chopped
1 medium green, yellow or red pepper, chopped
1 cucumber, seeded and chopped

6 ounces Cabot White Oak Cheddar, diced (about 1½ cups)

Wonderful Almond Accents, Sweet Roasted Pomegranate, ¼ of bag

Dressing:

1 packet of Zesty Italian Dressing Mix
Olive oil
Balsamic vinegar