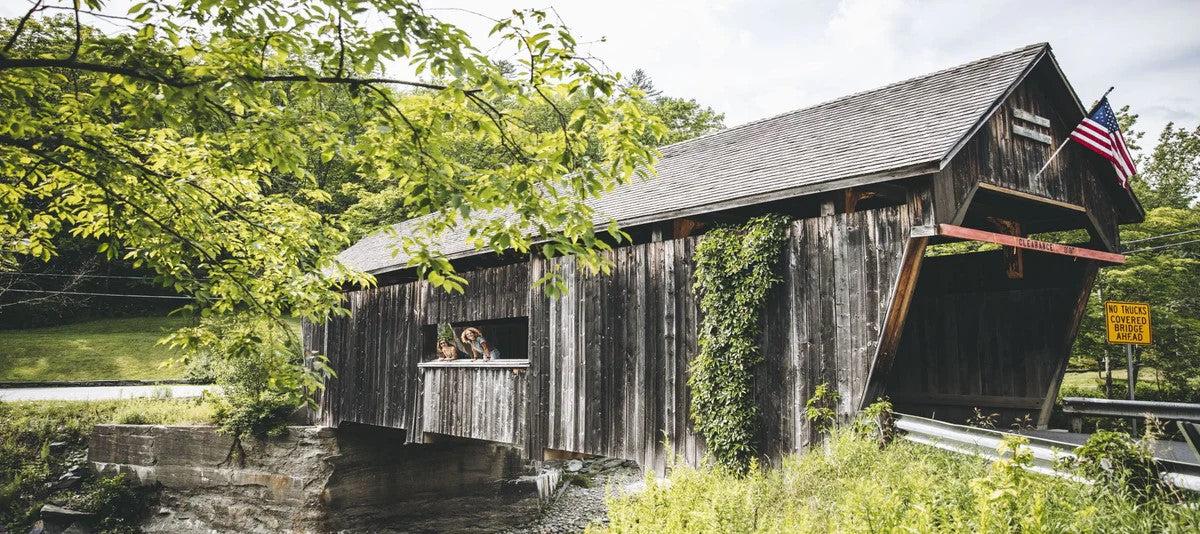 72 Hours in Vermont
A weekend getaway to the idyllic landscape of Vermont. Whether you drive north along scenic interstate 89 to enter the Green Mountain state or fly into Burlington International Airport, we've pulled together a three-day weekend that is sure to be both exciting, and relaxing, delicious, and delightful. Whether you are an adventure addict, a foodie or someone looking for a little R&R, there's something for everyone in this loose schedule. Pick an activity or two, or follow the whole list if you want someone to do the planning for you.
---
Day 1: Mad River Valley
Starting in the Mad River Valley, a stop at Red Hen in Middlesex is a must. Their fresh baked breads and pastries are delightful and during the summer months their maple creemees in homemade waffle cones will tingle your taste buds.
Head down Rt 100 towards Waitsfield for a dip in one of the many swimming holes along the Mad River like the one next to the Sweet Spot (a great stop for a cuppa coffee) and then snag a photo at the covered bridge in Warren.
Covered bridges are iconic in Vermont and about the epitome of quaint cuteness. The winding drive up to Mad River Glen is beautiful during the summer and fall and the iconic single chair makes for a fun photo as well. Finish off the day's adventures with beers at Lawson's Tap Room for a casual dinner and some of Vermont's best brews. If you didn't get a creemee at Red Hen, or are ready for round two, stop by Canteen Creemee for a sweet treat to end the day.
---
Day 2: Stowe, Vermont
Head up through Waterbury to Stowe for day two of your Vermont excursion. There are plenty of lovely options for great bike rides depending on your ability and we recommend checking out the Stowe Bike Path for some family friendly fun or the more advanced riders can check out the trails at Cady Hill or the Cheddar Shredder single track trail that Cabot Sponsored. The Cheddar Shredder is a flowy, buffed out trail, with some technical features to test out your skills. It can be accessed off of the Haul Road in Stowe or via a greater single track trail system..
After your bike ride, enjoy some fun for kids (or bigger kids) with a stop at Percy's Farm, a Cabot Farm, that has a great corn maze and a few calves and goats for the kiddos to feed and pet. Drive back through scenic Stowe, grab a coffee at PK Coffee and visit the Cabot Farmers Store for some delicious Vermont goodies and a charcuterie board ready for lunch after your adventures. While there, stop by our B Corp friends at Lake Champlain Chocolates next door for a sweet treat. Prohibition Pig and Hen of the Wood are popular spots for dinner in Waterbury to enjoy some locally grown and well-prepared meals.
---
DAY 3: Burlington, Vermont
On your last day in Vermont, we recommend an adventure on foot with a hike up one of Vermont's most popular mountains – Camel's Hump. There are several options for how to ascend this 4,000ft peak, but the top two favorites both start on the Huntington side. Either take the Burrows trail up and down for the fastest and easiest route, still clocking in at about 4.5 miles it'll be a great adventure to start your day. Or if you're looking for something a little longer and more challenging you can turn the hike into a loop by going up Forest City trail to the Long Trail and then after summiting take Burrows down back to the parking lot. We recommend planning your route and downloading any requisite maps in advance as cell service is spotty in this area. From the summit you can enjoy views of the surrounding mountains and hills and get an idea for why Vermont is called the Green Mountain State.
If a big hike feels like too much after riding bikes yesterday, stop by Catamount Outdoor Center in Williston on your way to Burlington for some beautiful woodland trails. These trails are great during all four seasons, free to walk or run on in the summer and a trail pass for mountain biking and xc skiing/snowshoeing can be purchased in the wintertime.
After your outdoor activities grab a coffee at Sweet Simone's in Richmond and head into Burlington to finish off your weekend with a walk down Church Street for some shopping and noshing. This pedestrian mall is full of everything to keep you entertained for an afternoon, from street buskers and entertainers to specialty shops, cafes, and restaurants. There really is no better way to cap off a weekend well spent in Vermont than a leisurely stroll on the Burlington Waterfront at sunset. If it's summertime and you haven't had your creemee fill yet, the black raspberry and maple creemees at Burlington Bay are sure to delight.
---
This post was written & photographed by Gretchen Powers – filmmaker, photographer, and writer with a passion for storytelling and capturing the essence of a person, place or thing.