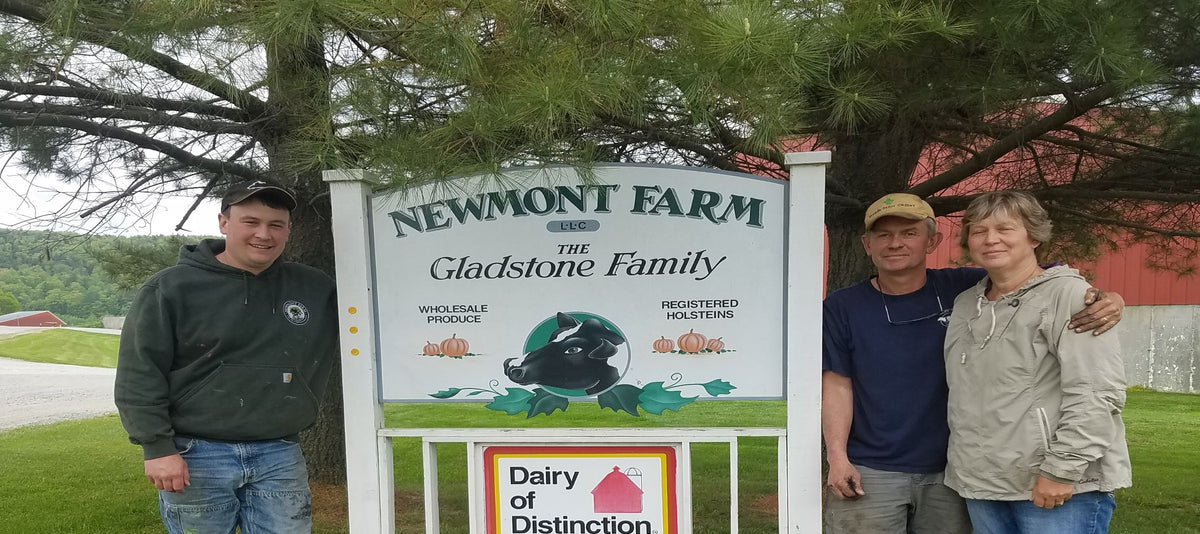 #Farmlove – Newmont Farm and Pumpkin Season
Margaret Gladstone grew up on a Vermont dairy farm and loved everything about it. "I was driving a tractor at 8 years old," she recalls. "It was very family-oriented. We all worked together." But, she says, her father encouraged her to go to college and graduate with a career so she earned a teaching degree and headed into the classroom.
That lasted just two years until her brother introduced her to Walt Gladstone, a farmboy raised on a New York dairy. "We both wanted to farm. It was a passion on both of our sides," Margaret says. "We spent a lot of our courting time looking for our own farm." They married in 1987 and bought their Fairlee, Vermont farm a year later, dubbing it Newmont Farm to include both of their home states in the name.

The dairy has grown to milk about 1,400 Holsteins and cultivates 1,700 acres of corn and grass plus a successful seasonal business in pumpkins. The Gladstones started with just a three-acre patch of pumpkins behind their house about 25 years ago, but this sideline has grown as steadily as the sprawling vines themselves to become a significant wholesale operation that complements their core dairy business.
This year, the pumpkins cover 200 acres and are shipped all around New England and New York State throughout the Halloween season.
Most will be carved into Jack-O'-Lanterns, but some will be cooked and baked into pies or pureed into hearty soups as the trees turn shades of scarlet, gold and pumpkin-orange and a chill hits the air.
It's all hands on deck during pumpkin season and the Gladstones count themselves lucky that their three sons are all involved in the farm in some way. Will, the oldest, is now a partner on the farm, and his wife, Brooke, helps with public relations and record-keeping.  John has his own trucking business but helps out with the pumpkins. Matt, who was born on Halloween, is very involved in cropping and fills most of the farm's mechanical needs. They also have three granddaughters, two who are old enough to get quite excited about Halloween and picking out their own pumpkins to carve.
Although many pumpkins are sold wholesale to large retailers, local farmstands and other smaller customers are equally important to the Gladstones. Recently, Walt says, someone came by from a nearby senior living community looking for 12 pumpkins. He wouldn't think of charging for them and even mentioned that he'd see if Margaret was interested in serving on the organization's board. "We've got a beautiful crop this year," he says with satisfaction. "My life is pretty good if I've got really good pumpkins, a good team and I can do it all with family. We love what we do. It all balances out."
Pumpkin season is a particularly busy one on Newmont Farm as it coincides with the final harvest of feed corn, but the Gladstones throw a big harvest party at the end of October or early November to thank and celebrate their great crew of a couple dozen full-time employees plus another 20 or so seasonal workers. Included in the feast might be loaves of Margaret Gladstone's pumpkin bread studded with chocolate chips or dried fruit, or pumpkin pie squares like this recipe from Sally's Baking Addiction.
---
Some other savory ways to use pumpkins this fall: 
Pumpkin Cabot Habanero Cheddar Souffles