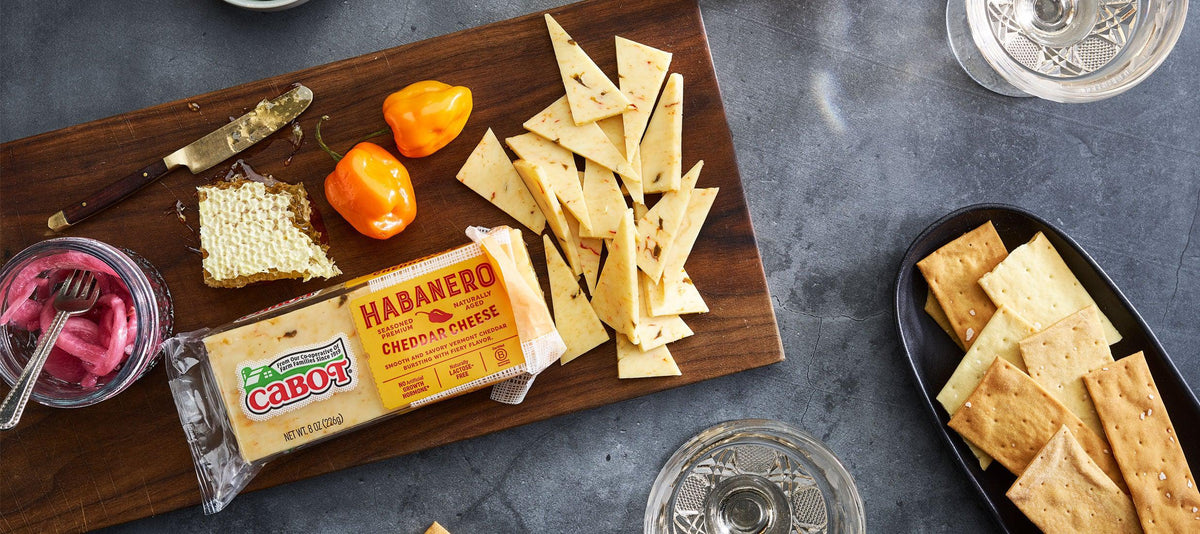 Cabot Named Spiciest Snack at Cheese Competition
Local cheesemaker takes home hotly contested title.
February 2023 – Waitsfield, VT – Cabot Creamery's Habanero and Pepper Jack cheeses won first and second place in the spicy snack category at the 2023 Scovie Awards in Albuquerque, New Mexico. The competition, which is named after the scientist who invented the Scoville Organoleptic Test in 1912 to determine the heat scale of Chilè peppers – is the pre-eminent competition for hot foods of all kinds. Food-industry professionals gathered to judge more than 900 products from around the world.
Cabot's Habanero Cheddar Cheese blends habanero and Jalapeńo peppers with Cabot's award-winning sharp cheddar into a blistering hot cheddar with serious attitude. 
Cabot's Pepper Jack Cheese mixes zesty chunks of red and green Jalapeńo with the smooth taste of our award-winning Monterey Jack for the ultimate blend of spicy and creamy. 
"There are a lot of additional steps involved when we make Habanero compared to cheddar," said Maegan Olsen, Quality Assurance Manager at Cabot Creamery. "It's nice to know that the extra effort our hard-working team puts in is being recognized on this scale. It's an exciting win for everyone involved,"
"From awards received earlier this year, we know we produce the mildest Mild to the sharpest Extra Sharp, and now we've proven we also make the most delicious Hot cheese," said Earle Elliott, senior cheese grader at Cabot Creamery.
Cabot received the following awards:  
Spicy Snacks:
First Place: Habanero, Cabot, VT team
Second Place: Pepper Jack, Chateaugay, NY team
Cabot Creamery is a farmer-owned cooperative and certified B-Corp that's been making award-winning products with love, pride and purpose for over a century. The high-quality milk produced by the Cabot farm families throughout New England and New York is crafted into dairy products including, "The World's Best Cheddar", other styles of cheese, butter, Greek yogurt, sour cream, dips and other specialty products. For more information visit cabotcreamery.com