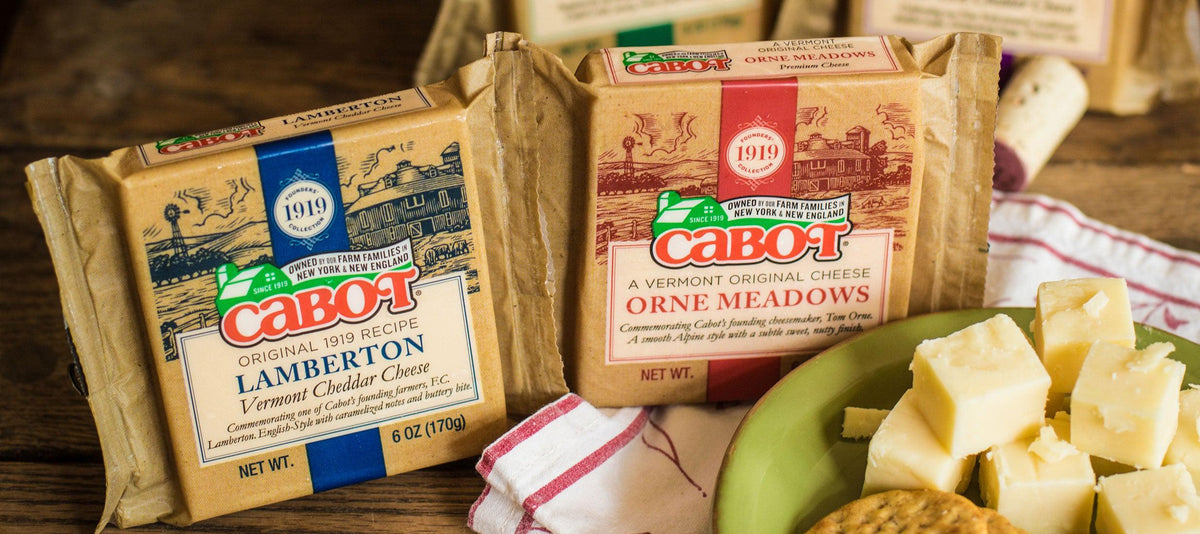 Cabot Awarded High Honors at World Cheese Awards
Local cheesemaker garners three awards at international cheese competition.
Waitsfield, VT – At the World Cheese Awards, held in Wales this year, Cabot Lamberton Cheddar received the highest score in its category, as did Cabot Clothbound and Jasper Hill Vault 5, both made in a collaboration between Cabot Creamery Cooperative and The Cellars at Jasper Hill.  The awarding of trophies at the WCA is based on achieving specific point levels and, in all three cases, no higher award was given in each category.  Cabot Lamberton was awarded Bronze, and Cabot Clothbound and Jasper Hill Vault 5 were awarded Silver.  
This prestigious event brings together cheesemakers, retailers, buyers, consumers and food commentators worldwide to judge nearly 4,000 cheeses from over 40 countries. A record number of entries this year.   
The carefully selected panel of judges come from across the globe. They work in teams to identify standout entries based on rind, body of cheese, color, texture, consistency and taste. The judge-appointed nominees are then judged again by a Super Jury of internationally recognized experts, who each select a cheese to advance to the final round. The Super Jury then debates the finalists in front of a live audience before selecting the champion.
"Everything starts with good quality. Good ingredients. Good people. Good results! And these awards are a recognition of our farmers and the people that we employ. You can give the same recipe to different people and end up with different results. Their dedication, attention to detail and hard work ensures the consistent quality that goes into these award-winning cheeses," said Panos Lekkas, Plant Manager at Cabot Creamery. 
"Our Collaboration with Cabot has delivered award winning cheese for almost two decades now," said Mateo Kehler, CEO at The Cellars at Jasper Hill. "Cabot Clothbound is consistently a standard bearer for quality and is an anchor on the best cheese counters and menus across the country. Our wins at competitions around the world are a continuous validation of the hard work of the Cabot and Jasper Hill Teams and of the excellent quality milk Cabot's farmers produce every day." 
Mature Creamery Cheddar Made Between 10/1/21 and 1/30/22
Bronze: Cabot Lamberton Cheddar
Mature Traditional Cheddar Made Between 10/1/21 and 1/30/22
Silver: Cabot Clothbound, A collaboration between Cabot Creamery and Cellars at Jasper Hill
Cheddar Made Before 5/31/21, Sweeter:
Silver: Vault 5 Cave Aged, A collaboration between Cabot Creamery and Cellars at Jasper Hill
Cabot Creamery is a farmer-owned cooperative and certified B-Corp that's been making award-winning products with love, pride and purpose for over a century. The high-quality milk produced by the Cabot farm families throughout New England and New York is crafted into dairy products including, "The World's Best Cheddar", other styles of cheese, butter, Greek yogurt, sour cream, dips and other specialty products. For more information visit cabotcreamery.com