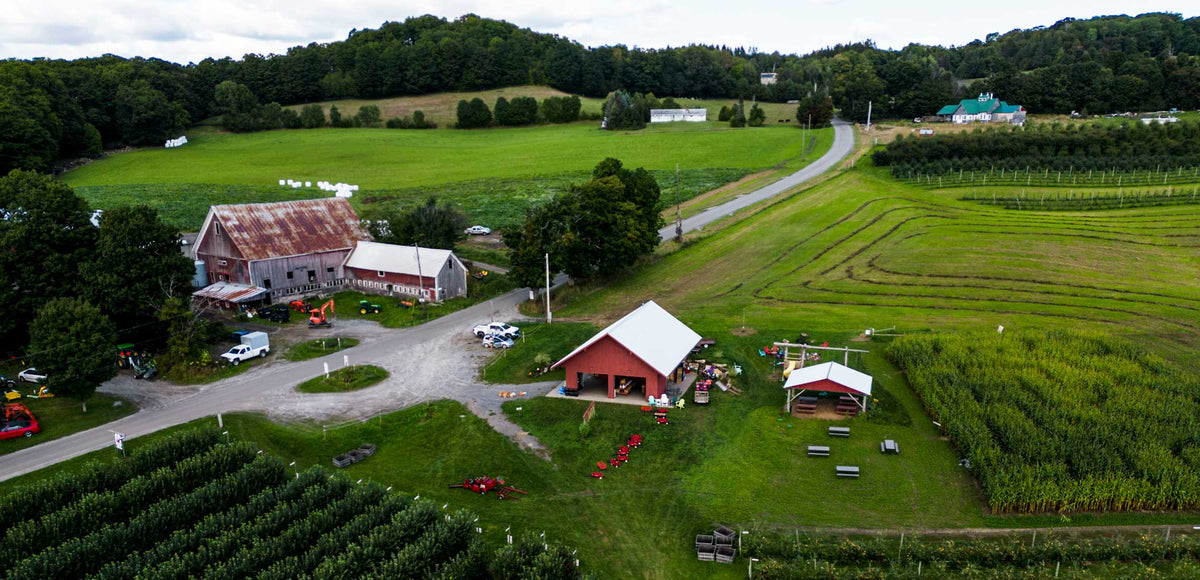 Five Perfect Ways to Spend A Fall Day In Vermont
When the air turns crisp and the tip tops of maple trees start turning red, the best season in Vermont is upon us! 
If you haven't experienced an autumn in the green mountain state, when the name no longer applies and the hills turn crimson, pumpkin and goldenrod, it is truly not to be missed. Whether you like to enjoy the foliage by getting amongst it on the hiking trails and by picking your own apples or you prefer to enjoy the view from a gondola window and the delightful tastes of autumn on a readily prepared plate, there's a little bit for everyone in Vermont in the fall.
A bit off the beaten path, Cabot, Vermont is a perfect destination for a day trip from Burlington. Drive by the original Cabot factory on your way to Burtt's Apple Orchard. Burtt's has everything from pick your own apples, to a corn maze to fresh apple treats to nibble on. Just a few miles further up the road you'll find the picturesque AM Foster Covered Bridge that is worth a stop and the vista is extra pretty during the fall season.
Not just for visiting when the snow flies, the ruby red gondola at Stowe Mountain Resort runs during the fall as well and is a great way to spend a day in the mountains. There are great hiking trails you can access from the top and the views are spectacular. If you're looking for more of an adventure, you can also hike to the top and take the gondola down for free!
Cabot Farmers' Store and Cold Hollow Cider Mill in Waterbury
Visit our flagship store in Waterbury where you can sample cheese and preserves pairings, grab a bottle of wine and and build your own cheese board to share in the evening after a lovely day of leaf peeping. Further up the road towards Stowe is the Cold Hollow Cider Mill where you can watch cider being pressed and sample some straight from the drum as well as buy a batch of apple cider donuts and apple butter for dessert.
Hikes
Anywhere you go in this great state between late September and mid-October will be putting on a show. You will be delighted with the sights of trees changing colors as if before your eyes and we definitely recommend packing an extra camera battery or battery pack for your phone for all of the photos you will want to take.
A few favorite hikes in order of difficulty (from easy to hard) :
Foliage Peeping
Smugglers Notch – Take this scenic winding drive through some of the best foliage in the state
Trapp Family Lodge – Enjoy the trails or a beer at their brewery for some of the best foliage peeping in the state. If you're up for more of an adventure check out the Cheddar Shredder Cabot sponsored bike trail up the Haul Rd from the property.
Explore the surrounding areas around cute Vermont towns like Middlebury, Burke, Woodstock, Manchester and Montgomery. They all have cute country stores, delightful spots to grab some yummy treats and we're sure you'll spot a covered bridge, rustic barn, or equally photographable quiet country road.
Regardless of whether your days spent in Vermont in the fall are sunny or cloudy and a bit precipitous, the fall foliage is sure to pop, the apple and pumpkin flavored treats will delight, and the memories will last long enough for you to remember that you want to come back next year!
---
This post was written & photographed by Gretchen Powers – filmmaker, photographer, and writer with a passion for storytelling and capturing the essence of a person, place or thing.