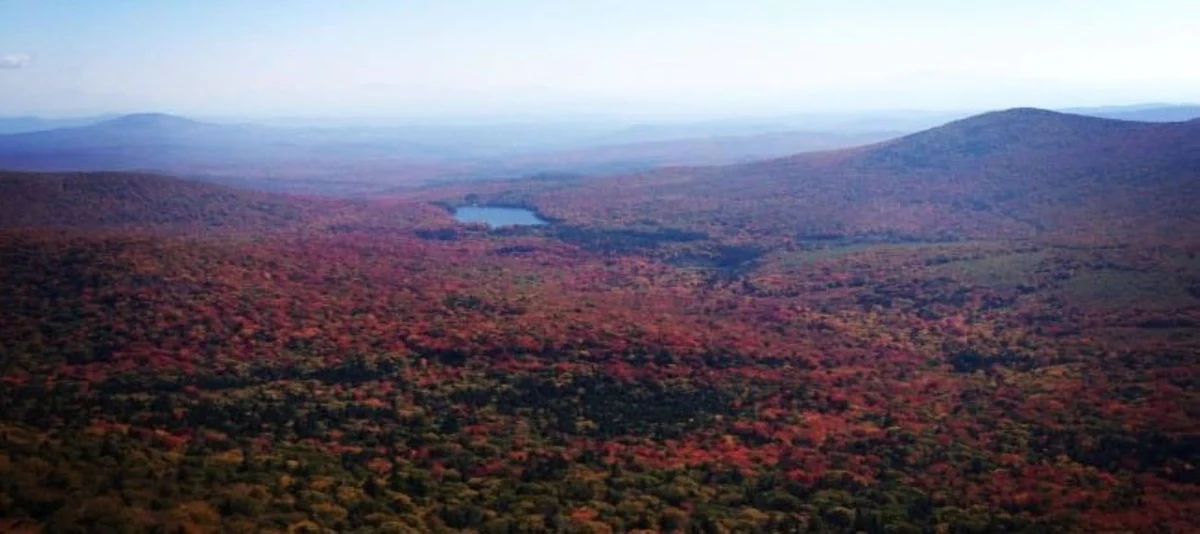 Vermont by Vermonters
We know what draws you to Vermont: maple syrup, skiing, foliage, and (of course!) the World's Best Cheddar. Those are four pretty amazing things, and definitely worth the visit. But have you ever wondered what makes us Vermonters stay?
There are a million reasons we could list, and a million more we don't even know how to put into words. Today we wanted to share just a few—so that the next time you come to Vermont (for the maple, the leaves, the mountains, or the cheese!) you can stay a little longer and experience Vermont like a Vermonter.
Greg: "There are so many things to do in Vermont, but some of our favorite adventures are simple dirt road Walks in the NEK and stopping in at Miller's Thumb Gallery in Greensboro, Hill Farmstead, for some unforgettable brews, and don't forget the "Genny" in Craftsbury for a Veggie Muffaletta sandwich! We also love antiquing at Tillotson's Trading in East Corinth where I have even seen some old metal Cabot Creamery jugs.
And let's not forget about Mud season! Here we are making best of Vermont's 5th season
If you're looking for casual drinks outside, check out Pro Pig – a classic watering hole where colleagues may even bump into one another!
Fall means apples & cider-ing! Get some friends to take turns on the cider press, and bring some Cabot cheese along to pair with the harvest's bounty.
Even just lunch breaks are a chance to get outside! There's nothing like the Cabot hills to soak in the foliage that colors our name sake town every fall.
And whether you're stopping at Hen of the Wood for some Cabot Clothbound on a slate cheese board outside by the waterfall after hot summer day, or Backcountry skiing at your favorite spot – there's something for everyone."
Rachael: "Vermont has epic day trips. Our state roads move with the land, passing through dense forest, lush farm land, and rolling hills. On a nice fall day we'll take a motorcycle ride up Route 16 up to Parker Pie Co. in West Glover. Parker Pie Co. has the best pizza in VT, with unique toppings, the best crust, it's all magical. They also have some of the best beers on tap, including a huge selection of Hill Farmstead beer. Another one of my favorite "destination eating spots" is the Worthy Burger in South Royalton VT. It's a gorgeous drive down Route 110, and worth a little day trip just for the views. But if you're looking for the best coffee and pastries in my hometown of Montpelier, than you must visit Birchgrove Baking & Bohemian Bakery– you won't be sorry."
Nick: The things I love most about Vermont are the natural beauty, sense of community, and the outstanding food & drink.
My family loves being outside, enjoying all the beautiful places Vermont has to offer. We live in Waterbury and often hike, ski, bike (see VMBA website for some great trail ideas!), and swim (even in the winter for the Penguin Plunge!)
Some of our beloved places are Little River State Park, Trapp Family Lodge, Smuggler's Notch, the North Branch Nature Center in Montpelier, Sugarbush, the Lamoille Valley Rail Trail (with a swim in Joe's Pond), and Bolton Valley Resort (you won't regret a sunset hike)…and we are always finding new favorites!
For more relaxed days, we love to take in a Mountaineers or Lake Monsters baseball game, a concert, or visit our local Farmers' Markets – an especially great place to shop, snack, socialize, listen to music, and get to know the people producing your food.
We enjoy eating and drinking our way through the Vermont Fresh Network member list, and often round out our adventures with a stop to one of the farms on the Cabot Farm Trail!"
Danielle: "Having lived in the Green Mountains for many years now, I have much love for Mount Mansfield and the village of Stowe, Vermont.
Not only is the skiing and riding amazing but the mountain biking has grown beyond measure. For quick, fast and fun laps we head to Cady Hill just off the Mountain Road, locals call it the 'Stowe Town Loops'.  Plenty of options for all levels! You can easily connect these trails to the Trapp Family Lodge, mountain bike trails for an extended day of mileage on the Bike.
After a long ride, we need to fuel! We love the Backyard, a relaxed atmosphere with delicious comfort food and refreshing microbrews. All I can say is specialty Tator Tots! There are so many great restaurants in Stowe it's hard to favor just one; we also love The Bench and Doc Ponds equally as much.
The Mad River Valley is another beautiful mountain town with breathtaking views and endless miles of recreation. We frequent Mount Ellen for skiing and riding as this is more of a local's mountain experience but if you're looking for finer dining or to sit around an outside firepit, head to Lincoln Peak!
The mountain biking in the Mad River Valley is absolutely the most fun, so many miles of trails that can all connect if you're looking for that 15+ mile bike ride!  Check out the Mad River Riders to learn more!
The swimming along the Mad River is so picturesque and completely refreshing and the food scene is great too. American Flatbread is a go to eatery and Lawson's Finest Liquids brewery has some of the best microbrews we've had. Be sure to hit up the Sweet Spot, situated along the Mad River featuring a Vermont covered bridge. They offer delicious specialty coffee drinks, homemade pastries and the classic salad with chicken and ramen is one of my favs!
Another Vermont favorite is the beautiful NEK, Northeast Kingdom. There is 100+ miles of mountain biking in the most picturesque part of Vermont. Lake Willoughby as pictured below is a hidden gem with it's fjord-like setting and classic lakeside community. There are also a couple really great hikes close by. This is a must on our summer list every year!"
Averill: "For me, Vermont's small towns are its heart. I'm from a small-town in central VT and I'm named for Averill Lake in the Northeast Kingdom.
Things about my teeny-tiny hometown that you can enjoy in any small-town in Vermont: Town Meeting Day, where you can experience democracy for real!; friendly people who will give you directions based on landmarks instead of street signs; local festivals and celebrations, like the Williamstown Fall Fest and Memorial Day Parade; and winding dirt roads lined with beautiful foliage in the fall and snow-laden trees in the winter. Like all the small towns in central VT, Williamstown is about 15 minutes from Montpelier, where we toss a frisbee in the summer on the State House lawn, and catch movies at the Capitol Theater where they serve popcorn with real Cabot Butter!
The one thing Williamstown, VT has that no one else does: the BEST creemee in VT (by my estimation) at Legen Dairy Maple & Ice Cream. I need a whole post on its own to describe the creemee, but essentially it's soft serve ice cream, but way, way better. It's literally the greatest thing ever. It's home."
Whether you're visiting our big cities or small towns, coming for a bit of leaf-peeping or a weekend on the slopes, we hope you'll take a moment to take a deep breath of Vermont. Make yourself at home. Discover a quiet beach or perfect hike in one of our state parks in the summer. Visit a sugar shack in the spring for Maple Weekend. Beat the crowds and hit the slopes on a weekday in the winter. And right now, do your leaf-peeping this fall while you stay with one of our farm families at their B&B, sipping coffee from the wrap-around porch or helping to milk the cows. Taste, see, walk, smell, and drive Vermont like a Vermonter.