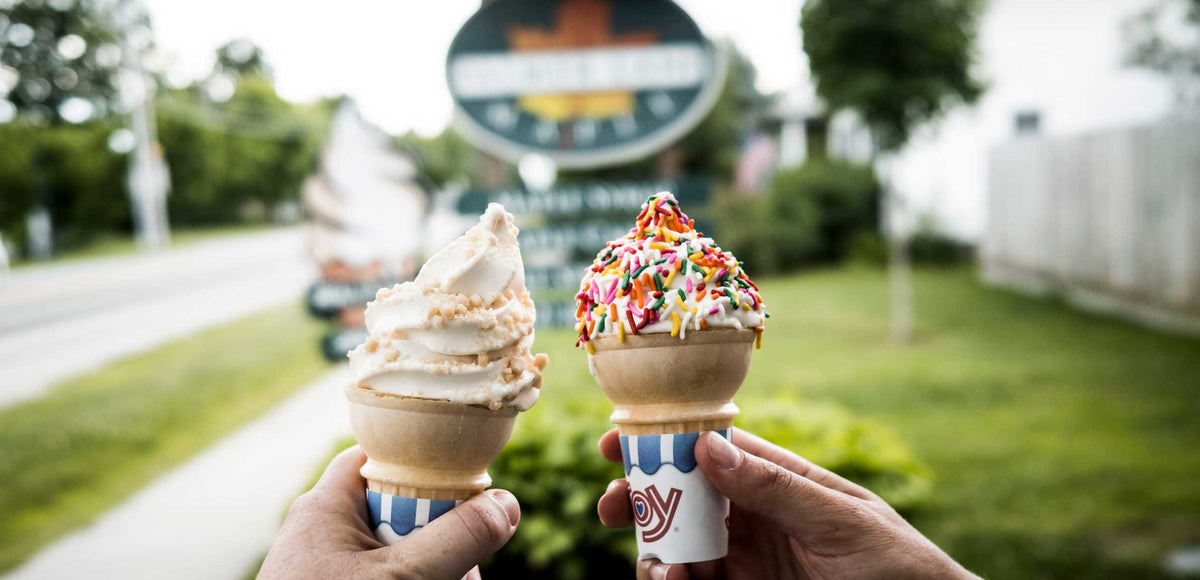 Vermont Biking and Creemee Tour
"Can I get a maple creemee please?"


If you crossed into Vermont from New Hampshire, New York or Massachusetts and questioned why folks are suddenly calling soft serve ice cream "creemees" - don't. Don't argue or question, just accept that it is the ONLY thing to call the whipped, creamy, sweet, cold delight that spins out of stainless steel machines at gas stations, country stores and creemee stands across the state. It's a place-specific name for these creamy, high butterfat content desserts that are a must for the ice cream lover who visits Vermont in the summertime. If you haven't tried the quintessential maple flavor, that must be first on your list.
When Cabot asked if I could plan to explore an area of Vermont and hit a few creemee stops along the way on my bike I said, "heck yes!" What better way to explore the state in the summertime than self-propelled on a bicycle. I was more than excited to comply, so with this quest from Cabot in hand, and a dear friend in tow, we set off on an afternoon adventure ready to explore the farmlands and valleys connecting the towns of Essex, Westford, Jericho, Underhill and Richmond. Nestled in the western shadow of Mt. Mansfield, the tallest mountain in Vermont, these stretches of road in Chittenden County are often quiet, and during the summer about as lush as you can find throughout the state. Sticking to mainly paved roads we mapped out a figure eight shaped loop. The best part about this loop is that you can easily just do the bottom portion of it and still hit several creemee stops with a family friendly distance of 18 miles for the short loop, or if you're feeling adventurous, 44 miles for the full loop.
We parked a car near the river in Richmond and headed north out of town on Rt 128, passing some farms, stopping for a Cabot Cheese snack we packed in our saddle bag at the Old Red Mill in Jericho, and made sure to take lots of water breaks in the shade. When we arrived at the quaint town center of Westford – our first creemee destination – we felt like we had happened upon a little town shire and were excited to grab a classic vanilla and chocolate twist creemee and an iced coffee. The wraparound porch sports bright white rocking chairs and was a great place to refill our water bottles and enjoy a cold, creamy treat.
Hopping back on our bikes we headed northeast to link up with Rt 15 to head back south towards Jericho. Riding through the Browns River Covered Bridge was a must as we headed out of Westford. Back on our route we enjoyed more picturesque farmland, rolling hills and forests, which was a nice respite from the heat. As the miles stretched in front of us we started chatting about whether or not to get the maple "sprinkles" atop our Palmer Lane Maple creemees. They crush up maple candy to add an extra crunch and sugar kick and after the miles we were clocking in the saddle I knew I wanted the full maple experience. Throwing a fist in the air when we rounded the bend and Palmer Lane came into view, I went for the maple sprinkles and Jada stuck with her classic rainbow and we both lamented that it wasn't a bottomless cone as this was the best maple creemee either of us had tried yet.
But the day wasn't done so we hopped back on our bikes and pedaled our way the eight and a half miles back to Richmond. Upon arrival we jumped in the river before hitting our last spot on the list – The Big Spruce. We downed a few tacos first from their delicious dinner menu and then went big for our last creemee of the day and got the candied pecan crumbles on top. The crunchy, nutty morsels were the most delicious way to cap off a delightful day spent pedaling through Vermont countryside. Biking is really the best way to see a place because you can travel quite far at a pace that lets you really look at the scenery. Taking a few less traveled roads means you see more of real Vermont life rather than just the signs and stores made for tourists.
---
Westford Country Store & Cafe – 26 Common Rd, Westford, VT 05494
Palmer Lane Maple – 19 Old Pump Rd, Jericho, VT 05465
The Big Spruce – 39 Bridge St, Richmond, VT 05477
---
This post was written & photographed by Gretchen Powers – filmmaker, photographer, and writer with a passion for storytelling and capturing the essence of a person, place or thing.