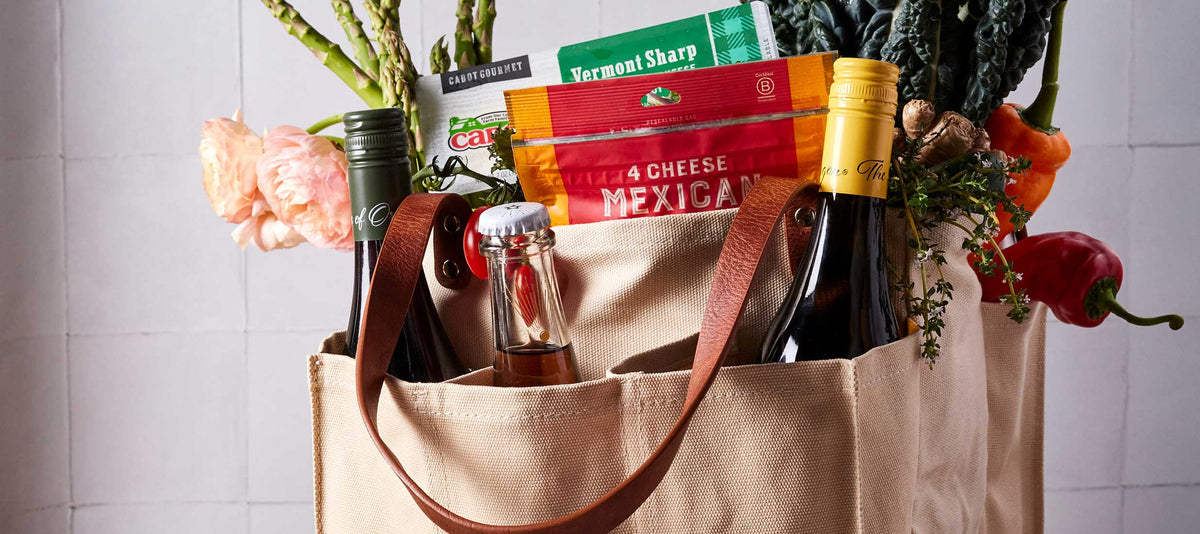 6 Tips For Buying Cheese Online or In-Store
Whether served on its own, in a sandwich, alongside charcuterie or mixed into a recipe, cheese is a true palate pleaser. One of the best things about cheese is that there are so many kinds to try, but that can also make selecting one to buy seem like a daunting task.
If possible, find a local cheese shop or direct-selling farm in your area. Stores that specialize in cheese usually have at least one or two expert cheesemongers on staff that can answer your questions and direct you to cheeses that you're likely to love. Like fruits and vegetables, cheese availability varies by season, and things like weather and animals' diets can impact the flavor. Cheese shops will often allow you to sample before you buy so that you know exactly what you're getting.
Unfortunately, not everyone lives close to a cheese shop or has the time to make regular trips to a specialty store. The good news is that you can now buy cheese online, and many grocery stores have expanded their offerings. Buying online also allows you to buy cheese gifts and have them shipped straight to loved ones for birthdays, Mother's and Father's Days, the winter holidays and other occasions. To ensure that you're satisfied with your purchase when you buy cheese online or in the grocery store, follow these tips.
Tips for buying cheese online
Start with your preferences.
If you buy cheese online, you'll expand your options greatly. Online sellers usually offer huge selections, ensuring that there is at least one perfect cheese waiting for you to discover. The trick to focusing on cheese that is sure to please is to have a clear picture of what kind you prefer. To figure out your cheese preferences ask yourself if you prefer:
Soft creamy cheeses?
Firmer cheeses?
Strong-flavored cheeses?
Mild cheeses?
Salty cheeses?
Blue cheeses?
If you like one or more of the above, you have a good starting point for your search. Use filter tools on the websites of top cheese brands to look for products that match your preferences.
If none of the above categories jumped out at you, stick to cheeses you know. For example, you may wish to try a few different varieties side by side to determine the best cheddar cheese or brie cheese for you.
Expand your repertoire.
Anyone can become a cheese connoisseur if they're open to trying new things. The more cheeses that you try, the more you will learn about what you like and don't like. Once you have successfully found one or two cheeses that you love online, branch out. Start by seeing if the website tells you other cheeses that customers frequently buy with that variety or if there are "you may also like" links.
Another option is to buy a cheese that looks similar to the one that you enjoy. Often, cheeses that closely resemble share similar traits in terms of taste profile. For example, Monterey Jack is a good cheese to try if you love Havarti, and Asiago is an excellent option for fans of Parmigiano-Reggiano. Love the flavor of aged gouda? Try an aged cheddar next.
Tips for buying cheese in-store
Examine your options carefully.
Pick up the cheese and touch the package. Gently feeling the cheese will give you some indication of its level of firmness. Read the descriptors on the front of the label, looking for taste clues like robust, aged, tangy, sharp, creamy or soft. Turn the package over and read the cheese ingredients. You may recognize the names of herbs and spices that you love. Also, don't forget to check the sell-by date to make sure that you'll have enough time to enjoy the cheese.
Be curious.
If you're shopping at a grocery store with a separate cheese counter or at a cheese shop, don't be afraid to ask the cheesemonger for advice. Describe what you like and don't like about cheese and ask for a recommendation or show them a cheese that you enjoyed and ask what's similar. Take advantage of any samples that the store is providing or accept one from the cheesemonger if offered.
Tips for buying cheese in-store or online
Keep a cheese journal.
As you try new cheeses, track your experiences. You can buy a journal or notebook to jot down notes or use a mobile app for tracking. For each cheese right down:
Name of the cheese
Brand of the cheese
Where you bought it
Taste notes
What you liked about it
What you didn't like about it
Milk type
Country of origin
Over time, you may begin to notice trends and discover something like you're a big fan of French cheese or you prefer aged cheeses over other varieties.
Know the lingo.
Exploring the world of cheese means encountering terms you may not be familiar with. Getting acquainted with the terminology can make it easier to decipher cheese descriptions in stores and online. Some frequently used terms include:
Alpine: firm, smooth cheeses with toasty, fruity, nutty or meaty flavors
Aged: cheese that ripens for weeks to years for a bolder flavor and a firmer texture
Fresh: cheese that isn't ripened or aged. It usually is light and easy to spread and has a tangy flavor
Cheddars: cheeses that range from semi-firm to hard and take on a sharper bite the longer they are aged
Goudas: cheeses that are easy to slice and semi-firm when young or more crystalline when aged with flavors ranging from light to nutty
Bloomy: cheese that is soft and has a buttery, brothy or mushroomy texture
Washed rind: cheese with a semi-soft texture, a bold aroma and a meaty or buttery taste
If you're looking to begin your journey into cheese exploration, Cabot Cheese has a wide range of tempting varieties to try, and you can buy in stores and online. Some great options to try include Habanero Cheddar, Alpine Cheddar or Horseradish Cheddar.