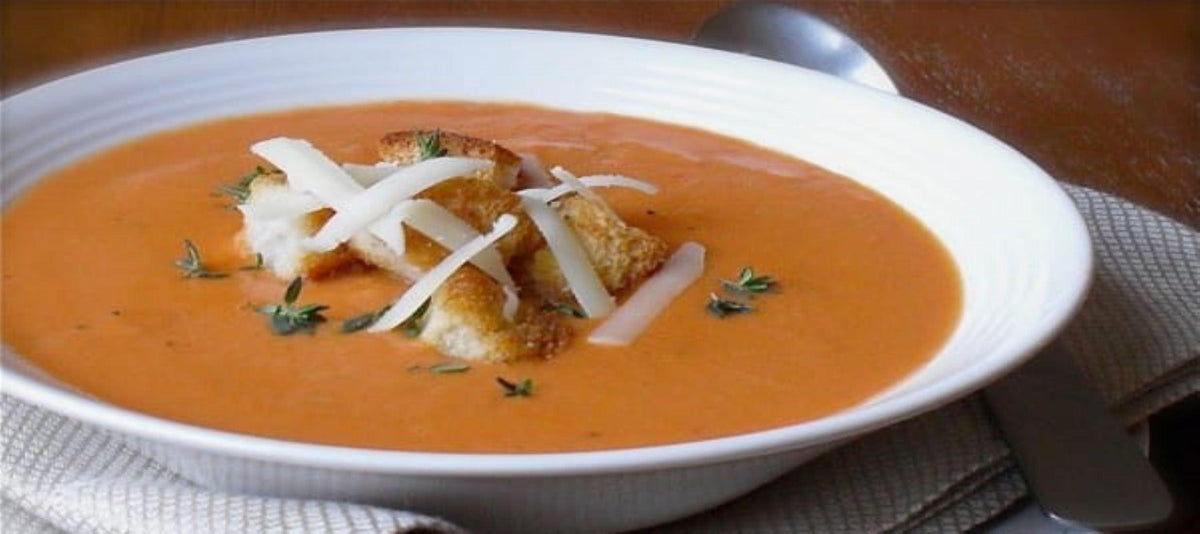 Cold Weather Comfort Food
The Best Soups, Stews, and Slow Cooker Recipes From the Cabot Cheese Board
As temperatures fall and cold weather activities heat up, now is a great time to pull out the slow cooker or your favorite stockpot and get ready to tackle some of these tempting dishes.
Nothing makes a cold day more bearable than a rich, steaming bowl of soup or a thick, savory stew. When you pair a steaming bowl of soup with your favorite sandwich, like grilled cheese or a BLT, or a veggie-laden salad, you instantly have a wholesome, satisfying meal.
These are dishes that are great to make ahead. You can even double up on the recipes and have meals for later in the week. You can even pop a few containers into the freezer for nights when you really don't feel like cooking.
Let me sing the praises of slow cookers. How many times have I been able to create a crowd-pleasing dinner…at breakfast time? What could be better than popping tasty, nutritious ingredients into a crock pot in the morning and coming home from work with the house smelling divine, and dinner almost ready?
Here are some of the best – and easiest to prepare – dishes for the coming months.
From Pass the Sushi:

Slow Cooker Barbecue Nachos

Slow Cooker Cheeseburger Dip

Mac and Cheese Soup

Super Simple Slow Cooker Taco Soup
From Bless This Mess Please

Nacho Supreme Chili
Quick and Easy Tortellini Soup with Spinach
From The Lean Green Bean

Slow Cooker Asian Pulled Pork

Slow Cooker Apple Cranberry Chicken

Italian Wedding Soup
From Healthy Seasonal Recipes

Slow Cooker Kielbasa Cabbage Potato Soup

Roasted Garlic Cheddar Bisque



Butternut Squash Mac and Cheese
From Well Plated

Cheddar Cheese Soup
From All Day I Dream About Food

Southwestern Pumpkin Cheddar Soup
From The Brown Eyed Baker

Slow Cooker Sausage Hash Brown Cheddar Breakfast Casserole
From the Comfort of Cooking

Slow Cooker Turkey Chili
From Running to the Kitchen

Leek Apple Cheddar Soup
From Cupcakes and Kale Chips

Cheddar Cheese Butternut Squash Soup
From The Little Kitchen

Broccoli Cheddar Cheese Soup Recipe
From Sugar Dish Me

Chicken and Apple Cheddar Dumplings
From Bake Your Day

Buffalo Chicken Soup Recipe
From the Slow Roasted Italian

Bacon Double Cheeseburger Beer Cheese Soup
From Rachel Cooks

Creamy Tomato Soup with Whole Wheat Orzo
And don't forget all the great recipes for Soups, Stews, and Slow Cookers on the Cabot website. Here are three of my favorites:
This Tomato-Cheddar Soup is one of my go-to recipes. It's easy to make and I have yet to serve it to anyone who doesn't want me to make it for them again and again.
This vegetarian stew hits the culinary trifecta – it's hearty, satisfying, and totally yummy. Our Eggplant and Chickpea Stew with Cheddar Dumplings is perfect for a party or pot luck…or just a great meal on a cold night.