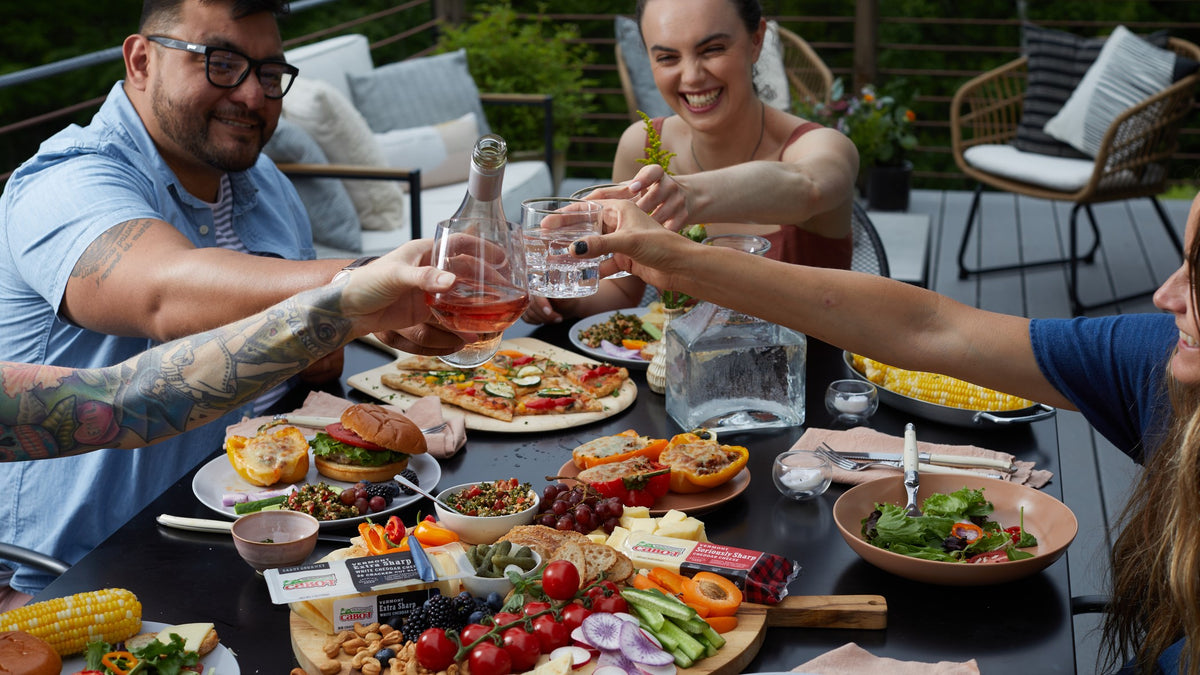 Cocktails, Mocktails & Cabot
Make summer entertaining fun and fabulous with luscious libations from the bloggers of the Cabot Cheese Board and great warm-weather treats made with The World's Best Cheddar.
Summertime and the living is easy, so why shouldn't summer entertaining be just as uncomplicated? Whether you're having friends over for a backyard barbecue or hosting a family get together, a refreshing cocktail paired with great food is a sure fire way to get the party started.
We found so many great cocktail and mocktail recipes from Cabot's Cheese Board bloggers, we decided to pair them with our favorite appetizers from the Cabot recipe archives. Simple summer fare made with wholesome ingredients and served with celebratory beverages – what could be better than that?
We'll start with this signature summer drink from Georgia at The Comfort of Cooking. The fresh taste of her Limoncello Raspberry Prosecco Cooler pairs perfectly with…pears! Try it with this satisfying appetizer, one of Cabot's best, Bacon Wrapped Pears with Horseradish Cheddar.
Next, from The Slow Roasted Italian comes this refreshing take on a classic lemonade – Raspberry Lemonade Cocktail. It goes great with another southern classic, Pimento Cheese. This yummy spread makes a quick and easy appetizer served with crackers or dipped with summer veggies.
When you combine the amazing flavors of dark rum, coconut, and pineapple juice they practically scream summertime. Kita at Pass the Sushi knows a great drink when she makes one – they don't call this one The Painkiller Cocktail for nothing. Its tropical taste conjures up sandy beaches under swaying palm trees. We paired it with our favorite summertime dip. Try Kita's cocktail with our Pineapple and Black Bean Salsa with chips and let your troubles, along with any pain, just fall away.
Brandy at Nutmeg Nanny is kind of a cocktail goddess. Her blog has an entire section devoted to adult beverages. As much as we love her liquid libations, this frozen treat – meant just for grownups – has to be a summer favorite of ours. Her Mango Margarita Boozesicle is the pop that refreshes. It's so good, it stands on its own…no other food necessary.
One of the great summer traditions at our house is Breakfast at Wimbledon. And a morning spent watching championship tennis is hungry – and thirsty – work! Word has it that quiche is a popular dish served at Wimbledon, and our favorite quiche recipe is this one for Cabot Sharp Cheddar Tomato Leek Quiche with Sour Cream Bacon Crust. Yes, you read that right, sour cream bacon crust. Trust me, it's a good as it sounds. Pair it with a Pimm's Cup Cocktail from Michelle, The Brown Eyed Baker. She calls it "a strawberry spin on the popular English drink." This pairing will have you saying "pip pip cheerio" like a native.
For a south-of-the-border combination, we'll go to the ladies of We Are Not Martha and their wickedly delicious Blood Orange Habanero Cocktail, paired with Cabot Cheddar Cheese Straws. Cheese straws are the perfect cocktail food and these are so easy to make. Just make sure everyone knows, this pairing packs a real kick!
From the Muy Bueno Cookbook comes a sophisticated concoction for discerning palates, a Pomegranate Grapefruit Campari Cocktail. We thought this lovely drink deserved a high-end appetizer with equally refined characteristics. Cabot's Lobster Salad on Endive seemed like the perfect partner for a cultured cocktail.
Leave it to Whitney at Little Leopard Book to bring the bubbles to our cocktail collection. Her Blueberry Mint Prosecco Sparkler is light, refreshing and punctuated with the effervescence of sparkling wine. We paired it with these Vegetarian Stuffed Mushrooms, finger food that brings flavor and fun.
Are you planning a Girlfriends Gathering? Here's the perfect drink to serve for the girls. It's the Girls Best Friend Cocktail from Brianne at Cupcakes & Kale Chips. We paired this pretty pink drink with an elegant hors d'oeuvres, Vermont Cheddar Gougeres with Smoked Salmon Filling. Such a nice way to show your friends a deliciously good time.
Lemonade is an iconic summer drink and Julie at Julie's Eats & Treats knows how to put a refreshing spin on it. Her Pink Moscato Lemonade is a sweet way to beat the heat.
The great thing about all these cocktail recipes is most of them can be made without alcohol by substituting flavored sparkling soda, tonic, ginger ale, lemon-lime soda, or lemonade. Part of the fun is experimenting with variations on a theme. Below are some of our favorite tried-and-true mocktails – cocktails suited for any age and any stage. They have all the fun with none of the alcohol.
Marnely of Cooking with Books created this cute concoction for her pregnant friend's virtual baby shower. (That friend just happened to be another Cabot Cheese Board blogger, Liz at The Lemon Bowl.) Her Lemon Pineapple Jam Mocktails are perfect for a shower, a family gathering, or for no reason at all.
---
If you would like to learn more about Cabot Creamery Cooperative or find delicious recipes for your next meal, click here. You can also sign-up for our Newsletters so that you don't miss a thing.