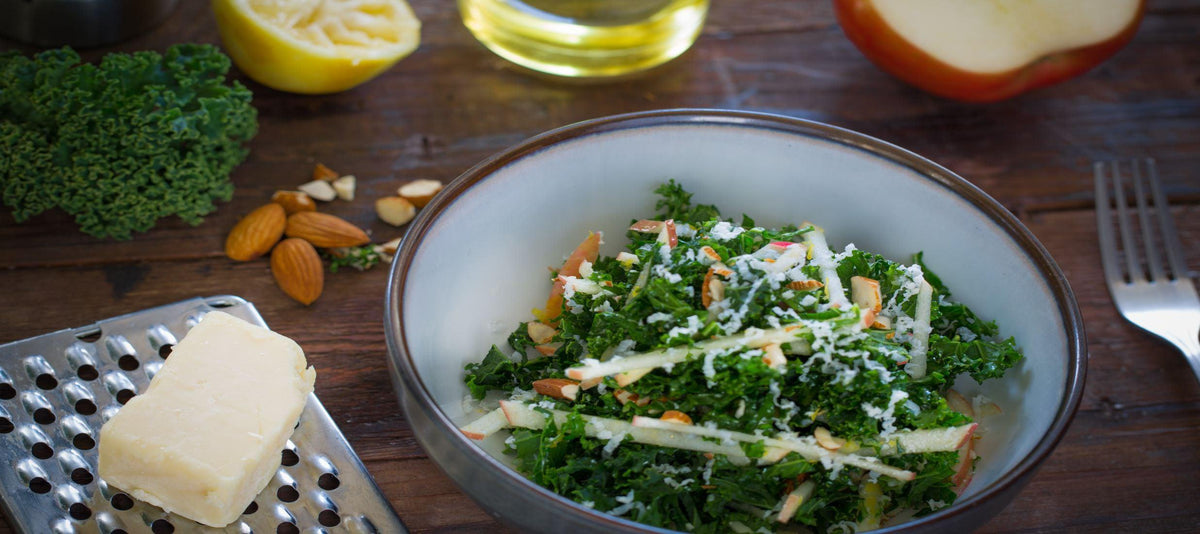 Clean Eating Recipes
It's been a heck of a holiday season. After eggnog, Christmas roast beast, and the stocking candy, I was rolling on a wave of contented holiday food bliss. Then New Year's Eve brought on the bacon-wrapped scallops, bacon-wrapped cheeseballs, and bacon-wrapped champagne (just kidding on that last one… but that would be kind of good, right?) and now I am in a holiday food malaise.
I am not about New Year's resolutions that I won't keep, but I think we can all agree it might be time to dial back to rich food, heavenly though it may be. So here's to a January that tastes and feels lighter, more satisfying with (slightly) less bacon, and detoxifying with healthier snacks and meals.
To help us get back on a more sensible track, we've got a week of clean eating recipes full of flavor and good feelings approved by Cabot Dietitians, Sara Wing and Regan Jones. Back to reality, people!
---
To help us get back on a more sensible track, we've got a week of planned meals and snacks full of flavor and good feelings. Back to reality, people!
Monday
Sweet and crunchy, this Green Goddess salad makes a great lunch, or an even better accompaniment to a simple broiled salmon dinner.
Ingredients
½ head of cabbage or 1 small cabbage
1 green onion
3 Persian cucumbers

1 cup Cabot Lowfat Plain Greek Yogurt

1 cup packed fresh herbs, chopped (use a variety of cilantro, spinach, basil)
1 garlic clove
½ small shallot
1½ teaspoons lemon juice
½ tablespoon rice vinegar
¼ cup olive oil
1-3 teaspoons honey (optional)
Salt and pepper to taste
---
Tuesday
Make a simple protein like baked boneless, skinless chicken breasts, and then top them with this tasty Avocado Yogurt Dip. And make plenty for leftovers – with some tortilla chips or carrots and celery, this doubles as a tasty dippable lunch.
Ingredients
2 ripe medium avocados
1/2 cup Cabot 2% Plain Greek Yogurt or Cabot Plain Greek Yogurt
1/4 cup finely chopped red onion
2 tablespoons fresh lime juice
3/4 teaspoon salt
1/4 – 1/2 teaspoon ground chipotle pepper
---
Wednesday
With Cabot Alpine Cheddar for satisfying protein, this Kale Caesar Salad packs a punch of flavor, but is light and easy to make. Perfect for a midweek meal.
Ingredients
1 large bunch curly kale, washed, stems removed and leaves cut into bite sized pieces
¼ cup extra virgin olive oil, divided
1 small clove garlic, smashed and peeled
½ teaspoon coarse kosher salt
2 anchovy filets
1 tablespoon lemon juice
1 teaspoon Dijon mustard
6 ounces Cabot Alpine Cheddar, shredded (about 1½ cups)
1 ½ cup croutons
Freshly ground pepper, to taste
---
Thursday
 Broccoli and Cheddar Fritattas are great for breakfast on the go, or a meal when paired with leftover salad!
Ingredients
¼ cup small fresh broccoli florets
2 large egg yolks
1 tablespoon whole milk

1 teaspoon Cabot Plain Greek Yogurt

1 teaspoon Cabot Unsalted Butter

5 ounce Cabot Sharp Cheddar, grated (2 tablespoons)
---
Friday
Start your weekend off right with a healthy and hearty Green Mountain Smoothie with Kale and Greek Yogurt.
Ingredients
1 cup Cabot 

Lowfat Plain Greek Yogurt

 or Cabot 

Plain Greek Yogurt


1 cup ice

¾ cup apple cider or apple juice

1 banana, peeled and broken in half

3 soft dates, pitted and cut in half

2 tablespoons honey

3 cups clean torn kale leaves
---
Saturday
This weekend, whether you're making tuna sandwiches or baking a cake or putting together a dip platter, try subbing Greek Yogurt for mayo, creams, or sour creams. You'll cut calories and keep flavor. Win-win!