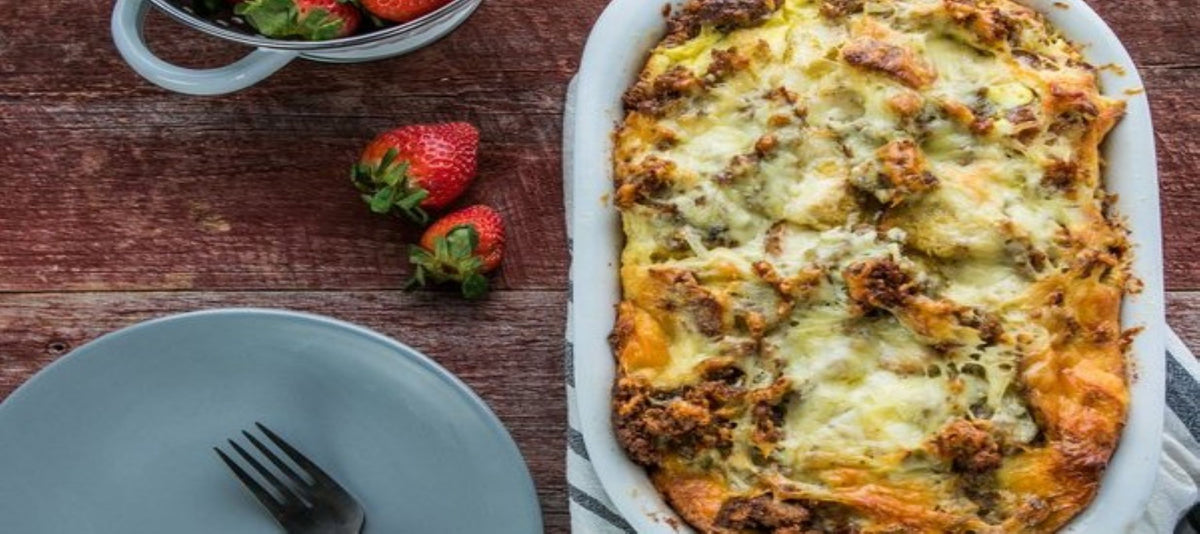 Cabot's Best Father's Day Breakfast Menu Ideas
What better way to show your dad how much you love him this Father's Day than with a homemade breakfast? Check out Cabot's favorite, easy-to-make menu ideas here. 
Cabot wants to help you make this Father's Day perfect from the very start. We can't think of a better way to show Dad he's Number One than to make him a delicious breakfast. Some say it's the most important meal of the day. We say it's a meal that makes even the best day just a little better.
There are so many delicious breakfast choices to please even the pickiest father's palate. Whether your dad loves to grab a quick smoothie or settled down to a hearty breakfast casserole, we're showcasing some of our best Father's Day breakfast ideas from the Cabot website. Make one of these for his special day to show Dad just how much you care.
Fresh berries, creamy Greek yogurt and granola are the key ingredients to Cabot's Maine Blueberry Parfait. Parfait is the French word for perfect and these tasty breakfast treats are a perfect way to start Dad's day. They're so easy to make, that even young children can help make them.
This Green Mountain Smoothie is the color of Vermont – The Green Mountain state. It has a rich, sweet taste that belies the superfood that gives this smoothie its vibrant color. Not only is it loaded with fruit and tangy Greek yogurt, kale is the ingredient that makes this so good for you.
For a smoothie that your Dad may just go bananas over, try making him one of our favorites – the Nutty Monkey Protein Smoothie. He'll love it for its great peanut butter and banana taste and will appreciate the fact that it's loaded with protein to start his day off right.
Maybe your Dad's a Muffin Man. If he is, you may want to add these Spicy Cheddar Cornbread Muffins to your Father's Day menu. They're tasty with just a bit of a kick – a savory change of pace from the usual sweet breakfast muffins.
Does your Dad love waffles? Why not tempt him with these Savory Zucchini Cheddar Waffles. They're loaded with healthy ingredients that take a classic breakfast preparation to the next level of yum. Served hot and topped with sweet Cabot butter – it doesn't get much better than that!
Next up for Dad's special day is Cabot Breakfast Sausage Casserole. This hearty breakfast bake can be prepared the night before so all you have to do on Father's Day is pop it in the oven. Savory sausage and farm fresh eggs make this crowd-pleasing dish the breakfast of champion dads everywhere.
This next dish is known by different names all over the country. Whether you call it Toad-In-A-Hole, Eggs in a Nest, One-Eyed Jack, or Eggs in a Basket this simple dish is a fun, easy favorite of families everywhere. We bet your dad will love this iconic breakfast as much as the kids do.
Just about everyone loves a tasty hot breakfast sammy. This Egg & Cheddar Breakfast Sandwich is easy to make and is stacked with yummy ingredients to please Dad on Father's Day.
For even more incredible breakfast sandwich inspiration, check out this blog post of some of the Cabot Crew's favorite breakfast sandwiches. You might just find the perfect one for your Dad on Father's Day.
If your looking for delicious breakfast ingredients, drop by Dakin Farm's website. Known throughout the country as a purveyor of fine Vermont products like smoked meats, maple syrup, and of course an extensive selection of Cabot products, Dakin Farm is Vermont owned and operated, sharing this tradition of excellence with customers around the country.
The farm families who own Cabot want to take this time to wish all the fathers out there a very happy and healthy Father's Day. May your day be filled with family, friends, and lots of love!