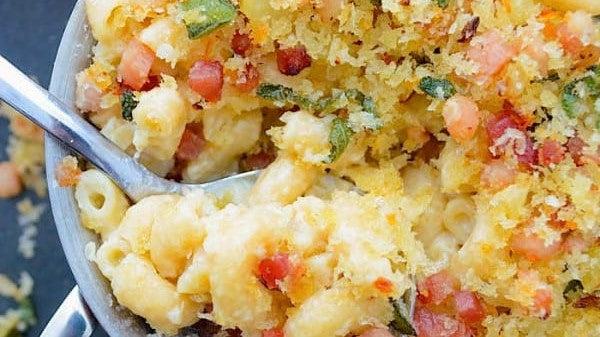 Summer's Tastiest Herb and Cheese Recipes
Cabot Cheddar and fresh herbs combine to create summer's most flavorful dishes!
Nothing helps us unleash our inner gardener faster than a pot or a plot full of fresh herbs. Even city-bound farmer-wannabes can indulge their farm fantasies with window boxes of fresh herbs that can transform a dish for ordinary to farm-tastic!
We sent our Cabot Cheese Board bloggers a box full of herb seeds and garden related goodies, just knowing that they would come up with some scrumptious herb recipes.
---
Cabot partnered with Gardener's Supply Company for the contents of this fun blogger box, which included a selection of herb seeds and herb snippers. We reached out to Gardener's not only because they are a Vermont-based company founded by passionate gardeners, but also because, like Cabot, they are a proud B Corporation.
Here's what Gardener's has to say about being a certified member of this organization. "As a B Corp – Benefit Corporation – we believe that business can be a source for good by serving shareholders and society. How a company serves society can take many forms, including environmental stewardship, service to those in need, sustainability and more. Like other companies with B Corp certification, we are change-makers that use the power of business to solve social and environmental problems."
---
To keep the herb theme going, we also sent our bloggers  Cabot's most popular flavored cheddar – Garlic Herb 
The dishes our bloggers created exceed all our expectations. You'll want to try all of these exceptional recipes loaded with wholesome ingredients and packed with great herb flavor.
Katie from Katie's Cucina starts us off with a new twist on an old favorite. Her Stovetop Macaroni and Garlic Herb Cheddar Cheese is the stuff mac and cheese dreams are made of. The addition of cooking with herbs as well as Cabot Garlic and Herb cheddar takes this dish from ordinary to a cheesy, herbal explosion of goodness.
Mimi at Mimi Avocado is more than just an avocado farmer's wife. She's a kitchen magician and has transformed a plain old grilled cheese into something spectacular. Check out her Grilled Cheese with Pulled Pork and Avocado. It's an entire meal grilled between two pieces of bread.
Sonia of La Piña en la Cocina shares her recipe for Cheesy Garlic and Herb Jasmine Rice with Bacon, a dish that she based on her recipe for "Arroz Cremoso Poblano," a cheesy and creamy Mexican rice dish that her fans and family loves. We love this whole new way to enjoy rice!
Fresh sage and pancetta breadcrumbs set this delicious mac and cheese dish apart from the others. Selena of The Nutritious Kitchen sent us her recipe for Stove Top Aged Cheddar Mac and Cheese with Pancetta Sage Breadcrumbs. We think this is one your family is going to love.
A great new rice side-dish casserole is the offering from Nettie at Moore or Less Cooking. Her Cheesy Rice features three kinds of cheese, including Garlic and Herb cheddar. It's perfect for a family meal or a pot-luck.
Biz at My Bizzy Kitchen made a super yummy quiche with her blogger box bounty. Plus she gives us her recipe for her signature Skinny Pie Crust! We can't wait to try it!
Anne at Cooking with Anne made some outrageously tasty Herbed Cheese Crackers. They're light and crispy and feature fresh herbs of your choice.
Anne also sent her recipe for these gorgeous little Pesto Cheese Rolls, tempting for a light meal or a savory snack.
We'll leave you with this outrageously tasty breakfast recipe from Gary of 
Cooking Outdoors
. He packs so many flavors into his 
Easy to Grill Spicy Stuffed Jalapeño Breakfast Poppers
, you'll want to fire up the grill for breakfast all summer long.
You'll find lots more delicious, cheesy recipes for breakfast, lunch, dinner, and everything in between on the Cabot website. Head over to the recipe section and get lost as you peruse hundreds of great dishes from the Cabot farm families to yours.