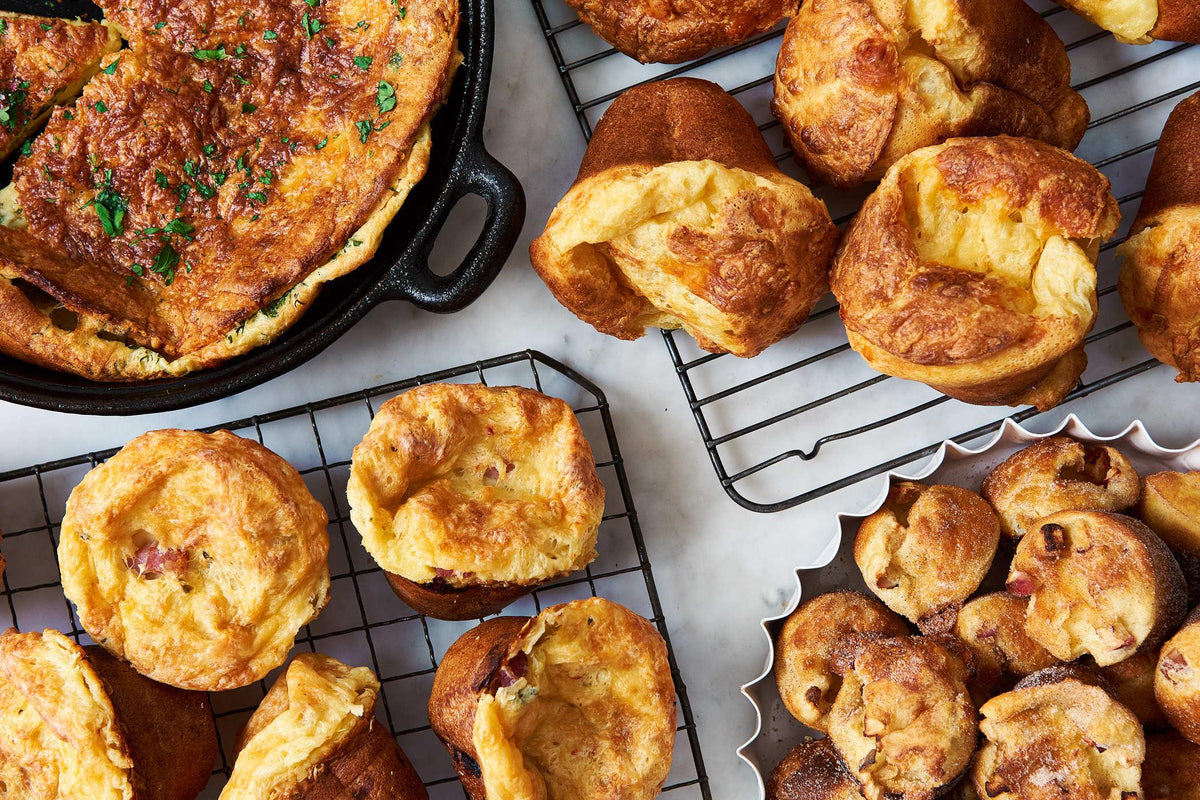 Four Popover Recipes From Sweet to Spicy
One simple batter. Endless flavor combinations.

Whether you're already a popover pro or new to the party, you're in for a treat with these light, fluffy, fillable gems, which some compare to Yorkshire pudding. Using one simple base batter, your trusty muffin tin, and the bold flavor of our farmers' award-winning cheeses, you're on your way to the perfect popover.  
Popovers are ideal for sprucing up a weekday breakfast, or for adding some quick gourmet to your next brunch gathering. Even better, despite how easy they are to make, they look impressive arranged on a platter and will have your guests gushing about your baking prowess and begging you for the recipe. We say share away! 
Let's get started.  
Start by trying our Basic Cabot Cheddar Popovers. With an easy batter made from eggs, milk, and flour—plus a healthy handful of shredded sharp cheddar—you'll be enjoying these cheesy morsels in no time.  
From there, we like to spice and sweeten things up, depending on the occasion, or even the time of year, and we've included some of our favorite variations below. To make things even easier, all three recipes start with the same base batter as our Basic Popover. We think you'll love these flavor combinations. 
---
You can't go wrong with a spicy kick – try our Pepper Jack & Diced Ham Popovers.
We also have a sweet, savory, and oh-so decadent version; Seriously Sharp & Cinnamon Sugar 'Minis'.
Try this extra puffy, extra-seasonal, extra-delicious popover; Extra Sharp & Fresh Herb "Dutch Baby".
We hope you have fun exploring these recipes, but as a wise farmer once said, there's no wrong way to enjoy a popover—so have fun with it. Give new life to last night's leftovers, raid the pantry for inspiration, or even let the kids help invent your next fun-filled adventure. Let your creativity, and your taste buds, be your guide.  
---