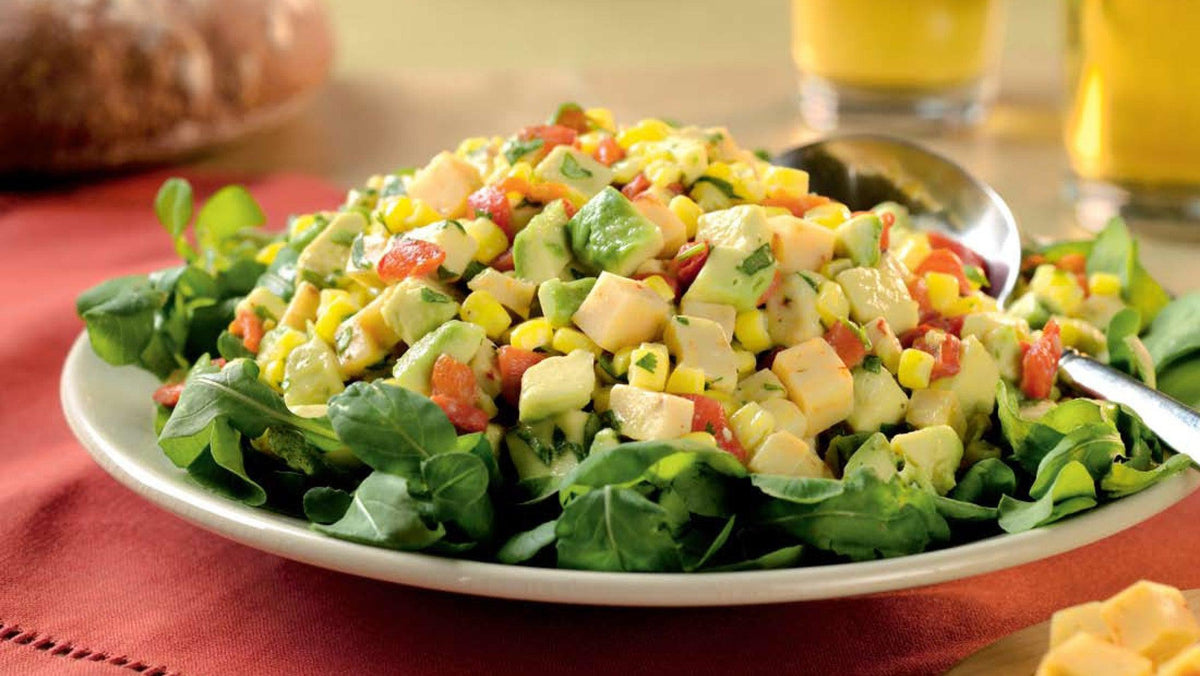 Summer Salads and Sides
The very best BBQ salads and warm-weather side dishes to bring out the best of the last days of summer.
Can you believe it? For some school has already started. Other families are gearing up for the coming school year. But let's not hurry things along too quickly. There are still a few glorious weeks of summer left to enjoy, including lots of delicious selections from gardens, farm stands, and farmers' markets.
This post is inspired by some delicious, wholesome recipes for salads and sides that take advantage of summer's fresh ingredients. Salads serve so many summer mealtime duties. They can be one course of many, or on days when it's too hot to cook, these BBQ side dishes & salads can be the star of the show.
Here are some of our favorite recipes, courtesy of members of the Cabot Cheese Board.
Gina of Running to the Kitchen created these adorable and tasty Cheddar Tomato Salad Cups that are perfect for your next picnic or gathering. Crispy cheddar cups hold all the goodness of a summer day.
Crisp and crunchy with nuts spiced to perfection, that's what makes up this Romaine Salad with Chicken, Cheddar, Apples, and Cranberry Vinaigrette from Mel's Kitchen Café. The Cranberry Vinaigrette dressing is the perfect counterpoint to the veggies and cheddar.
Here's a main course salad that is picnic perfect or just right for a family gathering. Heather at Sugar Dish Me created her signature Creamy Ham & Cheddar Pasta Salad for just such occasions. The secret to this family favorite might be in the dressing, made with Greek yogurt for a creamy tang that gives it that extra zing!
Broccoli! Bacon! Cheddar! Put all these much-loved ingredients in a summer salad and you'll have a winner for sure Katie at Healthy Seasonal Recipes based this recipe on some of her her Gramma Ginger's favorite ingredients, including her beloved Vermont cheddar. We're sure her Broccoli Cheddar Salad with Bacon would have made her grandmother proud.
And speaking of New England traditions, David of Spiced Blog wrote a great post about this New England Potato Salad with Horseradish Cheddar that he discovered in the Cabot Creamery Cookbook. It's a fantastic change of potato salad pace that's a total crowd pleaser.
Egg salad is another classic summer food classic. Karly of Buns in My Oven has tweaked her recipe to include bacon AND cheddar! We support that kind of delicious innovation. Her Cheddar Bacon Egg Salad is the stuff summer dreams are made of.
Here's another yummy chopped salad, this one from Mary at Bare Feet in the Kitchen. Her Chopped Salad with Bacon Chipotle Ranch Dressing is a main-course salad with dressing so good, she often uses it as a dip for veggies. This one is a great solution for dinner when it's too hot to cook.
So many good things come to us from Alida's Kitchen. These two salads are no exception. The first, her Buffalo Chicken Quinoa Salad, packs flavor, nutritious ingredients and a Buffalo kick into one great dish.
Next, Alida goes south-of-the-border to bring us this Taco Pasta Salad that is destined to become a family favorite and a great addition to your pot-luck recipe collection.
Michelle, The Brown Eyed Baker, brings us this beautiful Seven Layer Salad that's a pretty as it is delicious. They say we first eat with our eyes. And our eyes tell us this is one amazing dish!
Salads in a jar – an idea that has gained popularity all over the Internet. We have to thank MJ and Hungryman for this Southwestern Chicken Fajita Mason Jar Salad. What a fun way to serve a dinner salad at your next picnic or gathering.
"Mini Ranch Chicken Salad Rolls are portable, fun and completely delicious!" So says Tanya of Lemons for Lulu. Her creation is easy to make, but hard to resist.
And now for a few summer side dishes that will have family and guests begging for more.
For example, take this wonderful recipe for that Southern classic, Pimento Cheese, from Meme at Living Well Kitchen. In addition to pimentos her version incorporates jalapenos and a hint of cayenne to bring up the heat…and the flavor. It's great as a dip with veggies or a spread with your favorite crackers.
Katie at Healthy Seasonal Recipes created the ultimate tomato side dish with her Cheddar Roasted Tomatoes. This dish is so simple and so delicious. It's one that I make over and over again as my garden gives up beautiful ripe tomatoes week after week in the summer.
Who knew that peaches would be the perfect addition to a chicken and cheddar quesadilla? Whitney of WhitneyBond.com created what just may be the perfect summer grill treat. Her BBQ Chicken Peach Bacon Cheddar Quesadilla captures all the sweetness, heat, and delicious magic of the summer. Trust me, this recipe's a total winner.
The ladies at We Are Not Martha have hit upon a light and completely innovative summer appetizer with their Cheddar Cups with Avocado Feta Mousse. These tiny, tasty treats are just what the doctor ordered for your next warm-weather get-together.
Looking for an iconic summer side dish for your next party or picnic? Why not make this Corn with Cheese and Bacon, because nothing tastes better than fresh summer corn. Unless it's corn with CHEDDAR and BACON! Karly from Buns in My Oven says you can use frozen corn, but since it's summer, why not go for fresh?
And finally, on a hot day, this cool dip – a very traditional Greek Tzatziki Sauce with Garlic and Dill from Liz at The Lemon Bowl – may just become your go-to recipe of the summer. It's perfect on a pita, crazy good on crudités, and makes a hamburger happier by its mere presence.
So there you have it. A long and luscious list of super summer salads and sides. Now get out there and enjoy the day!