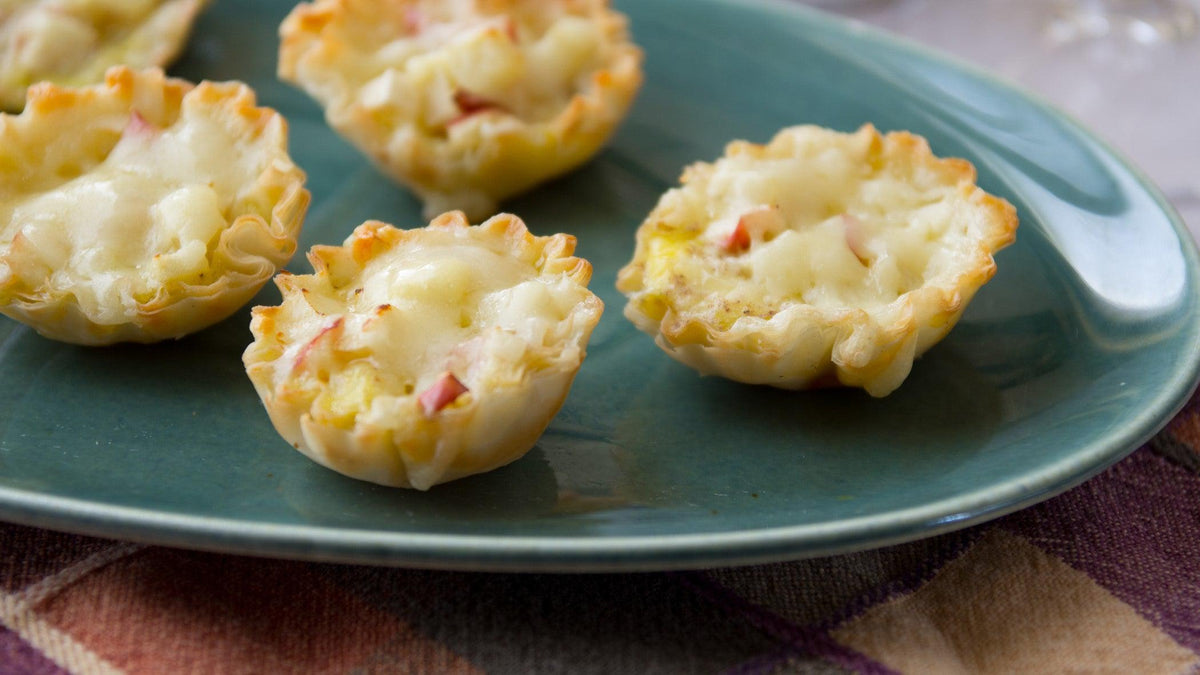 Tempting Tapas
Our Favorite Small Dishes that Pack Big Flavor in Small Bites
Tapas originated in Spain and are still an important part of thriving Spanish culinary culture. Spaniards often spend an evening going from bar to bar and indulging in these small, savory dishes along with wine, beer, or cocktails. What could be better than sampling a variety of beautifully prepared and artfully presented mini meals?
Though it originated in Spain, the concept of tapas has taken off around the world. An assortment of appetizers, small plates, and bite-sized snacks make for perfect party food. And small portions allow you to try different options over the course of the evening.
A tapas party is a fun – and delicious – way to entertain friends and family. Served with wine and beer, a selection of tasty, savory treats presented buffet style makes entertaining elegant, easy, and fun.
---
There are no hard and fast rules, but here are a few ideas to help make your tapas party a scrumptious success.
K.I.S.S. – Keep it savory and simple. Not all tapas selections have to be complicated. Serving something as simple as a variety of olives or a dish of Marcona almonds can be completely on point and just right for the party.
Plan and work ahead. Be sure that most of your dishes can be prepared ahead of time so all you have to do on party day is set food out and enjoy your guests.
Don't forget the drinks. Whether you're serving your favorite wine, making sangria, or creating a signature cocktail, great libations are a key ingredient to any successful party. Don't forget sparkling water and maybe even a signature mocktail for those who aren't indulging.
Keep it neat. Be sure to have plenty of coasters, cocktail napkins, toothpicks, and small plates or bowls for discarded napkins and toothpicks by each serving dish.
Mix it up.  A mix of hot and cold dishes will please your guests and keep your menu interesting.
Mix even more. Be sure your pay attention to the textures, flavors, and colors of the dishes you serve. Include creamy and crunchy, mild and spicy, and all the colors of the food rainbow.
Work the room. Place your various dishes throughout the room to keep traffic and conversation flowing.
Have fun. Relax and savor this fun and casual way to enjoy great friends and fabulous food.
A beautifully arranged cheese board is perfect for a tapas party. We have two different cheese board suggestions on our website. One is a Simple Cheese Board, a uncomplicated but pleasing selection of cheeses and accompaniments.
The second has more elements and a sophisticated appeal. Our Special Occasion Cheese Board is perfect for a larger crowd.
---
Following are seven of our favorite appetizers and small plate dishes from the Cabot kitchens. They're perfect for your next tapas party, or any time a small dish can reap big taste and bigger fun.
Marinated Cabot Cheddar Cheese Cubes
Stuffed Sweet Peppers with Pancetta & Cheddar
Cauliflower Wings with Buffalo Yogurt Dip
Baked Breaded Zucchini Sticks with Greek Yogurt Dip
Cheesy Cauliflower Breadsticks
---
If you would like to learn more about Cabot Creamery Cooperative, get more delicious recipes, or take a virtual tour of some of our farm families, click here. If you find a recipe that you love on our site, please rate and review it – we appreciate your feedback!
You can also sign-up for our Newsletters so that you don't miss a thing.