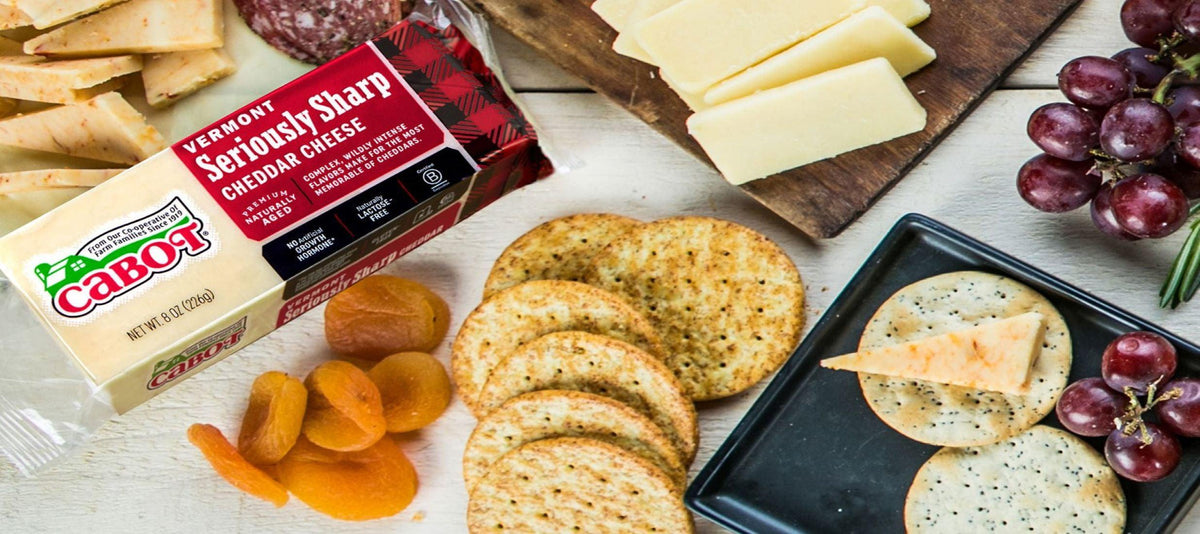 Cabot's Cheeseboard Favorites
Nothing showcases our farmers' wide range of award-winning cheeses like a gorgeous cheeseboard, where more is always welcome and you can get creative by pairing your favorite Cabot cheeses with sweet and savory accompaniments to create memorable, and often surprising, flavor combinations.
Danielle's "Friendly Gathering" Cheeseboard:
For friendly gatherings, I love building a beautiful cheeseboard for my guests. It's so fun to play with colors, textures, and shapes. I also like to add vegetarian items such as fig salami, which I found at a local market in Northfield, VT. Cabot Alpine Cheddar, our tried and true Seriously Sharp Cheddar, and Pepper Jack are accompanied by a variety of crackers, fresh fruits, jams, spreads, and of course local meats, fruit and veggies.
---
Wendy's "Brunch-Y" Cheeseboard:
All my favorite ingredients in one place!
Goat cheese
Beer cheese spread
Kalamata olives
Castelvetrano olives
Deviled eggs
Roasted peppers
Walnuts
Buttered, broiled French bread
Spicy Muhummara spread
Serrano ham
Salami
Fresh figs
Fig jam
---
Rachael's "Bee Seasonal" Cheeseboard:
I love creating a hearty cheese board that focuses on cheeses & meats. I start with my favorite Cabot Alpine and Private Stock Cheddars, then add some soft, creamy Vermont cheeses. For the meats, I love spicy peppered salami and classic smoked pepperoni. I always add some sort of spread as well. The sweet honey on this board nicely balances the salty cheeses and meats.
---
Jenni Tilton-Flood's "Summer's Here" Cheeseboard:
When summer finally arrives, we relish the long days and soft nights. Maine is sweet in summer, dripping with its own berries and honey, and a cheeseboard highlights the best seasonal foods and makes the summer last a little longer. I gather my supplies from nearby stores and markets that feature locally grown and made foods, including salami, honey, chèvre, mead, blueberries, roasted almonds, chocolate, apples, grapes, and of course, my favorite Cabot cheeses: Centennial Cheddar, Artisan Cheddar, and Hot Buffalo Wing Cheddar. I make sure to include something for everyone.
---
Averill's "First Week of School" Cheese Board:
Here's every luscious component.
The Cheeses: goat cheese with honey and a quince thyme rosemary jam; Cabot 5-Year Cheddar; fresh mozzarella; Cabot Orne Meadows; Cahill Porter Cheddar (from Ireland).
The Accoutrements: fresh cantaloupe, plum & cherry tomatoes, marinated olives, roasted garlic, pretzel crisps, baguette toasts, water crackers, prosciutto, salami, homemade pickled jalapeños, and guacamole.
---
Now that you're feeling inspired and your palate is buzzing with possibilities, pick up some of our farmers' best cheeses, an array of delicious accompaniments, and build a gorgeous cheeseboard for an upcoming party or festive weeknight spread. Follow your taste buds or let us show you how to make a showstopping cheeseboard!
Check out our cheese pairing guide for some deliciously unexpected cheese pairing inspiration.
Make it your own, make it delicious. Enjoy!