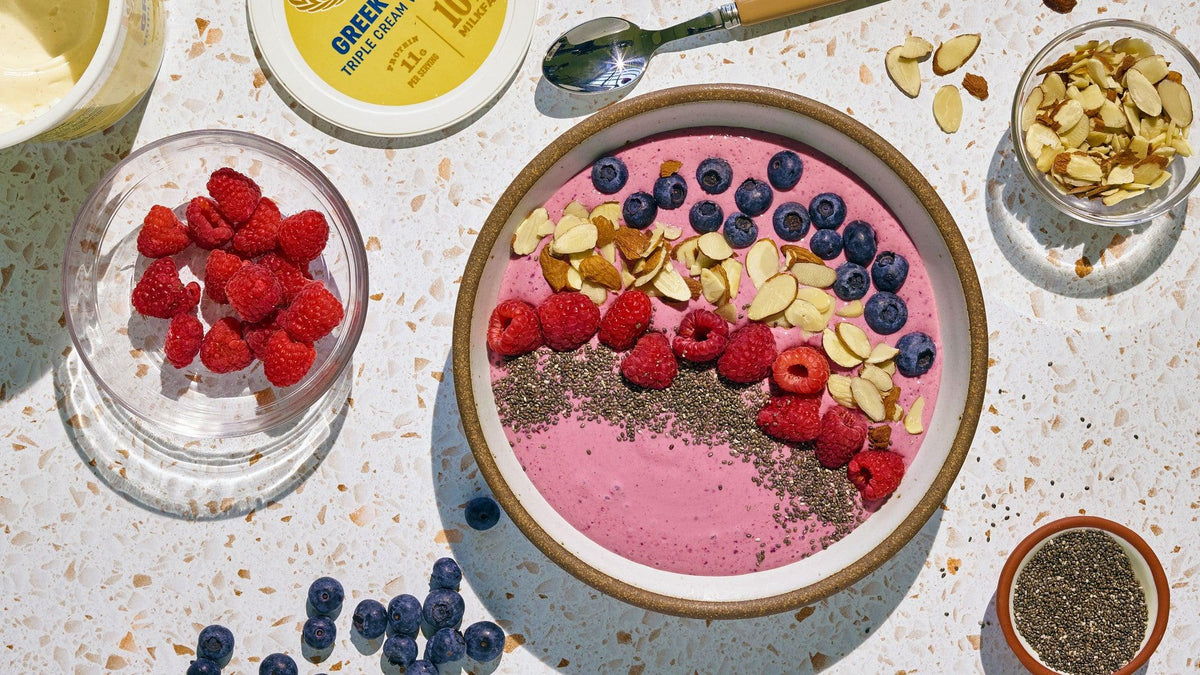 Cabot Creamery's Most Popular Recipes of 2022
With 2023 officially off with a bang, we've wrapped up our most popular recipes of 2022 - if you're looking to add some new dishes to your New Year cooking repertoire, the team at Cabot has you covered! 
Are you ready to discover the dishes that everyone will be talking about this year? From hearty main courses to delectable desserts, we've gathered a collection of the most buzz-worthy recipes in our '22 recipe kit. Whether you're a seasoned home cook or just starting out in the kitchen, you'll find something to love in this lineup of top-rated dishes…so, let's get cooking!
Cabot's Baked Macaroni and Cheese is a creamy, comforting classic that's sure to become a family favorite. This easy recipe starts with elbow macaroni, cooked until tender and then tossed with a rich combination of Cabot's award-winning Cheddar, milk and butter. This recipe gets it's famous, yet subtle kick from one secret ingredient - several dashes of Tabasco! The macaroni and cheese is then topped with a sprinkle of breadcrumbs and cheese, and baked until golden and bubbly. This dish is perfect for a cozy night in or as a side to your favorite grilled meats. Give it a try and see why it was one of Cabot Creamery's most popular recipes this year.
Another hit in 2022 was this delectable Berry Smoothie Bowl recipe! Refreshing and rich frozen berries are added to a thick and delicious Cabot Greek Yogurt smoothie base, poured into a bowl and topped with almonds, chia seeds, berries and more for a nutritious start to any day. Rich and packed with antioxidants, these smoothie bowls are a simple way to get in the nutrients you need without the fuss. Smoothie bowls are great breakfast, a nutritional after-school snack, and a perfect treat on a hot summer day.
Looking to spice up the New Year with a creamy, flavorful dip the whole family will love? Look no further than this delicious Greek Yogurt Tzatziki, which blends delicious Cabot Greek Yogurt with fresh cucumbers and Mediterranean flavors. This ultra-versatile (and ultra-creamy) Tzatziki comes together in no time, giving you a healthy topping or a stand-alone dipping sauce to serve with fresh pita or fresh veggies. 
Quick, easy, fulfilling and delicious - it's no wonder this Breakfast Sausage Casserole was one of the biggest hits in 2022! We know there's nothing better than a hearty breakfast that serves a crowd, especially when it is this easy to throw together. This casserole combines basic pantry staples like milk, eggs, bread and sausage with Cabot's award-winning cheddar cheese, all combined in one baking dish and baked in the oven for 45 minutes. The best part – the opportunities are endless with a casserole this easy! Cut the ingredients in half to effortlessly reduce the recipe to 4 servings, or change it up using chorizo and Pepper Jack, bacon and Colby Jack, or even Ham and Vermont Sharp Cheddar. 
If your resolution is to elevate your side dishes in 2023, it truly doesn't get much more decadent than this beautiful au gratin style dish! These Scalloped Potatoes were a favorite amongst cooking newbies and veterans alike this year, and for good reason: preparation is as simple as slicing, combining and baking, making this dish one of the best side dishes to serve a crowd. Thinly sliced potatoes are smothered in tasty Cabot Extra Sharp Cheddar, thyme, and Cabot Greek Yogurt for a delectable side dish with a golden crust that's almost too pretty to eat. 
One of the most consistent trends we saw this year was a desire for new, hearty and healthy comfort foods - unique and fresh takes on classic favorites that blend flavorful ingredients into easy, comforting meals. This colorful dish comes together in minutes, using ingredients that you likely already have on hand! Simply boil your favorite pasta, saute onion, garlic and beef with flavorful seasonings and top with award-winning Cabot Cheddar for a healthy, hearty and comforting meal the whole family will enjoy. 
Cooking a sizable, but nourishing meal for your family can seem like an overwhelming task, but this filling and hearty dish is easy to create and sure to please a crowd. Blending basic ingredients like potatoes, Cabot Salted Butter and ground turkey with garlic, cream and Dijon mustard, this casserole makes six full servings that are bursting with flavor. 
Generations of families have gathered together to share beef stroganoff over the years, so it's no wonder this recipe made the list in 2022! Our version of this dinner time favorite pays homage to the comforting classic flavors like seared beef and mushrooms, while adding creamy Cabot Greek Yogurt, smoky paprika, and baby bella mushrooms for a healthier, heartier sauce that's both filling and packed full of flavor. Swapping the sour cream for Cabot Greek Yogurt adds nutritious protein and gives the broth extra creaminess, so you can be confident your family is getting a satisfying, healthy meal that they'll ask for again and again. 
Cabot's Tomato Cheddar Soup is a creamy, flavorful soup that's perfect for a chilly day. This recipe starts with a base of Italian plum tomatoes, simmered with diced onions, garlic, and a blend of aromatic spices. The soup is then finished with a generous helping of Cabot Seriously Sharp Cheddar or White Oak Cheddar, which adds a creamy richness and complimentary tang to the dish. Serve this soup with a crusty baguette or a grilled cheese sandwich for a satisfying meal. With the added convenience of unused portions freezing well in airtight containers (and reheating with minimal effort), you won't go back to canned tomato soup in 2023! 
Charcuterie was one of the most popular topics of 2022 - after all, who doesn't enjoy serving delicious meat and cheese pairings to family and friends? These Jarcuterie Cups were our fun and functional twist on charcuterie plates, making for an easy, beautiful, delicious and nutritious snack for any occasion. Simply pack individual jelly jars full of delectable Cabot Cheeses, mixed nuts, dried fruits, aromatic herbs, charcuterie meats (and anything else you can find), garnish with a fresh stalk of rosemary and go! These individual appetizer cups are impeccably easy and incredibly versatile, which earned them a spot on the best of 2022 list.

When the boom of the cult-favorite Instant Pot hit in 2021, many of us expected it to be another kitchen appliance trend… what we didn't know at the time was that Instant Pot recipes were soon to become some of our most popular (and most delicious) dishes! This Instant Pot adaptation of classic Mac and Cheese is the dreamiest, creamiest and most luxurious macaroni and cheese you can make. The impressive convenience of this 8-serving dish makes it a well-loved favorite - simply add macaroni, Cabot Unsalted Butter, water and seasonings and cook! Once complete, add cubed Cabot Cream Cheese, Seriously Sharp Cheddar and Monterey Jack, stirring until smooth.
Dubbed "the best cheesecake ever" by many of our commenters in 2022, this warm and cozy take on classic cheesecake is a beautifully delicate blend of maple flavor and creamy, rich goodness. Using only 6 ingredients, most of which you probably already have in your pantry, this cheesecake comes together for a delicious 12-serving dessert. Simply combine crushed graham crackers with Cabot Butter and sugar for a fool-proof crust and fill with a mixture of Cabot Cream Cheese, eggs and maple syrup and bake until nearly set. 
This flavorful Bacon Cheddar Poutine is one of the easiest and most delicious recipes on this list, coming together in 30 minutes or less and packed full of savory flavors from the bacon, Cabot Sharp Cheddar and home-made gravy. The combination of textures and flavors in this dish is truly unbeatable, making it one of the most-loved Tailgate appetizers of the year. Serve it as a hearty pre-game snack, or as a main course, alongside your favorite grilled meats or sandwiches. This easy twist on the classic Canadian dish will quickly become a new favorite! 
You don't even have to be on TikTok to have heard about the viral salad everyone was talking about - and eating! - in 2022. With a base of cabbage, green onion and cucumber and topped with a delectable homemade dressing, this salad is packed full of nutrient and fiber-rich veggies and heart-healthy fats, making it one of the best recipes of the year. The dressing comes together in seconds in a blender, combining creamy Cabot Lowfat Greek Yogurt with fragrant herbs, garlic, shallot, lemon, olive oil and honey to taste. Not only is it an incredible nutrient-dense meal, this recipe makes 6-8 servings and can keep for up to a week in the fridge, making it one of the most effortless meal prep recipes of the year. 
This show-stopping Mexican dish is traditionally a rich stew made with goat or lamb and served in a broth with no tacos involved… but we think everything is better with cheese! Our take on this traditional stew starts with slow-roasting a chuck roast with a multitude of Latin seasonings and flavors for over 8 hours, making it the most time-consuming recipe on the list, but we guarantee the wait is worth it. The roast is then shredded and returned to the stew, and served with broth-dipped tortillas, packed full of melty, creamy Cabot Mexican Shredded Cheese. While it's certainly a labor of love, it's one of the most delicious and comforting meals you can share with friends and family this year. 
What better way to ring in the New Year than by adding a little spark to your next dinner? This edible candle (and edible wick) recipe was one of the top-searched recipes in 2022, blending all of the best things together for a fun and interactive dipping experience. Simply blending cozy, roasted garlic cloves with softened Cabot Butter, salt, and desired herbs, paired with a little creativity and patience gives you one of the best, unique ways to enjoy bread and butter this year. Adapt your candle recipe for meals and seasons by adjusting a few ingredients - you can omit the garlic and herbs and swap for cinnamon and sugar for a sweet take that can be served with sliced toast for a unique brunch dish. 
2022 was full of recipes from all over the world, with unique adaptations to traditional favorites at every turn, but few are as easy and delicious as Shakshuka. One of the most popular egg dishes in Israel, this Jewish/North African-inspired egg dish translates to "all mixed up," which is exactly what you do! The dish comes together with a fragrant and flavorful combination of onion, garlic, tomatoes and a blend of herbs and spices, with eggs cradled in the tomato mixture and steamed in a skillet until set. Topped with a sprinkling of Cabot Garlic Herb Cheddar or Seriously Sharp Cheddar and ready to serve in under 15 minutes, this show-stopping breakfast dish earned its spot on the 2022 list, proving to be one of the best Breakfast and Brunch recipes of 2022. 
Cook With Cabot Creamery in 2023
While 2022 gave us some of our favorite new recipes, we can't wait to show you what's cooking in the Cabot Kitchen this year. Be sure to check out more
recipes and recipe blogs
on our site while building your menus this year, and stay tuned for more delicious, nutritious, hearty recipes sure to delight!