Easy Turkey-Potato Casserole Recipe
Servings
Prep Time
Cook Time
Sometimes cooking a sizeable, but nourishing, dinner for the family can seem like a daunting task. But there are plenty of recipes out there that are very filling and also very simple to make. This turkey casserole recipe makes about six servings and you can make it in roughly an hour or two. This is a great dish to make if you're planning on attending a large get-together, but it's also a perfect dish to cook up if you're family is looking for a really hearty meal. After trying this recipe, please feel free to rate and review it and also share your thoughts on social media.
Like most fall comfort foods, this particular turkey casserole recipe is packed with tons of flavor. The ingredients needed for this dish are basic, as you'll only need three pounds of Yukon Gold potatoes, two tablespoons of softened Cabot Salted Butter, one pound of ground turkey, two garlic cloves, salt, black pepper, two cups cream and also one tablespoon of Dijon mustard.
If you're a big fan of fall comfort food, then you're definitely going to love this turkey casserole recipe. It's practically bursting with delicious flavor, and we know that if you decide to make this dish for the family, it will become a requested favorite. We understand just how important it is to only serve the best to your loved ones, which is why we're eager to hear your thoughts about this dish. Please feel free to rate and review it and share this recipe on Facebook, Twitter and Pinterest so others can try it out too. Enjoy!
Ingredients
3 pounds Yukon Gold or all-purpose potatoes, peeled and thinly sliced

2 tablespoons Cabot Salted Butter, cut into very small pieces, divided

1 pound ground turkey
3 large garlic cloves, peeled and minced
¾ teaspoon dried sage
¾ teaspoon dried parsley
¾ teaspoon dried rosemary
¾ teaspoon dried thyme
1 teaspoon kosher salt, or to taste, divided
½ teaspoon freshly ground black pepper

8 ounces Cabot Founders' 1919 Adirondack Cheddar or other favorite Cabot sharp cheddar, grated (about 2 cups), divided

2 cups heavy cream
2 tablespoons Dijon mustard
Directions
PREHEAT oven to 350°F. Lightly butter the inside of a 9 x 13-inch baking dish.
COOK the ground turkey in a skillet with the garlic and herbs, breaking up any larger pieces of turkey with a spatula, until the turkey is browned and any liquid has evaporated.  Season with salt and pepper.
ARRANGE half of the potato slices over the bottom of the baking dish so that they overlap. Dot with half of the small pieces of butter.

SCATTER the ground turkey mixture evenly over potatoes. Sprinkle half of the cheese evenly over the turkey. Arrange remaining potatoes over the top so that they overlap each other and dot with remaining butter. Season evenly with the remaining salt.

WHISK together cream and mustard; pour evenly over casserole. Cover the casserole tightly with aluminum foil. Bake for 1½ hours, or until potatoes appear to be melting into the half and half.
REMOVE from oven and sprinkle with remaining cheddar. Place under broiler until cheese begins to color. Let stand for 15 minutes before serving to firm up.
Nutrition
Amount/Serving
% Daily Value
Fat

54 grams
83%

Saturated Fat

29 grams
145%

Cholesterol

215 milligrams
72%

Sodium

770 milligrams
32%

Carbs

46 grams
15%

Fiber

3 grams
12%

Sugar

3 grams

Protein

27 grams

Calcium

302 milligrams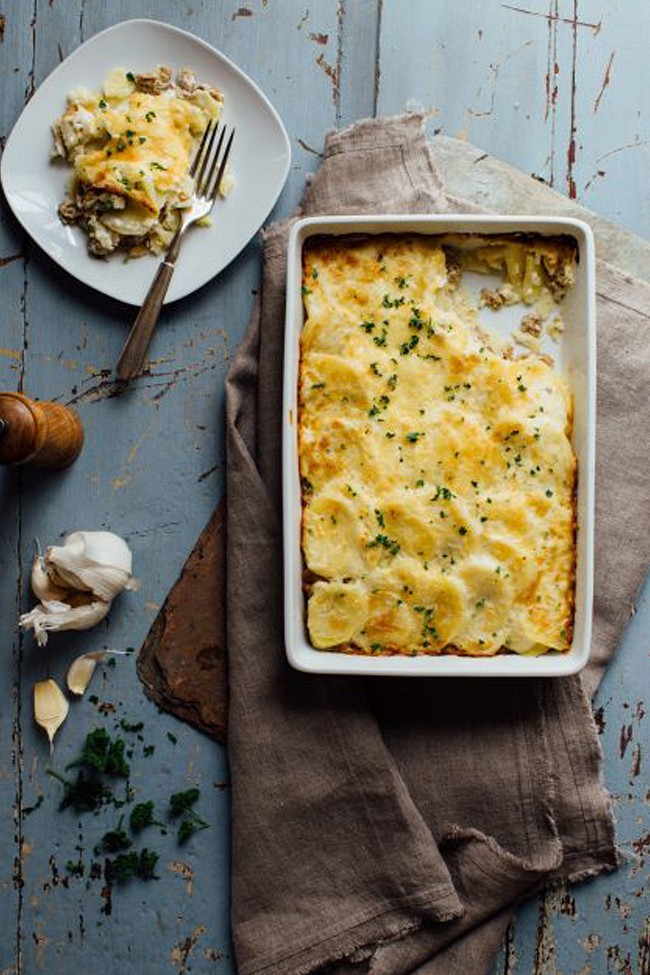 Recipe Tips
This casserole can be made even more delicious using leftover turkey from Thanksgiving and served with gravy.