Berry Smoothie Bowl with Yogurt
While we enjoy smoothies quite a bit, sometimes we wish we could put them in a bowl with our favorite toppings and eat them with a spoon. And we're not the only ones – that's why smoothie bowls were created and have become so popular! If you love berry smoothies, you're going to love this refreshingly delicious berry smoothie bowl recipe. Frozen berries are added to a thick and creamy Greek yogurt smoothie base to make a beautiful bright pink antioxidant packed smoothie. It's poured right into a bowl and the topped with chia, berries and almonds for contrasting crunch and a nutritious start to the day! Share this yummy berry smoothie with yogurt recipe with friends and family on Facebook, Pinterest, Instagram, and Twitter.
To make one 2-cup serving of this bright, healthy and delicious Berry Smoothie Bowl, combine frozen mixed berries, Cabot Lowfat Vanilla Bean Greek and tart cherry (or pomegranate) juice in a blender. Puree until smooth. Scrape smoothie into a bowl and top with the remaining berries, sliced almonds, chia seeds and, if using, pomegranate arils.
Want another berry smoothie with yogurt recipe? You'll love this Blueberry Yum Yum Smoothie. As a cooperative of farm families, Cabot takes a lot of pride in making our award-winning dairy products. We'd love to hear your thoughts on this Berry Smoothie Bowl recipe, so please rate and review it once you've tried it.
Ingredients
1 cup frozen mixed berries, plus ¼ cup for garnish (or use fresh berries for garnish)

⅔ cup Cabot Lowfat Vanilla Bean Greek Yogurt

¼ cup tart cherry or pomegranate juice
1 tablespoon toasted sliced almonds
1 tablespoon pomegranate arils, optional
1 teaspoon black chia seeds
Directions
COMBINE 1 cup frozen berries, yogurt and juice in a blender and puree, until smooth. Shut off the motor and stir to get the ingredients moving once or twice. Scrape the smoothie into a serving bowl.

TOP with the remaining ¼ cup frozen berries (or use fresh berries), almonds, pomegranate arils (if using) and chia seeds.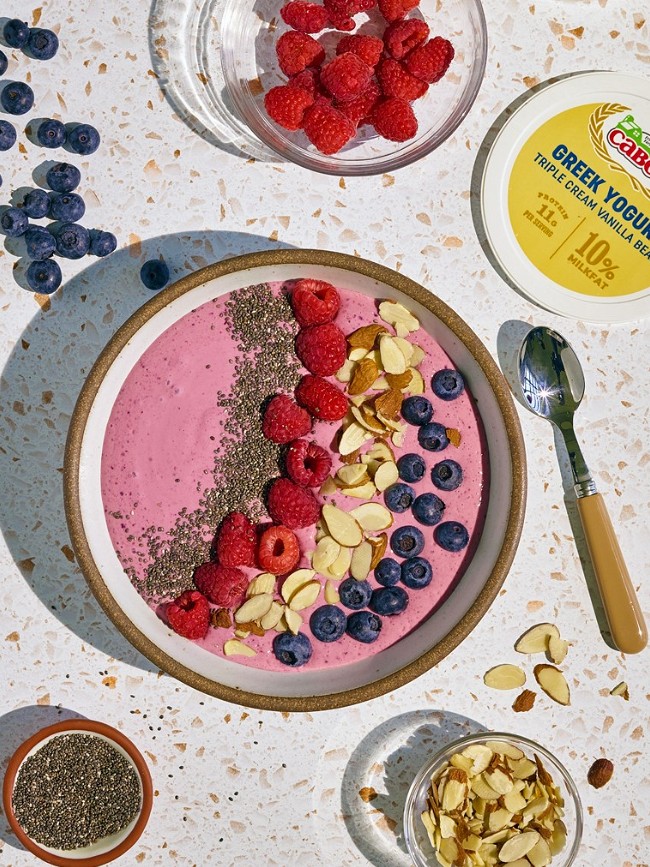 Recipe Tips
Mix and match your favorite toppings with whatever fruit is in season for an endlessly customizable breakfast.