Garlic Butter Candle Recipe
Looking to add a little spark to your next dinner? Try an edible candle with an edible candle wick! It will be sure to light up your evening. This garlic butter candle is a tasty and cozy way to make enjoying bread and butter an interactive experience. As you light the candle, the butter begins to melt, perfect for dipping your favorite bread. Whether you are replacing the candles at your next dinner party or looking for a fun appetizer, this butter candle is sure to wow your guests.

Ingredients
2 sticks of Cabot Salted Butter or Cabot Extra Creamery Sea Salted Butter

1 head of garlic

1 tablespoon olive oil

Pinch of salt

1 tablespoon chopped fresh herbs such as thyme, oregano, basil or rosemary (optional)

1 paper cup, 12 - 16 ounces

1 edible candle wick (food safe, organic hemp/bees wax)

1 fresh baguette or your favorite bread or roll
Directions
PREHEAT oven to 400°F.

SOFTEN butter to room temperature and place in a mixing bowl.

ROAST the garlic head in the oven: Slice ½ inch off the top of garlic bulb, drizzle with olive oil and sprinkle with salt. Wrap in tinfoil and bake on a baking sheet at 400°F for 45 - 60 minutes.

COOL roasted garlic head to room temperature. Squeeze the cloves out of their skins into the bowl of softened butter.

ADD salt and/or other desired herbs to the butter and garlic and mix until well combined.

CUT a small hole in the bottom of the cup. String a length of edible wick through cup hole.

FILL the cup with the softened butter mixture, making sure the wick remains centered. Refrigerate the cup until butter is firm.

FLIP the butter candle out of the cup or cut the paper cup off the candle and place onto a serving plate. You may need to cut the paper cup to release it. Trim the wick if needed.

LIGHT the candle, allow the butter to start melting. Dip the sliced bread or other desired foods (such as radishes or cooked potato spears) into the garlic butter and enjoy!
Nutrition
Nutrition
Serving Size

1 tablespoon
Amount/Serving
% Daily Value
Fat

12 grams
18%

Saturated Fat

7 grams
35%

Cholesterol

30 milligrams
10%

Sodium

110 milligrams
5%

Carbs

1 grams
0%

Fiber

0 grams
0%

Sugar

0 grams

Protein

0 grams

Calcium

4 milligrams
0%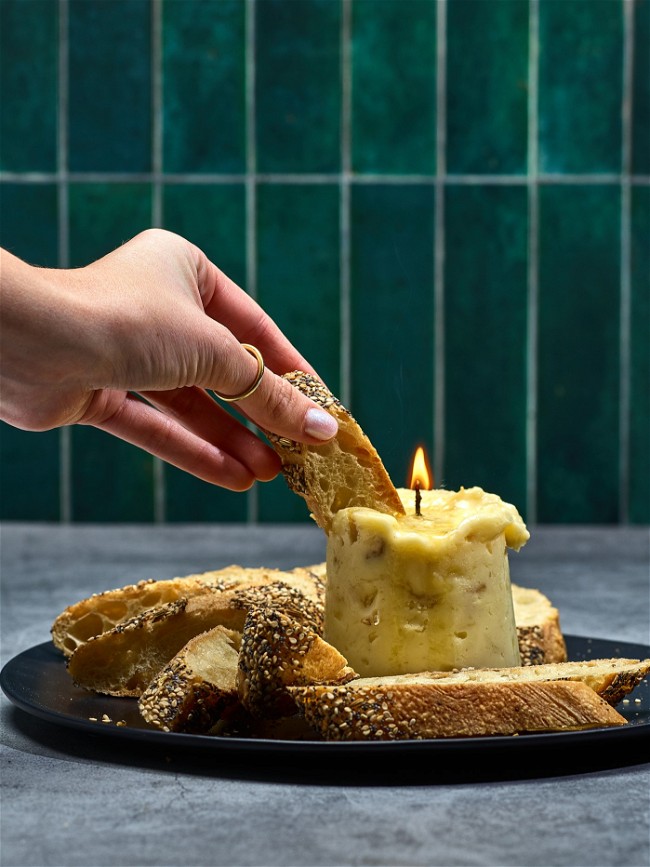 Recipe Tips
Try a sweet version of the butter candle by omitting the garlic and herbs and flavoring with cinnamon and sugar, or a little maple syrup or honey. Serve with sliced bread, toast, or muffins for a unique brunch dish.