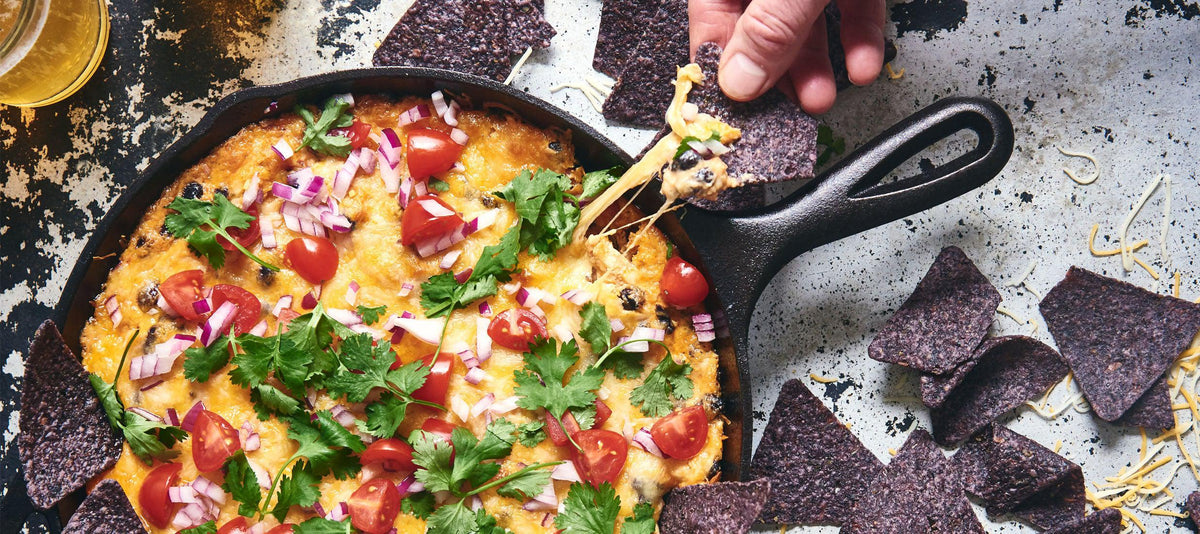 Top Game Day Dips to Feed a Crowd
The biggest game of the year is rapidly approaching, and we know it's not just about the game itself, it's also about the food! Whether you're hosting a viewing party or just looking for something to munch on while you watch the game, dips are always a must-have. They're easy to make, easy to eat, and are perfect for feeding a crowd. In this #RecipeRoundup, we'll be sharing some of Cabot Creamery's best Game Day dip recipes that will be sure to please your taste buds and keep your guests coming back for more. So, grab a pen and let's get started on your game day grocery list! 
Table of Contents:
Quick, easy and lactose free, this Black Bean Chili Dip takes virtually no time, simplifying your party prep and expanding the menu for your friends with different dietary needs! Black beans, corn, salsa and chiles come together with chili powder and your favorite Cabot cheddar for the most scoop-able skillet dish that will feed 8 - simply double (or triple!) the ingredients for a bigger batch of cheddary, spicy goodness. 
This Spicy Corn Dip is one of the easiest dip recipes to whip up at home. Using only 5 wholesome and tasty ingredients - corn, Cabot Greek Yogurt, cilantro, chili pepper and garlic - this corn dip recipe packs a kick without overpowering the fresh flavors. This recipe makes about 1 ⅓ cups but is easy to scale up by doubling or tripling the recipe (and supplying extra pita bread or tortilla chips!). 
Cabot's Taco Skillet Dip is a delicious blend of warm Mexican Shredded cheese and chicken, perfectly complimented by fresh salsa, onion, black beans and a creamy base of cream cheese and sour cream. With a prep time of less than 30 minutes, this is a quick and effortless way to please a crowd of football enthusiasts this game day! Thanks to the hearty and flavorful ingredients, this dip is sure to be a hit - and it's easy to reduce or double depending on your guest count. 
Barbecue has been a long-time staple for tailgates and watch parties alike, so why not blend classic fan-favorite flavors into a delectable BBQ Yogurt Dip? Take your leftover barbecue sauce and put it to good use by blending it with creamy Cabot Greek Yogurt, lemon juice and cream cheese for a delicious pairing of sweet and savory flavors. While the recipe is easy to whip together in a food processor, make sure to plan for a few hours of refrigeration to firm the dip up - perfect to make the night before! 
If you're looking for a delicious take on a game day favorite, try our Habanero Black Bean dip! Beans, tomato, onion, and south-of-the-border seasonings are sauteed and blended, complimented with a citrusy kick of lime juice and fresh cilantro, topped with Cabot Habanero Cheddar, and broiled for a golden, melty, and dippable treat. We love it with fresh vegetables like celery and carrots or served with pita or tortilla chips. A perfect Game Day dip for any crowd, packed with protein and crave-worthy Latin flavors. For a less-spicy twist, swap the Habanero Cheddar for classic Cabot Pepper Jack - an effortless way to dial it down for the kiddos. 
What's a Game Day party without Buffalo Chicken Dip? Look no further than our rich, spicy, and creamy Buffalo Chicken Dip. Made with decadent rotisserie chicken (no pre-cooking required!), tangy hot sauce, and two types of creamy Cabot cheese, this recipe is easy to prepare and sure to be a hit! Serve it with chips, crackers, celery sticks or sliced bell peppers for a perfect dipping combo that comes together in no time - your oven does most of the work! 
While the "Big Game" is undoubtedly an American tradition, no party is complete without a little Italian flair. This hearty and savory dip blends classic Italian flavors like ripe red tomatoes and fresh-cut basil with creamy Cabot Cream Cheese and your favorite Cabot Cheddar, adding a layer of freshness to a classic crowd favorite. Not only is this a warm dip so delectable it can serve as its own side dish, it pairs with virtually any dipping vessel - crisp, healthy veggies, crackers, chips or slices of bread - the options are endless, and sure to please any palette. This Italian Cheddar Dip is a fun and easy way to add a little extra flair to your gameday spread. 
The Cabot Team curated this recipe to feed a crowd, and it does just that! Using simplified ingredients like a prepared pizza dough and lean ground beef, this dip comes together in less than half an hour, leaving you with a bubbly, gooey, creamy, and cheesy Bacon Cheeseburger Skillet Dip perfect for dipping (or digging in with a spoon!). Take it a step further and serve with hearty ruffled potato chips or crispy French fries for the full "burger" experience. Your guests are sure to leave you with an empty skillet - fingers crossed it makes it to half time! 
This rich and flavorful Cheddar Ale Bacon Dip is a more elevated, shareable, and dippable version of your favorite cheddar-beer soup or beer cheese sauce! Smoky bacon, amber ale, Dijon mustard and Tabasco sauce come together with the delicious creaminess of Cabot Cream Cheese and your favorite Cabot Cheddar - simple to make, but complex in flavor. This recipe hits on all of the Game Day staple ingredients and serves 16, perfect for a large gathering! We love serving it with blue corn tortilla chips, but any hearty chip will do.  
If you're on the hunt for a healthier alternative for your game day scoops, look no further than Cabot's White Bean Buffalo Dip. An abundance of veggies like carrots, scallions, and artichoke hearts pair perfectly with Cabot Cheddar, buffalo sauce and Cabot Greek Yogurt for a flavor-packed dip sure to feed a crowd. It comes together with a big mix of the ingredients and a 25 minute bake, with the oven doing most of the work for you. This dip is one of our cheesiest yet - sure to find its way onto your game day spread for years to come. 
Spinach and Artichoke Dip is a well-loved favorite, but tends to be on the heavier side - this lightened up version cuts the added calories thanks to No Fat Cottage Cheese and Lite Cheddar, giving you a healthier alternative without compromising on flavor. Perfect for a crowd or a small game day viewing, this Lightened-Up Warn Artichoke and Spinach Dip is guaranteed to be a hit for your pita-dipping and celery-crunching friends alike. 
We love Chile Con Queso, and we love our Instant Pots, so why wouldn't we find a way to make the ultimate party dip a little easier? Not only is our Instant Pot Chile Con Queso Dip a crowd pleasing, party-perfect blend of creamy flavors and a kick of spice, your guests will go crazy for this three-cheese blend of homemade queso - and when they find out it only takes 20 minutes, they'll be asking you to bring it to every tailgate next season!
With just five ingredients (not counting salt and pepper) and a slow cooker, you'll have a mouthwatering Spinach Artichoke Dip ready in just 2 hours with hardly any prep time! This easy yet incredibly flavorful and impressive spinach artichoke dip recipe comes from our friends at Five Mile Farm in Lisbon, New York and is sure to become your go-to dip for parties.
Game Day dips can be a cycle of the same old flavors you've been snacking on all football season - so why not change things up? Made with our creamy, mild Monterey Jack Shredded Cheese, your guests will love dipping their nachos and fresh veggies in this smooth Monterey Jack Chile Con Queso Dip. While this recipe does require a bit more prep than some of the others that made this list, you can sub pre-diced or canned ingredients to cut the time in half. This recipe is effortlessly scaled up or down to meet the needs of your hungry Game Day crowd, and the spice can be adjusted for any palette. 
When you find out how easy this Southern appetizer staple is to whip up with just a stir, you'll be making fresh Pimento Cheese for years to come! Simple seasonings like salt, sugar and pepper come together with chopped pimentos, mayonnaise, and your favorite Cabot Cheddar, giving you a delectable and versatile dip that can be served with sliced bread, fresh and crispy veggies, or even added to a sandwich! Not only is it the easiest recipe on this list, but it makes 4 cups - perfect for feeding a crowd. 
For a delicious classic that blends wholesome ingredients like tomato salsa, Cabot Cheddar and our one-of-a-kind Sour Cream, look no further than this perfect Game Day Chili Con Queso! Not only does it make 14 servings, perfect for feeding hungry guests, it also packs a refreshing layer of heat without being too spicy. This dip is truly versatile based on your preferences, too - ramp up the heat with a spicier salsa or swap the cheddar for a sharper bite. It also comes together in minutes, making it an exceptionally easy option for same-day prep! 
Get Game-Day Ready with Cabot Creamery
Game day dips are a must-have for any watch party. They are easy to make, delicious, and perfect for sharing with friends and family. From classic dips like buffalo chicken dip and spinach and artichoke dip to more unique options like spicy corn dip and bacon cheeseburger dip, there is something for everyone to enjoy. By using fresh ingredients and Cabot's Award-Winning dairy products, you can create a delicious and wholesome dip that everyone will love. So, whether you're cheering on your favorite team or just enjoying the company of your loved ones, make sure to have a variety of dips on hand to make your game day watch party a success. 
Happy Game Day!