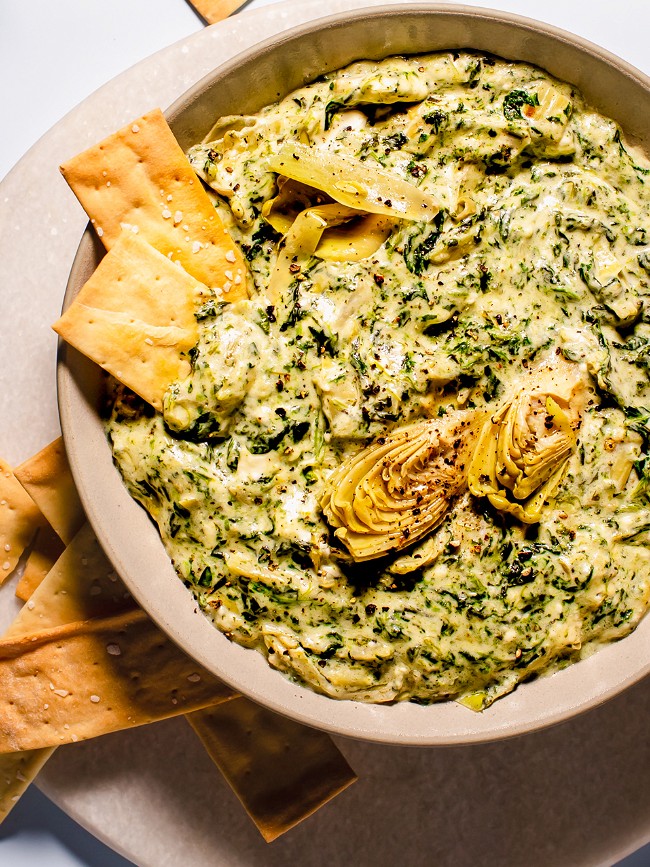 Five Mile Farm's Cheesy Spinach Artichoke Dip
Category
Dips Spreads & Dressings
With just five ingredients (not counting salt and pepper) and a slow cooker, you'll have a mouthwatering Spinach Artichoke Dip ready in just 2 hours with hardly any prep time! This easy yet incredibly flavorful and impressive spinach artichoke dip recipe comes from our friends at Five Mile Farm in Lisbon, New York and is sure to become your go-to dip for parties. Watch our video above to see how crazy simple this is to make and then get your ingredients and slow cooker ready to go. Share the recipe with friends and family on Facebook, Pinterest, Instagram, and Twitter.
To make 6-8 servings of spinach artichoke dip, place chopped spinach, marinated artichoke hearts, Cabot Cream Cheese, cubed Cabot Horseradish Cheddar, cubed Cabot Extra Sharp Cheddar, salt and pepper in slow cooker.
Cook on low heat for 2 hours, stirring occasionally. Serve with vegetables and crackers and dig in!
Want a Greek yogurt-based dip that has a nice kick to it? You'll love this Sriracha & Herb Greek Yogurt Dip. As a co-operative of New York and New England farm families, Cabot takes a lot of pride in making our award-winning dairy products. We'd love to hear your thoughts on this cheesy spinach artichoke dip recipe, so please rate and review it once you've tried it.
Ingredients
1 10-ounce package of chopped spinach, thawed and squeezed dry
1 8 or 10-ounce jar of marinated artichoke hearts, drained and chopped

8 ounces Cabot Cream Cheese

4 ounces Cabot Horseradish Cheddar, cubed

4 ounces Cabot Extra Sharp Cheddar, cubed

½ teaspoon each of salt and pepper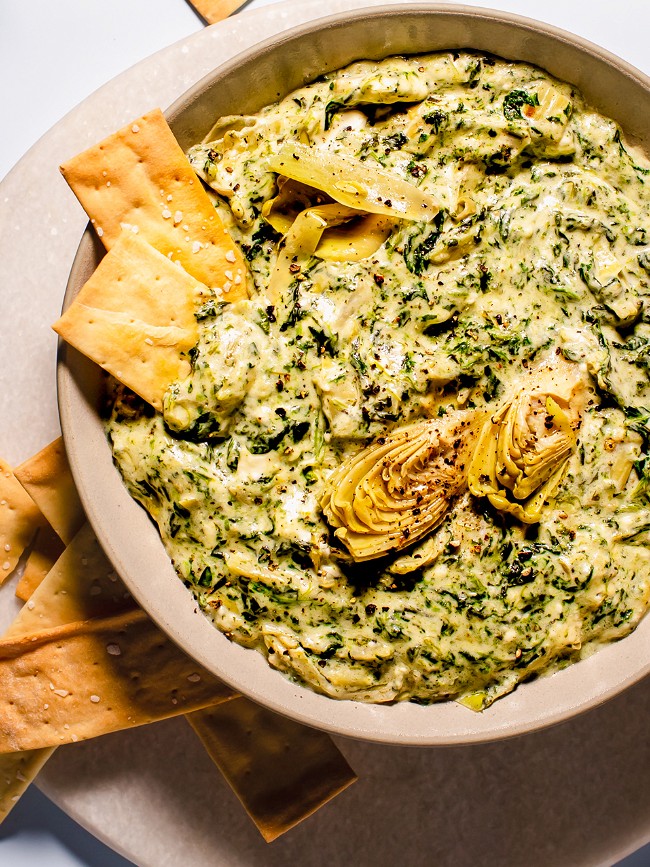 Directions
PLACE all ingredients in a slow cooker

COOK on low heat for 2 hours stirring occasionally, until hot and bubbling.

SERVE with vegetables or crackers
Nutrition
Amount/Serving
% Daily Value
Fat

18 grams

Saturated Fat

11 grams

Cholesterol

60 milligrams

Sodium

560 milligrams

Carbs

7 grams

Fiber

1 grams

Protein

10 grams

Calcium

297 milligrams