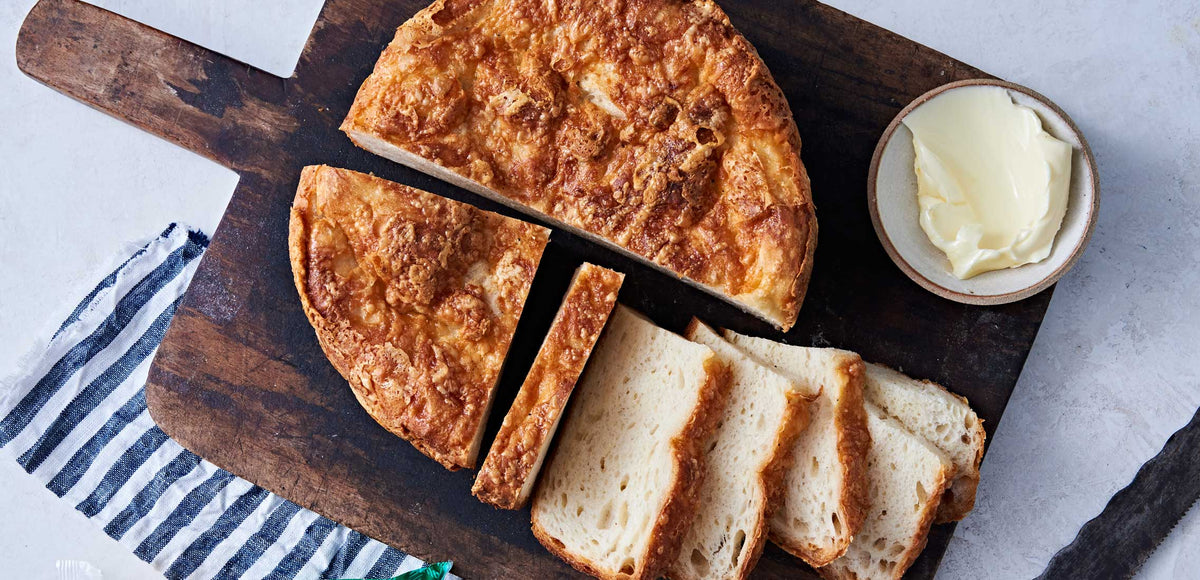 How to Bake Bread on the Grill
There's nothing better than slicing into a crusty, delicious loaf of homemade bread. Even just the thought of it makes us hungry. And yet, on hot summer days, it's hard to turn on the oven when it's already plenty steamy in the house.
Meet grill baked bread, your new summer culinary best friend.
Our farmers' Grill Baked Cheesey Bread is fun, fast, fabulous, and packed with melty mounds of award-winning Vermont Sharp Cheddar. Even better, since it's baked outdoors right on your grill, you can enjoy the perfect loaf without even heating up the kitchen.
Here's a quick breakdown to jump start your grilled bread adventure. Click here for the full recipe instructions.
Assemble your ingredients.
Combine water and yeast. Stir.
Add flour, grated cheese, salt, spices, then mix until dough forms. Knead.
Let the dough rise for one hour. Then re-knead and rest for 30 more minutes. 
Form the dough into a round loaf, then place on parchment paper and set in a Dutch oven.
Top with more Cabot Cheddar of course!
Cook covered on a pre-heated grill between 425-450 for thirty minutes. Remove the lid and bake for 15-20 more minutes until an internal thermometer reads between 205-210 degrees.
Cool for an hour, slice, and enjoy!
Now that your luscious, cheesy bread is ready, we suggest topping it with our rich and creamy homemade butter recipe. Making your own butter is easy, fun, and a great cooking activity to try with kids. They'll be amazed!
Since you're in the mood for grilling, we're excited to share some of our favorite grill recipes perfect for a luscious summer feast.
Grilled Eggplant With Tomatoes & Cheddar
Grilled Cheesy Portobello Caps
Grilled Cheddar Zucchini Boats
We hope our farmers' best adds a delicious touch to these summer days spent with your friends and family. Happy grilling! Get more grilling recipes here.