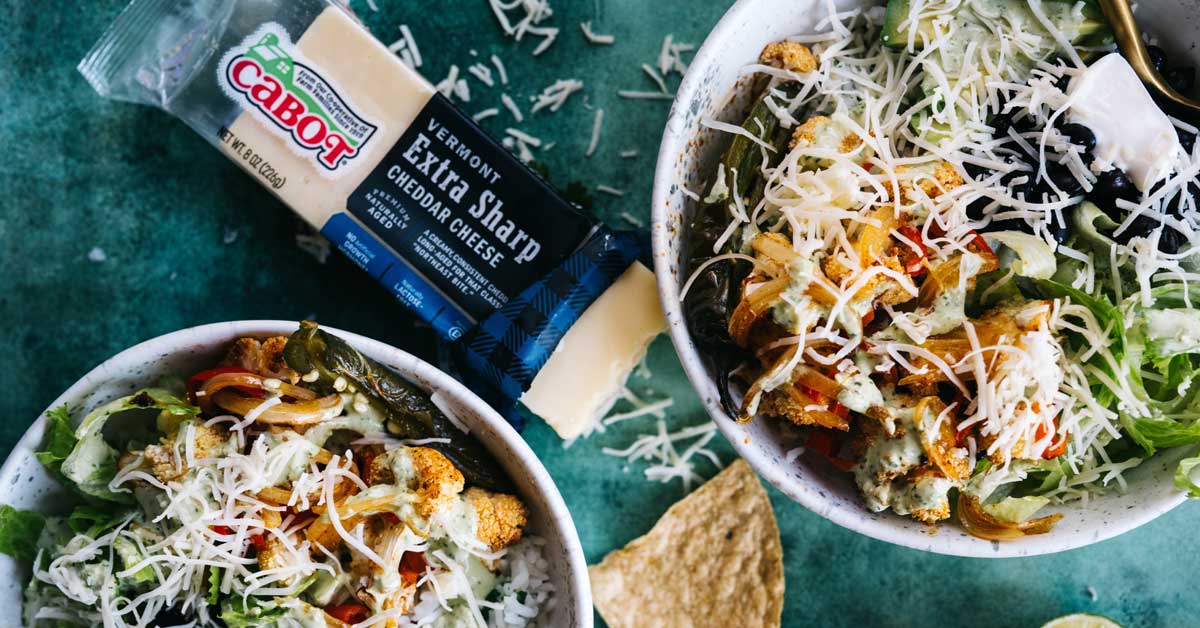 How to Build the Perfect Power Bowl
There's a lot to love about Power Bowls. These delicious and nutritious dinners are trending up because they're so simple to make and full of health benefits. We love that you can easily make them ahead of time, too. Pack them up for nutritious lunches on the go or leave them in the fridge for a ready-to-eat dinner at the end of a busy day.
Follow our go-fast tips (like: buy pre-chopped veg!), plus simple step-by-step instructions to make your own power bowls, customized to your liking. Bonus: we've included better-for-you tips from a Registered Dietitian, below!
Choose Your Base
1+ cups leafy greens
Arugula
Beet Greens
Chard
Kale
Lettuce: butter, romaine, red leaf, green leaf, mixed greens, etc.
TIP: Purchase pre-washed and chopped greens, or prep your greens so they're ready for quick assembly
Choose Your Fiber Packed Carbohydrates
Add Fiber-Packed Carbohydrates:
½ cup – 1 cup of whole grains or complex carbohydrates
Barley
Brown Rice
Farro
Quinoa
Sorghum
Wheat Berries
Add Complex Carbohydrates:
Beets
Squash: acorn, butternut, delicata
Sweet Potatoes
Helpful tips:
Batch cook whole grains for the week.
Meal prep veggies by roasting for the week.
Buy pre-chopped squash, sweet potatoes, etc. to trim down on prep time.
Buy pre-cooked options from the hot bar or salad bar of the grocery store.

Pack on the Produce
It's recommended that you eat five servings of fruit or vegetables a day. A serving equals one-half cup!
1+ cup of any of these raw, steamed, roasted vegetables:
Asparagus
Brussels Sprouts
Cabbage
Carrots
Cauliflower
Cucumber
Eggplant
Green Beans
Mushrooms
Peppers
Tomatoes
Zucchini
Helpful tips:
Wash and chop veggies in advance
Power up with Protein
3 oz. combined
Cabot Cheddar, cubed or grated
Greek yogurt
Fish: shrimp, salmon, tuna, sardines, etc.
Hard boiled eggs
Meat: poultry, beef, turkey, etc.
Beans/Pulses: chickpeas, black beans, cannellini beans, lentils, etc.
Tofu, tempeh, edamame
Healthy Fats
1-2 Tbsp combined
Avocado (¹⁄₈ of fruit)
Nuts (1 – 2 Tbsp.)
Olives (8 – 10 each)
Seeds (1 – 2 Tbsp.)
Tahini or nut butter (1 – 2 Tbsp.)
Oils: olive oil, avocado oil, sesame oil (~ 1 Tbsp)
Optional dressing:
6 Tbsp. white balsamic vinegar
4 Tbsp. olive oil
2 small garlic cloves, pressed or minced
2 tsp. maple syrup
Salt, to taste
Combine and shake in a mason jar.
Powerful Protein Rich Recipes
Roasted Roots Power Bowl with White Oak Cheddar