Directions
SLICE Cabot Seriously Sharp Cheddar into about ¼-inch thick slices and arrange on a large cheese board or flat serving platter in a overlapping row.

BREAK Cabot Alpine Cheddar roughly in half and crumble some large pieces off each half. Arrange cheese chunks in a group on the board.

PLACE the two Vermont Creamery cheeses on the board.

ADD the various fruits and olives to the board in groups, spaced around and between the cheeses, and leaving space for the chocolates and other items. Pay attention to the arrangement of different colors on the board.

BREAK up the two chocolate bars into bite-sized pieces and place on the board in a couple places. Cut the chocolate truffles in half or quarters and place on board.

ADD the pretzels to the board in a group.

ADD the cheese straws (or bread sticks) to the board in a group.

ADD the mustard to a small bowl or ramekin and place on board with a small spoon.

SERVE with additional crackers if desired.

USE Bee's Wrap reusable food wrap to store any leftover cheese.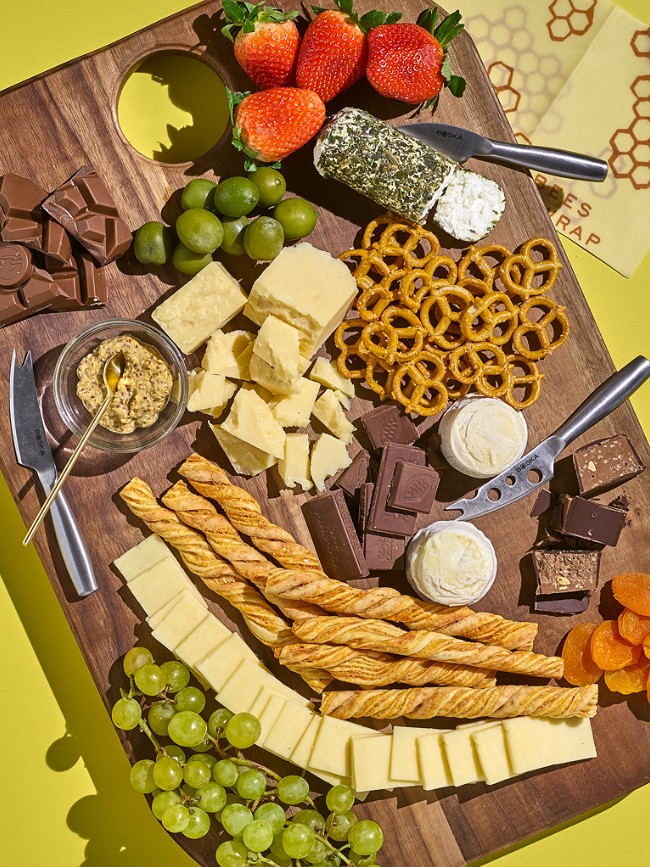 Recipe Tips
Creating a tempting and festive cheese board is all about variety and contrast: incorporating crunchy and soft textures, salty and sweet flavors, round and square shapes, and appealing dark, light and bright colors. This B Corp Cheese Board has it all: delicious cheeses, fresh and dried fruit, chocolates, crunchy bites and tangy mustard, all from some of our favorite B Corps. Let your creative talents flourish with cheese pairings that will make your party cheese board pop.