Cabot Sharp Cheddar Grits Casserole
Servings
Prep Time
Cook Time
Grits are a classic and hearty Southern staple that's typically made with a hefty helping of butter and cheese and pairs wonderfully with crispy bacon and a fried egg. This cheese grits recipe is a delicious spin on this classic dish that you'll love. Instead of preparing the grits on the stove, we chose to bake it in a casserole dish in the oven. Baking them the grits in the oven helps to lock in the flavor. After trying out this cheesy grits casserole, consider sharing the recipe with your friends and family on Facebook, Pinterest, Twitter and Instagram.
Ready to whip up this cheese grits casserole? To get started, you'll need four cups of water, one teaspoon of salt, one cup of quick-cooking grits, four ounces of Cabot Sharp Cheddar (grated), four tablespoons of Cabot Salted Butter and two large eggs.
To prepare the dish, start by preheating your oven to 350°F. Then bring water and salt to a boil in a large saucepan. Stir in the grits and simmer the mixture while it's uncovered, for a total of five minutes.
Switch off the heat and add the rest of the ingredients. Pour everything into a 1½ quart casserole dish and bake for 45 to 60 minutes.
Casserole dishes can be quite satisfying. If you're hunting for a new casserole dish to try, consider preparing our Quick & Healthy Potato Casserole. It features plenty of delicious potatoes and it doesn't take long to make. As a co-operative of over 800 farm families, Cabot is dedicated to working hard to ensure that all of our dairy products are made using high quality ingredients. We're confident that you and your family will love our recipe for cheese grits casserole, but we'd love to hear your feedback after you try it, so please consider rating and reviewing it.
Ingredients
4 cups water
1 teaspoon salt
1 cup quick-cooking grits

4 ounces Cabot Sharp Cheddar, grated (about 1 cup)

4 tablespoons Cabot Salted Butter

2 large eggs, lightly beaten
Directions
PREHEAT oven to 350°F.
BRING water and salt to boil, in large saucepan. Gradually stir in grits. Simmer uncovered, stirring occasionally, for 5 minutes.
REMOVE from heat and stir in remaining ingredients. Pour into ungreased 1½ quart casserole.
BAKE for 45 to 55 minutes.
Nutrition
Amount/Serving
% Daily Value
Fat

12 grams
18%

Saturated Fat

7 grams
35%

Cholesterol

84 milligrams
28%

Sodium

341 milligrams
14%

Protein

7 grams

Calcium

112 milligrams
11%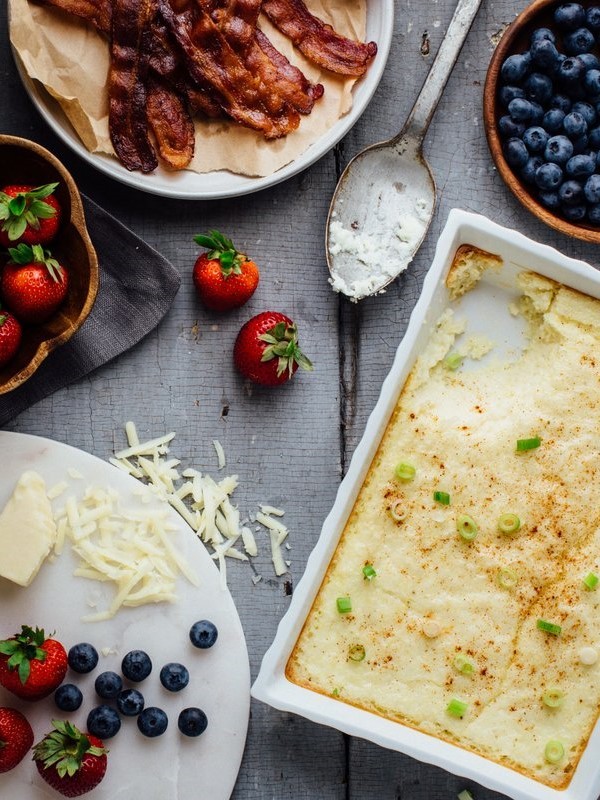 Recipe Tips
(Grits can be prepared in advance through step 3; cover and refrigerate until ready to bake.)