Creamy Chicken & Wild Rice Soup
Category
Soups Stews & Chili
Servings
Fall is officially here. Now is a great time to try out some hearty autumn dishes like chicken & wild rice soup. Our recipe is rich and creamy. You can serve it as an appetizer if you want, but it's filling enough to stand on its own as an entrée. This recipe stands out from the rest because it calls for freshly roasted chicken, plenty of delicious vegetables, and a nice dollop of Plain Greek Yogurt. Adding yogurt, instead of cream, for example, helps to make this soup extremely flavorful but also relatively light, calorie-wise. The recipe makes six cups or four servings. We're positive that you and your family will love it. After trying the recipe, please share it with your friends and family on Facebook, Pinterest, and Twitter.
All set to try out our chicken & wild rice soup recipe? In order to make your life a little easier, you don't have to roast a whole chicken for this recipe. Simply head on over to the store and pick up a deli-roasted chicken there. You'll also need two medium carrots, one small rib of celery, one teaspoon whole black peppercorns, a bay leaf, butter, chopped yellow onion, uncooked wild rice (or, to save time, you can pick up instant-rice or pre-cooked deli rice), cream, Cabot Greek Yogurt, cornstarch, thyme, salt, and ground black pepper. When preparing the broth, remember to place the skin, bones, and any juices (liquid or solidified) into a saucepan. You'll then add water, carrots, celery, peppercorns, and bay leaf to the pan. After cooking for one hour, you'll have some tasty broth. The directions below cover everything you need to know about preparing this dish.
Cabot is a cooperative of 800 farm families. We're particularly proud of our award-winning cheeses and dairy products. If you're a big fan of our soups—especially our soups that are packed with plenty of cheddar cheese—then you'll love our tortilla soup recipe. It's rich and flavorful! We're confident that you and your loved ones will enjoy our chicken & wild rice soup recipe, but we'd love to hear your thoughts about it. If there's room for improvement, please let us know by rating and reviewing the recipe. We can't wait to hear from you!
Ingredients
1 deli-roasted chicken, about 2½ pounds
6 cups water
2 medium carrots, ends trimmed and cut into chunks
1 small rib celery, cut into chunks
½ teaspoon whole black peppercorns
1 small bay leaf
1 tablespoon butter
½ cup chopped yellow onion
⅓ cup uncooked wild rice*
½ cup heavy cream

½ cup Cabot Lowfat Plain Greek Yogurt or Cabot Plain Greek Yogurt

2 tablespoons cornstarch
2 teaspoons chopped fresh thyme leaves
¼ teaspoon salt, or more to taste
¼ teaspoon ground black pepper, or more to taste
Directions
PULL off meat from chicken, placing skin, bones and any hot or solidified juices in large saucepan. Dice 2 cups of chicken meat, saving rest for another use, and set aside in refrigerator.
ADD water, carrots, celery, peppercorns and bay leaf to saucepan; bring to boil over high heat, then reduce heat to maintain simmer. Cover pan and cook broth for one hour.
POUR broth through strainer set over large bowl, pressing on solids to extract all broth. Discard solids.
MELT butter in empty saucepan. Add onions and cook, stirring, for about 3 minutes or until onion is tender and just beginning to brown. Pour in strained broth. Add wild rice, bring to simmer and cook covered for 40 to 50 or until rice is tender.
WHISK together heavy cream, yogurt and cornstarch, in small bowl, until completely smooth with no small lumps; stir mixture into pot and continue stirring until soup thickens and returns to simmer. Add thyme, salt, pepper and 2 cups of reserved diced chicken. Taste soup, adding additional salt and pepper if needed. Stir until heated through and serve.
Nutrition
Amount/Serving
% Daily Value
Fat

32 grams
49%

Saturated Fat

13.5 grams
68%

Cholesterol

240 milligrams
80%

Sodium

396 milligrams
17%

Carbs

23 grams
8%

Fiber

2.5 grams
10%

Protein

69 grams

Calcium

119 milligrams
12%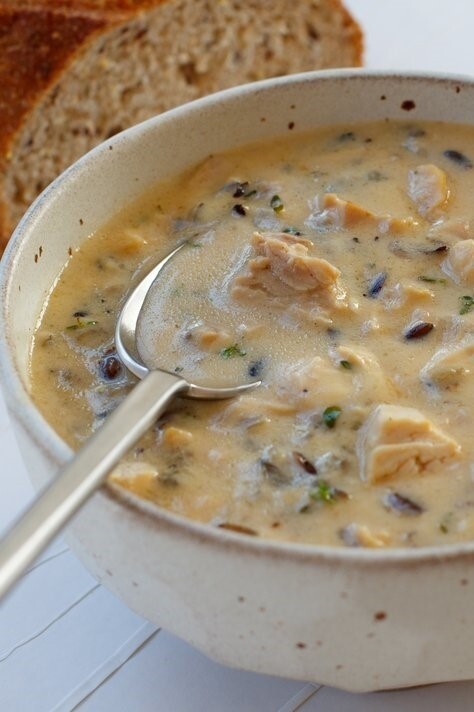 Recipe Tips
*You can reduce the cooking time with "quick-cooking" wild rice, which is done in about 15 minutes, or substitute another flavorful rice, such as brown basmati.