Servings
Prep Time
Cook Time
If you're looking for a healthy mac and cheese recipe without the extra fat and calories, this lower fat mac and cheese recipe is for you! It can be difficult to say no to a life-long favorite dish when you are on a diet. But with our light mac and cheese recipe, you don't have to say no! This low-fat mac and cheese dish features all the creamy, satisfying flavors that you've grown to love in your favorite comfort food without the added calories. So you can enjoy this delicious dish without feeling guilty. Cabot's low-fat mac and cheese is perfect to make for yourself or to share with family and friends. It tastes so good no one will know it features reduced fat ingredients! Be sure to leave us a review with any comments or tips on how you enjoyed the dish.
The light mac and cheese recipe features Cabot's award-winning Lite50 Sharp Cheddar and Cabot Cream Cheese for a taste that is hearty enough to hit the spot while being healthy enough to keep you feeling fit and energized. A dash of Worcestershire sauce combines with a pinch of ground cayenne pepper to add a spicy kick to the dish. The breadcrumb topping adds a buttery, crunchy texture that balances out the creamy cheese and zesty spices. This combination of flavors will make your mac and cheese the talk of the town!
If you want a healthy, low fat alternative to boxed mac and cheese, our low fat recipe is sure to be a crowd-pleaser. Cabot is dedicated to producing the highest quality dairy products for hearty and healthy dishes. Don't forget to leave us a review to let us know how you enjoyed our light mac and cheese, and to share any tips or tricks to make this recipe even more special.
Ingredients
2 cups small dry elbow macaroni
Cooking spray

3 tablespoons King Arthur Unbleached All-Purpose Flour

2 cups lowfat (1%) milk
¼ teaspoon dry mustard
¼ teaspoon garlic powder, optional
¼ teaspoon salt
Freshly ground black pepper, to taste
Pinch of ground red pepper (cayenne)
Dash of Worcestershire sauce

2 ounces Cabot Cream Cheese

8 ounces Cabot Lite50 Sharp Cheddar, shredded, divided or Cabot Lite50 Sharp Shredded Cheddar (about 2 cups)

⅓ cup seasoned or unseasoned breadcrumbs
Directions
COOK macaroni according to package directions; rinse with cold water and drain well.
PREHEAT oven to 350°F. Spray a 2½-quart baking dish with cooking spray and set aside.
PLACE flour in a large saucepan over medium heat, gradually whisking in milk. Add mustard, garlic powder, salt, black pepper, red pepper, and Worcestershire. Continue cooking until sauce thickens, stirring constantly.
REDUCE heat to low. Stir in cream cheese until well blended; add 1⅓ cups shredded cheese and stir until melted. Add macaroni, stirring until well coated. Pour into prepared baking dish.
STIR breadcrumbs and remaining ⅔ cup cheddar in a small bowl. Sprinkle over the top of macaroni, and spray with cooking spray.
BAKE until the topping is golden and the macaroni is bubbling along the edges, about 20 minutes. Cool 10 minutes before serving.
Nutrition
Amount/Serving
% Daily Value
Fat

8.5 grams
14%

Saturated Fat

5 grams
25%

Sodium

410 milligrams
17%

Cholesterol

25 milligrams
8%

Carbs

30 grams
10%

Fiber

1 grams
4%

Protein

15 grams

Calcium

300 milligrams
30%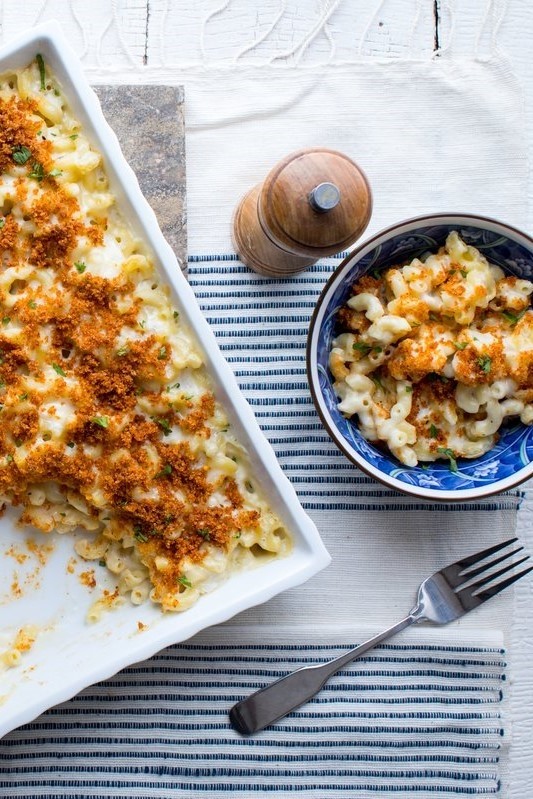 Recipe Tips
Freezing unused portions of this recipe is recommended. Wrap portions tightly in plastic wrap to keep air out before freezing. Thaw overnight in the refrigerator and reheat in a 300°F oven. May also be thawed or reheated in the microwave.