Be sure these make-ahead Tomato & Cheddar Sliders are on board at your next picnic or camping adventure. Serve cold, or warmed up over an open fire or grill.
Ingredients
½ cup mayonnaise

1 large clove garlic, grated
1 cup packed fresh basil (¾ ounce) 

¼ teaspoon salt

¼ teaspoon pepper

8 slider or Hawaiian buns

2 - 3 medium heirloom tomatoes, cut into ½-inch slices (about 1 pound)

16 slices Cabot Seriously Sharp Cracker Cuts
Directions
PROCESS basil, mayonnaise, garlic, salt, and pepper in a mini food processor or blender until smooth, scraping down the sides as needed.

SPREAD about 1 tablespoon basil aioli between the top and bottom of each slider bun.

TOP the bottom half of the slider bun with a slice of tomato and 2 Cracker Cut slices of cheese and place the bun top on the cheese.

SERVE room temperature or warmed up in foil on the grill or campfire.
Nutrition
Nutrition
Serving Size

2 sliders, 1/4 recipe
Amount/Serving
% Daily Value
Fat

35 grams
54%

Saturated Fat

9 grams
45%

Cholesterol

40 milligrams
13%

Sodium

880 milligrams
37%

Carbs

56 grams
19%

Fiber

3 grams
12%

Sugar

17 grams

Protein

17 grams

Calcium

312 milligrams
30%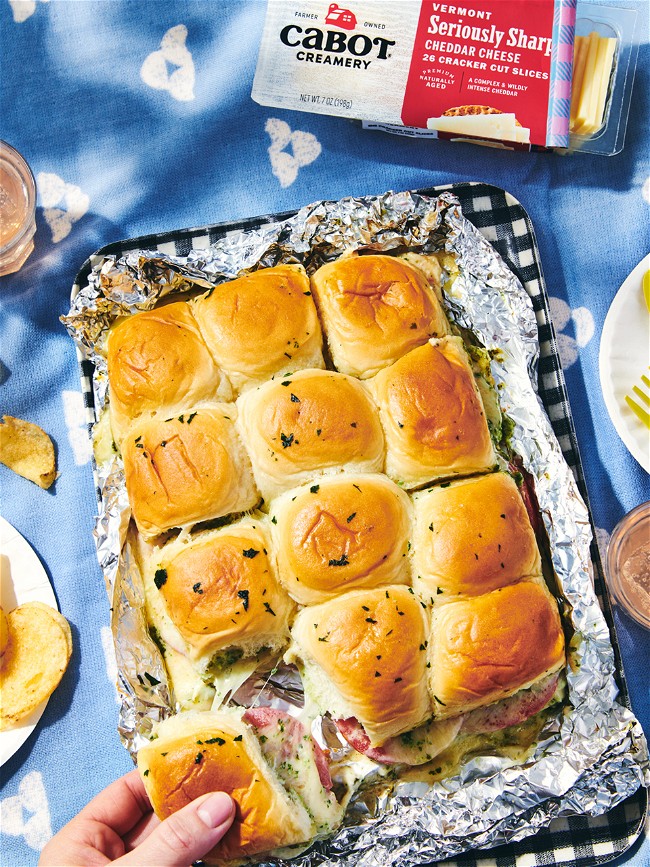 Recipe Tips
Look for tomatoes that are the same width as your buns to get that perfect juicy bite.

If you like a warm sandwich, these can also be made into an open-faced cheddar
melt in the toaster oven or on a grill.