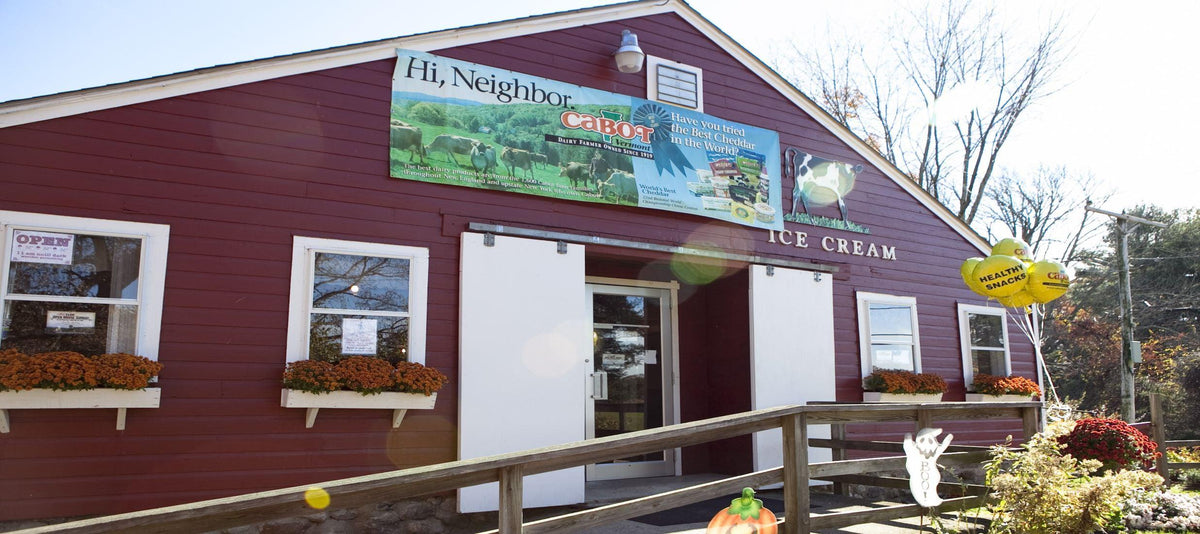 Farmer Friday: July is National Ice Cream Month!
As many farmers would say, the key to being a successful dairy farm is to diversify. Some farmers choose to add on beef cows, some grow vegetables for a farm stand, and others do something entirely different, definitely delicious; they make ice cream!
Americans consume more ice cream than any other country and the New England States eat more than their fair share. A few of our Cabot farm families, produce and sell ice cream right on their farms. Some of these farms are also using local products like fruit, to perfect their top-secret recipes, allowing for the freshest of ingredients to be used, while supporting another local family – innovation and community at its finest!
Sanctuary Dairy Farm in Sunapee, New Hampshire is run by Jolyon Johnson, a ninth generation farmer, and his wife Susan. A member of the tenth generation, their son Beck, is the young man behind the Sanctuary Dairy Farm Ice Cream.
Great Brook Farm in Carlisle, Massachusetts was started by Mark and Tamma Duffy, in 1987. Uniquely, their farm is part of a Massachusetts State Park, containing 1,000 acres of state land, 22 miles outside of Boston. Two of their children, Marlow and Blake help out on the farm when they can outside of their off-farm jobs. The third child, Chris, is working with DeLaval as a Robotic Farm Coach.
Fort Hill Farms of Thompson, Connecticut is currently run by Kristin Orr and her two daughters, Kies, a graduate of SUNY Cobleskill and Lily, a graduate of the University of Connecticut. The Orr Family milks just over 200 cows, and started their creamery because they wanted to sell products made from their family farm's milk.
This week, Susan, Marlow, and Kies took the time to tell us a little about their ice cream businesses.
How did your ice cream shop start?
Susan Johnson of Sanctuary Dairy Farm: "Our youngest child, at the age of 9, started the ice cream shop. He had some learning issues when he was young and at one point someone told him to learn to use his hands. He started saving at 6 years old by selling eggs and flowers. When he earned $5,000.00 we said we would match it – thinking he would never reach his goal and if he did, it would be when he was much older. He traveled to Penn State University to learn the art of ice cream making at 9 years old and in 2009 he opened the scoop shop at the age of 10 years old. Last year Beck traveled to Italy to learn from the masters in the ice cream world with Malcolm Stogo.  The ice cream shop started with just Beck, his sister and cousin. Now it has grown to a year round business with 10 employees."
What other family activities do you have on the farm for visitors to enjoy?
Marlow Duffy of Great Brook Farm: "We opened our doors in 1988. My mother wanted to expand the farm business and teach people about modern agriculture and where their food comes from. Meeting cows, learning how they are raised and cared for, and then enjoying an ice cream – or cheese – really ties the whole process together. Our smart barn is available for tours free to the public on the weekends and weekdays by appointment. Families can see a cow being milked by a robot, get licked by a calf, and check out the automatic cow brush. We have many farm animals to feed; including pigs, goats, sheep, chickens and alpacas."
What is unique about your family's Ice Creamery?
Kies Orr of Fort Hill Farms: "In addition to being one of the owners of Cabot, our family, along with five other Connecticut family dairy farms formed "The Farmer's Cow", which uses the milk from our farms to produce milk, half and half, ice cream and many other dairy products. Six years ago we started "The Creamery", which sells The Farmer's Cow homemade ice cream. We also have lots of other activities on our farm. We have pick-your-own patches of blueberries and pumpkins, a Corn Maze Adventure every fall, a Discovery Barnyard where visitors can visit our calf barn, and the Quintessential Gardens which are my Mom's beautiful lavender gardens. We also host lots of events at our farm, our next celebration is the Annual Ice Cream Bash for National Ice Cream Day on Saturday, July 15th. We appreciate our community members and their support over the years, so we like to host fun events for everyone to come see our Family Farm."
What are you family's personal favorite flavors?
Kies Orr: "Hay Hay Vanilla and Black Raspberry Moo Chocolate Chip"
Marlow Duffy: "My mom is known for her vast selection of ice cream flavors. I love Campfire S'mores – which is new this year! My mom sticks with the Classic Coffee. My brothers enjoy anything with chocolate, such as our Chocolate Peanut Butter Cookie Dough."
Susan Johnson: "Chocolate, Mocha and Cookie N Cream"
---
Here's a personal favorite Ice Cream recipe from the Cabot Site: