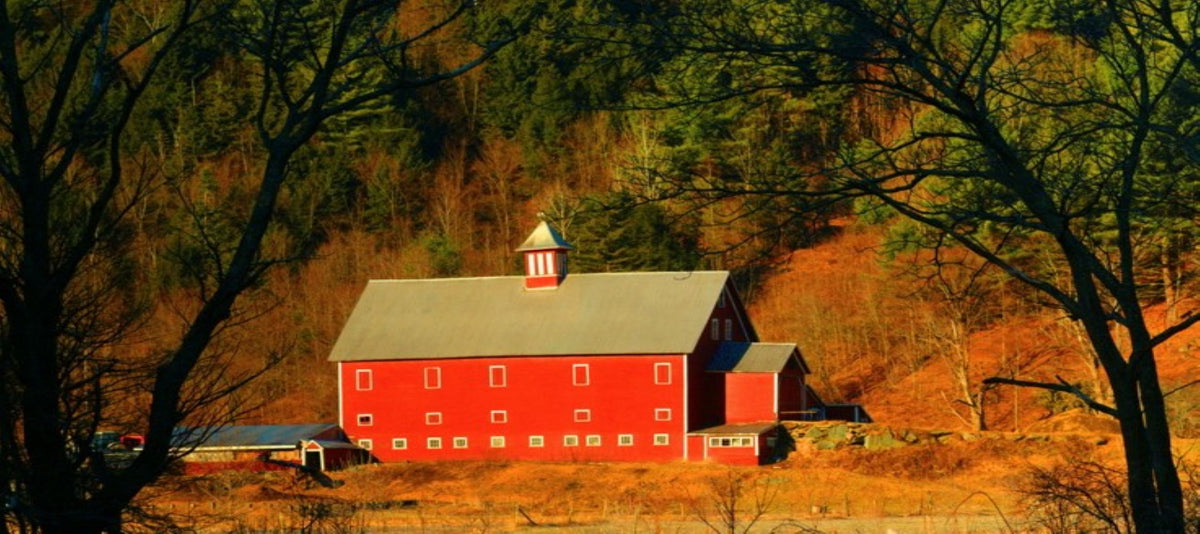 Farmer Friday: Liberty Hill Farm
In order to survive and thrive, Cabot farm families have learned many ways to diversify. Within the Cabot Cooperative there are sugar-makers, cheese makers, potato growers, pudding makers, painters, compost businesses and even CowPots, the makers of biodegradable, plantable pots. Many of these businesses create opportunities for the public to visit our farms, but the Cabot farms that also run as bed & breakfast farm stay inns add a whole new dimension to the concept of farming hospitality.
Among the farm families opening their doors to guests on a daily basis are the Kennetts, from Liberty Hill Farm in Rochester, Vermont.
The farm is located just off of Route 100, one of the most beautiful roads in America, in the heart of Vermont's Green Mountains. It was the first certified Green Bed & Breakfast in Vermont and the Kennett's won 2013 Vermont Innkeeper of the year.
This week, Beth Kennett sat down with us to share a little bit about the farm and the B&B:
What surprises visitors most about life on the farm?

Visitors are surprised by so many things here on the farm, like the fact that cows have to be milked at least twice a day, every day, every single day of the year. Some guests are surprised that cows have to give birth to a calf before they give milk. They are surprised by the detailed records we keep on herd production, health, and herd lineage. They're surprised to learn that we know more about the genealogy of our cows than they know about their own family.  They are stunned that we analyze all the feed components, hay and corn, then develop a nutrition program for the cows.  They learn we have a nutrition and diet plan for each cow based on her individual needs, which is usually more comprehensive than what they have for themselves or their family members.
Do visitors ever help with the chores?

It is entirely up to the individual guest how much or little they participate. Our guests can help with feeding the baby calves, try their hand at milking and of course they are welcome to pick up a hoe and help keep the cows beds clean. Not all guests work, but they like to come visit the barn and see what is involved in milking.
Do visitors have a favorite dish you serve? Would you share the recipe?

The most popular dish is always macaroni and cheese. You can't go wrong with Cabot cheddar in mac and cheese for all ages. Of course there are lots of other dishes that our guests like: savory vegetable bread pudding, apple and cheddar clafouti (tart), chicken pot pie. The list goes on and I'm always happy to share recipes. One favorite one on the Cabot website, is this Savory Bread Pudding. It's so good for a family meal, or the perfect dish to bring to a potluck. 
Do you have many repeat visitors?
We have a terrific number of repeat guests who have become part of our extended family.  Several families are bringing the newest generation of their family to visit our farm. I have "grand-guests" as well as our own grandchildren.  This weekend we have guests who have been coming for 20 years (and there are many more who have come even longer). I have watched their kids go from pre-school to college. We've even had kids who have written their college entrance essays about visiting our farm.
What time of year is busiest for you?

June through October is our busy season, summer is the busiest and then fall foliage season.  We are busy on holiday weekends throughout the year.  We are open all year round and there is always something to do on the farm. We love to have folks visit for maple sugaring in the spring and other activities throughout the year.
How much a part of the experience of staying with you is the farm?

The farm is an integral part of our guest experience. They come not just for the bed, but for the barn. They love meeting the cows and the calves.
What activities do your guests enjoy ?

We have an abundance of local activities like hiking and mountain biking in the Green Mountain National Forest, with great trails that start at our front door. There's snowshoeing and cross country skiing on the trails in the winter, with equipment available from Nordic Adventures one mile away. There's almost nothing more beautiful than spring wildflower walks in the meadow or trout fishing and swimming in the White River. Green Mountain Bike Shop in Rochester rents bikes or you can go berry picking at nearby Sunshine Valley Berry Farm. And in the early spring season you can visit operating maple sugar houses within a short drive from the farm.
I also send my guests on day trips from here to: