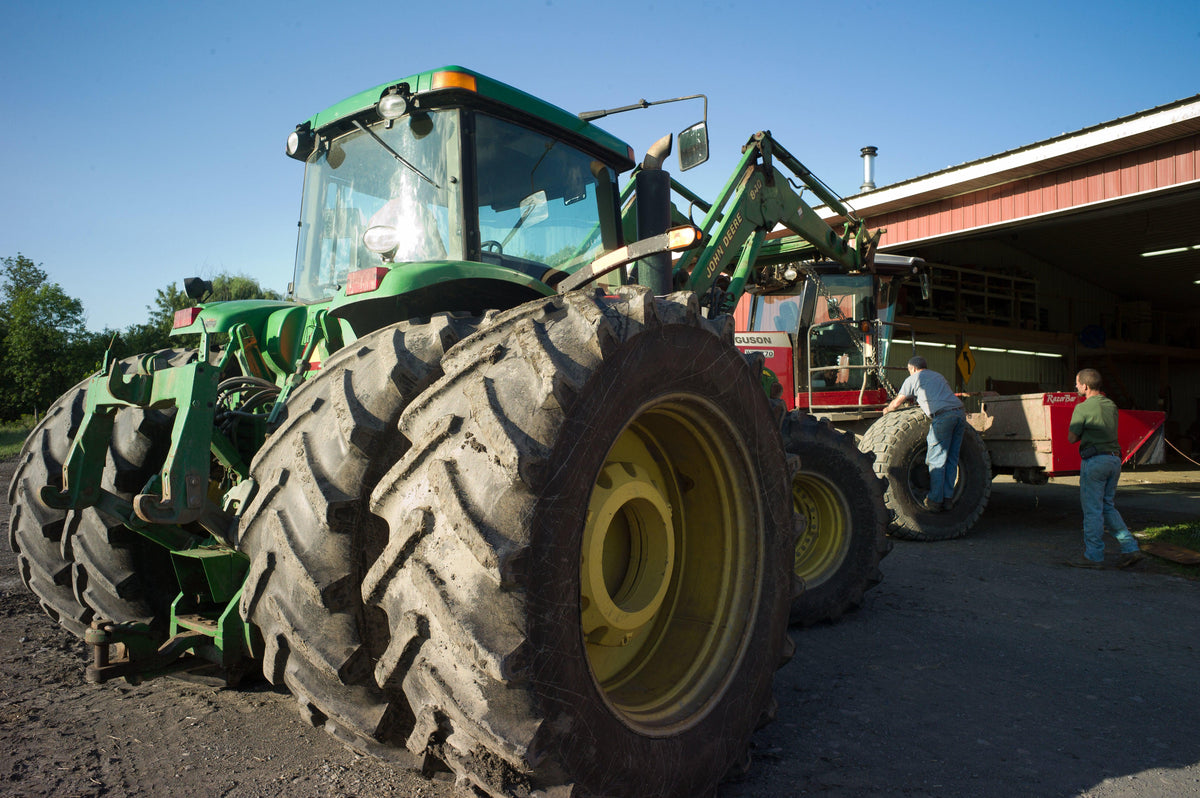 Farmer Friday: Kayhart Brothers Dairy
As snow and colder temperatures finally blanket the Northeast, we are reminded just how much dedication it takes to run a farm. Around Cabot HQ, we call any day with sub-zero temperatures a Farmer Appreciation Day. There have been several lately and many more to come.
The day to day work, 365 days per year, and the long-term planning for the success of future generations can be a serious challenge. That's why you so often see such a profound level of passion and sense of purpose in the farming community. That's what it takes to thrive.
The Kayhart family at Kayhart Brothers Dairy in Addison, VT, count among the passionate families we get to work with. It is clear, whether hearing the Kayhart story, meeting the family or following them on Facebook that they LOVE farming – and they excel at it. The Kayharts have won many milk quality awards, a Dairy of Distinction award and Vermont State Conservation Farm of the Year.
The Kayharts have land on each side of Lake Champlain, in Vermont and New York, with the primary operation a short distance from the Champlain Bridge. These days they manage 1,800 acres and milk about 700 cows.
Kayhart farm was started in March of 1979 by Lee and Patricia Kayhart, milking 80 cows. Lee brought a good amount of experience, having been raised on his parent's dairy farm in nearby Waltham, VT, and working for the better part of decade on a Vergennes dairy farm prior to the purchase.
Lee and Patricia raised their family and managed the farm through no shortage of rewarding times and hard times. There was a lot of hard work, roller-coaster milk prices and a tragic 1984 farm accident that took both of Lee's arms. The family miraculously persevered, maintained their enthusiasm for farming and in 2010 completed the transition of the farm to their two sons, Steve and Tim.
Beyond farming, Tim served as a Marine during the first Gulf War. Steve is an avid runner and occasional farmer member of the Cabot Fit Team. He also regularly competes in obstacle races, including completing the Spartan Trifecta in 2014.
Steve and Tim each have wonderful, close families, too. Steve and his wife Samantha have three children; Alexa, Andrew and Olivia. Tim and his wife, Shannon, have two children; Jamie and Ben. All the children, representing the 4th generation of farmers in the family and the 3rd generation on the farm, have inherited the family passion for working with animals and working the land.
The Kayhart family regularly takes the time to share their farm and passion with their neighbors, too. They participated in the most recent Cabot Open Farm Sunday in 2013 and they can often be found sampling Cabot Cheese at Grocery Stores throughout the Northeast.
This March, cousins Alexa and Jamie will be joining 80 other Cabot Farmers visiting New York City as part of the Farmers' Gratitude Tour, sharing cheese and thanking New Yorkers for their support.
This week, we thank Alexa Kayhart for taking some time away from her Diversified Agriculture studies at Vermont Technical College to answer our farmer Friday questions!
What is your favorite thing about being a dairy farm family?
We are all so tight-knit. Each and every one of us understand the demanding but self-rewarding work of dairy farming. It makes it worth it and the support from family members is constant and strong.
What is your least favorite farm chore?
If you ask me any day of the week I may give you a different answer each time. The reality is that some jobs are less enjoyable than others, but that doesn't make me dislike doing them. Everything we do on the farm serves a distinct purpose and at the end of the day I go home feeling like I accomplished something and made a difference, even if it was from something as small as cleaning out a pen of wet sawdust under a group of calves to give them fresh fluffy bedding, or something as big as administering medicine to one particular cow for several hours in hope that she recovers and looks better the next day. In the heat of the moment it is easy for anyone to dislike a particular job, but at the end of the day it is worth seeing all our work make a difference.
What is your favorite time of year on the farm?
Fall, no doubt. There is nothing better than harvest season watching 3rd and 4th cut come in alongside the year's crop of corn. The animals start to seem happier as the temperatures start to drop. It is chaos around the farm but we accomplish so much!
How many generations of your family have been on the farm (and who is there now)?
My generation would be the 3rd. It started in 1979 with my grandparents, Lee and Patricia Kayhart who in 2010 passed it on to my father and uncle, Steve and Tim Kayhart. It is now up to my siblings, cousins and I to decide who wants to return home and carry out the next generation.
Does anyone in your family participate in any volunteer activities in the community?
My dad is a member of the Tri-town water board. My dad, brother and I have also participated in Habitat for Humanity several times, traveling outside of the country to build houses in other countries.
What is one thing you would like people who have never experienced farm life to know?
Farmers want the best for their animals and for the land they care for. Sometimes it feels that the public view of dairy farmers can be one of negativity and disrespect. I have devoted my life to getting a degree (or several) and doing what my father did – taking care of the animals and running a highly demanding farm business. We all love the animals and do everything we can to care for them the best we possibly can. For someone who has never experienced farm life but enjoys any products that are a result of dairy farming, I would encourage you to visit a few of your local farms and ask for a short tour. Most farmers are willing to give tours if someone is interested in learning where their food comes from – I know that I would.
What do you think is your greatest accomplishment on the farm?
Our family is extremely tight-knit. We have always done an exceptional job of getting along and making things work. Life always seems to find a way to throw a curve ball at us, but through all else we have stuck together and the business has prevailed.