Savory Bread Pudding with Cheddar
Category
Breakfast & Brunch
Servings
There are many ways to make a bread pudding, some savory and some sweet. But we think this one will quickly become the only bread pudding recipe you need. This dish is perfect for a tasty brunch or potluck picnic. It's hearty, it's cheesy, and it's got tons of veggies. In short, you're going to love it. If you're looking to bring something new to the table, you need to sample this dish. Be sure to rate and review the dish once you've tried it. We would love to hear what you think about our savory bread pudding.
What sets our bread pudding apart from the crowd is the mélange of cooked vegetables that give the dish a fresh, healthy feel. Like a hearty quiche or scramble, the bell peppers, onions, spinach, broccoli, and tomatoes combine with the eggs for a light, refreshing texture that is perfect for the brunch table. Adding in the bread stuffing provides a rich base without being too filling, and perfectly complements the eggs and veggies. Eight ounces of our Cabot Extra Sharp Cheddar is the perfect cheesy topping that will have the dish oozing with goodness. Friends and family will definitely ask for a second helping once they dig into this hearty dish.
If you want to introduce an exciting, new dish to the brunch spread, you can't go wrong with our savory bread pudding. It's a whole meal in one dish and has a little something for everyone. For almost 100 years, Cabot has been producing award-winning cheeses and dairy products. Our commitment to quality goes into everything we make, and you'll be able to taste the difference when you dig into the warm, melted cheese on this bread pudding. Don't forget to review the dish and let us know how you enjoyed your meal!
Ingredients
6 large eggs
1 cup lowfat (1%) milk
½ teaspoon salt
¼ teaspoon ground black pepper
Dried or fresh herbs to taste
3 cups cubed bread (leftover dinner rolls or extra bread from stuffing)
3 cups diced mixed cooked vegetables (such as onions, bell peppers, zucchini, spinach, fennel, broccoli, mushrooms, tomatoes, carrots)*

8 ounces Cabot Extra Sharp Cheddar, grated and divided, (about 2 cups)
Directions
PREHEAT oven to 350°F. Grease 7-by-11-inch baking dish.
WHISK together eggs, milk and seasonings in a large bowl. Fold in cubed bread, vegetables and 1 ½ cups of cheese.
POUR into baking dish and sprinkle with remaining ½ cup cheese.
BAKE for 35 to 45 minutes or until set all the way to center.
Nutrition
Amount/Serving
% Daily Value
Fat

13.5 grams
21%

Saturated Fat

6.5 grams
33%

Sodium

374 milligrams
16%

Carbs

14.5 grams
5%

Protein

15 grams

Calcium

301 milligrams
30%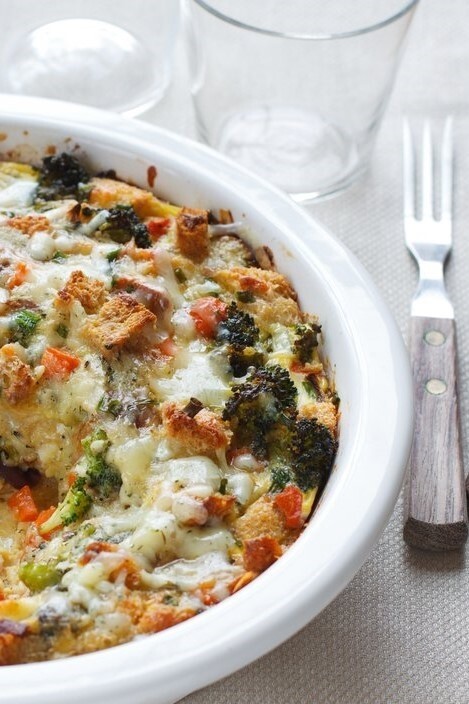 Recipe Tips
*For vegetables, use leftover crudités, diced and sautéed in olive oil or butter, or leftover cooked vegetables, diced.
TIP: For a Mexican flavor, use Cabot Pepper Jack plus some chopped olives and a little salsa.