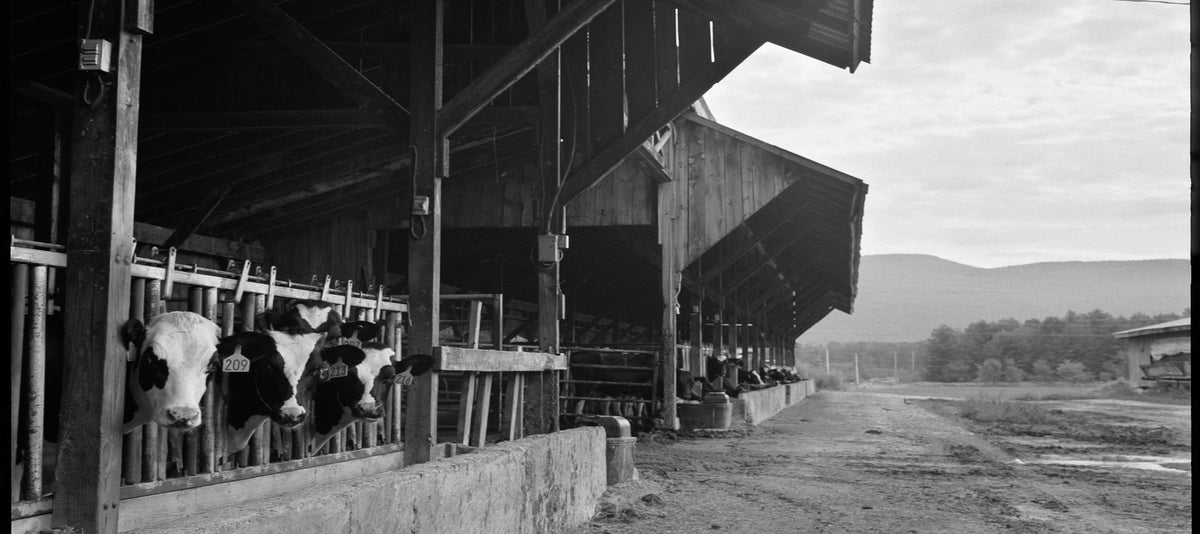 Farmer Friday: Robert Foster – Foster Brothers Farm
This week we are honored to feature a luminary within our Cooperative. Robert Foster of 
Foster Brothers Farm
 in Middlebury, VT, served on our Board of Directors from 1978 until December 31, 2015 – a total of 37 consecutive years and through dozens of elections.
Robert and his family are a fixture in our Cooperative, in their hometown of Middlebury and throughout the dairy industry. Robert, his brother James, daughter Heather, cousins Ted, George and Jeremy, and nephews Mark and Jim run the 1,800 acre farm which now includes the 5th Generation. The Fosters also own and operate Vermont Natural Ag Products, maker of MooDoo and other natural compost products. The Fosters have won countless awards for milk quality, environmental efforts and for their quality compost.
Robert's wife, Nancy, also runs her own family business, Champlain Valley Properties in Middlebury. Both Robert and Nancy have been incredibly involved in their community over the years and they seem to know everyone in town!
LEADERSHIP
Robert has the kind of pleasant, unassuming nature that masks the fact that he has always been a leader. He happily takes on an incredible amount of responsibility and always applies the same thoughtful, thorough approach to each task. Perhaps most importantly, he takes the time to share his thoughts and approach with others. His commitment, along with making time for the next generation of leaders has made the future of Vermont, Cabot and dairy farming much brighter.
Robert attended the University of Vermont, where he married his high school sweetheart, Nancy, and received a Bachelor's Degree in Agricultural Engineering and Master's in Agricultural Economics. After serving in the United State Army, Robert came back to the farm. Shortly after his return, he took on his first leadership role within the Cooperative as President of the Young Cooperators Program.
Robert was elected to the Board of Directors after his time in the Young Cooperators Program. At that time, the Co-op was known as Yankee Milk Cooperative, which became Agri-Mark in 1980 and merged with Cabot in 1992. During his time on the Board, Robert served in the positions of Board Secretary and Vice Chairman, while also serving on the Executive Committee.
There has been an incredible amount of change in the dairy industry and within the Cooperative over the past 37 years. Robert and his colleagues on the Board of Directors made countless decisions which have led our Cooperative through a few difficult times and into a position of being a very viable business.
In addition to the merger with Cabot, there were important alliances formed with with the Chateaugay & Allied Co-operatives in Upstate New York. Another key decision was the purchase of the Middlebury VT Cheese Plant and ensuing investment in whey drying equipment, which allowed us to transform a byproduct of the cheese-making process into a world class product that contributes to the profitability of our farm families.
Robert continues to serve as Chair of our Legislative Committee, working on behalf of our members to keep legislators informed on dairy-related issues. He also serves on the Advisory Board for the UVM College of Agriculture and Life Sciences and several local and national dairy groups.
SUSTAINABILITY
Robert is one of our resident experts and champions for Renewable Energy and Sustainability in the Co-op. He was active in the formation of our Sustainable Farms Committee and subsequent creation of our Vital Capital Index, which helps member farms measure and manage their impact on community, environment and bottom line.
On the farm, he and his family became the first in the state to invest in an anaerobic digester back in the early 1980's. Robert coined the term 'Cow Power', which has since become the name of an outstanding collaboration between dairy farmers and Green Mountain Power here in Vermont. He is also the President of the Composting Association of Vermont and a member of '25×25', a group leading the way to 25% of energy coming from farms, forests and ranches by the year 2025. Robert was prominently featured in the 2013 film 'Cow Power: The Film'.
Robert brought his expertise to the national dairy stage, as well, as a member of the Dairy Sustainability Alliance at the Innovation Center for US Dairy.
Beyond the compost business and early adoption of renewable, Foster Brothers Farm is also home to many sustainable farming practices, including cover cropping, strip cropping and no-till planting.
WHAT'S NEXT?
If you've read this far, you can imagine that Robert will not be off to enjoy a quiet retirement – not yet, anyway. He will continue to be involved on the family farm, with Vermont Natural Ag Products and those committees lucky enough to have his expertise.
During his region's annual meeting this fall, the elections were held for several positions – including Robert's successor on the Board of Directors. Eugene Audet of Blue Spruce Farm, a farm and family with an exceptional history of their own, was elected unanimously. It was an emotional meeting for Robert, for members in the Region (many of whom have never known anyone else as their Director) and for Cabot employees.
Shortly after Eugene won his election, the election for the position of Regional Secretary was held. After what felt like an incredibly long silence in which no nominations were offered, someone joked, "maybe Bob Foster would do it". Sure enough, Robert smiled and agreed to become perhaps the most qualified Regional Secretary ever elected.
This week, in addition to taking the time to answer our questions, we thank Robert Foster for all the years served and for the good humor, passion, guidance and patience he has provided to the Cooperative. We also thank his incredible family for being so generous in sharing him with us.
---
Click below to hear Robert Foster tells his farmer story:
---
Why did you think it was important to serve on the Board of Directors?
It was a chance to put my education to work and to contribute to building a stronger market for dairy farmers that rewarded them appropriately for their investment and hard work.
What was your favorite part of serving on the Board of Directors? 
My favorite part was the satisfaction of seeing the co-op evolve and grow and knowing that I might have contributed to the process. Also, along the way, I had an opportunity to get to know a lot of great people all along the dairy and beef food chain.
What is your favorite thing about being from a dairy farm family? 
I enjoy the thought that we are converting solar energy into food, fiber and energy to nourish animals, plants, and people – in an environment that directly involves family. I like that we create products needed by society.
What is your family's favorite meal?
Every recipe that we have tried in the Cabot Cookbook, we want to try again. Every kitchen should have one!
What is your favorite time of year on the farm?
Every day can be the best day if we let it. Nature is majestic and it is all around us as farmers.
What is the next big sustainability story on your farm? 
Generational transfer…which is yet to be accomplished.
Does anyone in your family participate in any volunteer activities in the community? 
Like most farms, we are tied closely with our community… in our case we have family members involved in Church, schools, fire and rescue, home health and hospice, United Way, elderly services, hospital boards, and town boards. Community participation is part of our DNA.
What do you think is your greatest accomplishment on the farm? 
Developing an integrated system or model for managing nutrients generated from internal and external sources…basically closing the loop that is compatible with the environment and is sustainable.
What is one thing you would like people who have never experienced farm life to know?
Farming uses lots of science, natural resources, animals, and people to continually make improvements in how we interact with our environment and provide safe food, fiber, and energy for the world. It sound grandiose, but really that is what farming is all about – whether you are raising crops, dairying, raising livestock, etc.
People should also realize there are a lot of challenges and risks along the way. You cannot control all of them, but it's a very rewarding way of life and an important aspect of our society.