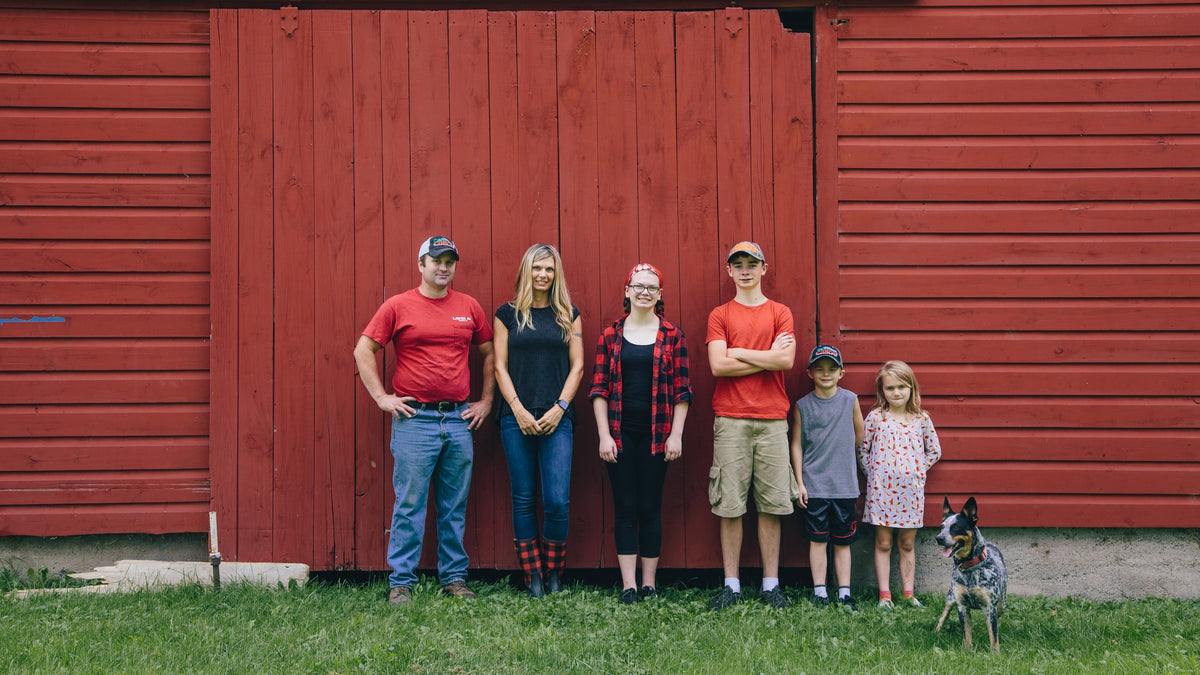 #FarmLove – Lucas Dairy – Thankful for Mentors
Jon Lucas grew up in New Hampshire helping out on his family's small beef and hay operation. It was not their main source of income, but slowly and surely it directed him towards what would become his. He chose to attend Vermont Technical College to study dairy and, he jokes, "I've been addicted to dairy since."
As first-generation dairy farmers, Jon and his wife, Kristie, worked for eight years in New Hampshire before seeking out opportunities in Vermont. Since arriving in the Green Mountain State in 2007, they have gradually built towards their own farm with mentorship and support from two seasoned co-op member farms for whom Jon says they are incredibly thankful.
"It's not easy to start out when you're first generation" Jon says. "You've got to have people like them who are willing to put their trust in you." In turn, the senior farmers are thankful to Jon and his family for taking the baton and keeping the tradition of dairy going strong.
The Lucas's first landed in Starksboro at The Russell Farm, where Dave Russell's in-laws started farming in 1969. "It meant a lot to my wife's family when we took over," Dave recalls. By 2007, though, Dave was looking to pull back on the dairy and focus on the farm's Christmas tree business, grass-fed beef, maple and hay.
"I was looking for someone to take over the cows," Dave explains, "but there's not many young farmers like Jon who come up. So many farms are going away. To have a young family come in and keep it going was a very nice thing."
"We worked together as a team for three years," Dave says. "I felt really good getting to know Jon. He was pretty sharp when he got here and I feel like we gave him a good start." In 2012, the Lucas family took over the herd and leased the land from the Russells. "I slept in really good the next morning," Dave says with chuckle.
As the years went by, though, one of the Russell grandsons chose to pursue studies in diversified agriculture at Vermont Technical College. Ultimately, Dave says, "We weren't prepared to sell the farm," but, as fate would have it, the Lucas's found another great match nearby.
Brothers Tom and Mike Audet had worked together for 40 years at their Ledge Haven Farm in Orwell. The Audet family first came to the area from Canada to farm in the 1930s. Between them, Tom and Mike and their wives had six kids, all of whom love the farm and still live nearby, but none chose to go into agriculture. "We ran out of family members to carry on the family business," says Tom.
"We started thinking about the transition," he continues. "We called up the Vermont Land Trust and asked if they knew anyone looking for a lease-to-buy deal. Of the list of 12, we interviewed four and right away Jon and Kristie and their family just clicked."

The brothers still do all the fieldwork, run their own maple operation and offer as much support and advice as Jon needs. "We told him, 'We're here to help you be successful,'" Tom says. "I still live in my house on the farm. I see that he comes in early and is the last one to leave. It reaffirms our decision that he was the one."
"Sometimes when Jon is leaving, I'll be sitting on the deck and I'll invite him over to have a cold drink, sometimes even cheese and crackers," Tom adds with a smile. "It's his time and my time to talk it out. It takes more than falling into it, you have to work at it. Jon and his family are a really good fit both for the farm and for the community. Our grandkids have become friends with their kids. We are all thankful that everybody's happy."
---
While some of our longtime co-op members might pass the baton on the dairy part of their farm, they often remain closely connected to the land in other ways.
Dave Russell and his family open the day after Thanksgiving for on-farm Christmas tree harvesting with a horse-drawn wagon ride and hot chocolate in a cozy pond-side cabin. (It's become a family tradition for this writer, in fact, way before I knew they were a co-op member!) Learn More!
And the Audet brothers of Ledge Haven Farm have an active maple syrup business from which you can order a sweet taste of Vermont shipped around the country.