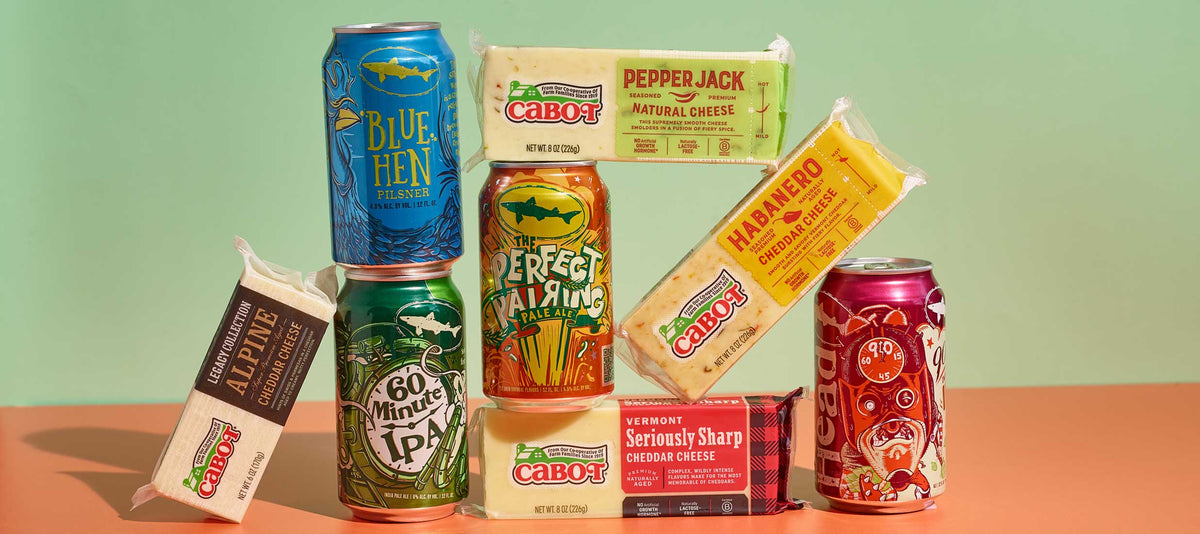 Beer & Cheese: The Perfect Pairing with Dogfish Head
We've teamed up with our pals at Dogfish Head to create the perfect beer for pairing with our Seriously Sharp Cheddar! The Dogfish head team developed this beer from a sensory perspective alongside the Cabot team. The beer uses our Whey Protein and some of our cultures (the same ones we use to make our cheddar!) What resulted is The Perfect Pairing Ale. It's a hazy pale ale that's unfiltered, hop-forward, and citrusy in the most perfect way. The Perfect Pairing ale is available in the Party Pack which has three other delicious beers that we've paired with a few of our go-to cheeses! Let's get pairing:
Seriously Sharp Cheddar
 

& The Perfect Pairing Pale Ale
Unfiltered, hop-forward, and citrusy in the best way! The Perfect Pairing was developed from a sensory perspective to pair perfectly with Cabot Seriously Sharp Cheddar. The nutty saltiness of the cheddar accentuates the tropical flavors of this hazy beer, while the bitterness in the hops cut the slight sweetness of the cheese.
Alpine Cheddar & 60 Minute IPA
Continually hopped and brewed with Northwest hops, 60 Minute IPA has a bright, citrusy hop character that's well balanced by a unique cheese like Alpine Cheddar. The malt of 60 Minute matches the smoothness of the Alpine Cheddar, while the carbonation and bitter notes cut through the hints of Swiss and parm in this delicious cheese.
Habanero Cheddar
 

& 90 Minute IPA
This well balanced Imperial IPA is brewed with a ton of hops, but is delightfully balanced and complex enough to pair with an intensely spicy Habanero Cheddar. The slight sweet notes of the malt in 90 Minute highlights the intensity of the cheese and it brings out the tanginess for a seamlessly delicious pairing.
Pepper Jack
 

& Blue Hen Pilsner
Blue Hen's minimal ingredient list makes it a perfect mate for a cheese as interesting as Pepper Jack. The simplicity of the beer is well balanced by the creamy but spicy elements in this cheese, allowing the aromas and flavors to shine while finishing with just a hint of sweetness.
---
Want to find the Perfect Pairing Party Pack near you? Check out Dogfish Head's Fishfinder.
Watch Dogfish Head's founder Sam Calagione and Cabot's R&D Food Technologist Maegan Olsen chat about how this beer came to life: