Category
Dips Spreads & Dressings
Servings
Looking for a fun appetizer to try out? This black olive tapenade recipe features an exotic blend of Kalamata black olives and raisins that's both satisfying and flavorful. This particular recipe makes for eight servings, and it's best when served with Cabot Alpine Cheddar, although it can also be paired nicely with Cabot Seriously Sharp Cheddar, as well. After trying this recipe, rate and review it, and make sure to share any thoughts about it on Facebook or Twitter!
When preparing this recipe for black olive tapenade, there are a few simple steps that need to be followed: combine pitted black olives with raisins, lemon juice, garlic and pepper in a food processor or blender. Once that's completed, make sure to puree the mixture until it's smooth. Once that's finished, this spread can be paired with some of our award-winning cheddar cheeses, or it can be paired with some freshly baked bread or crackers. This dish is also a great one to serve at parties, family gatherings and cookouts, or as an appetizer before a main course. It's a great one to share with family and friends!
Cabot specializes in award-winning cheeses, and we're confident that dish will be even more enjoyable when paired with some of our delicious cheddar cheeses. Furthermore, we understand just how important it is to eat right, which is why we make sure that all of the recipes featured on our site call for only the freshest ingredients. Lastly, we enjoy receiving feedback, so after trying this black olive tapenade recipe, make sure to rate and review it. Also, feel free to share on Facebook, Twitter or Pinterest—we know your family and friends will love!
Ingredients
½ cup pitted black olives, such as Kalamata
2 tablespoons raisins
1 tablespoon lemon juice
2 teaspoons fresh chopped basil
½ clove finely grated garlic, or to taste
¼ teaspoon ground black pepper
Directions
COMBINE olives, raisins, lemon juice, basil, garlic and pepper in a food processor. Puree to desired smoothness.
Nutrition
Amount/Serving
% Daily Value
Fat

2 grams
3%

Saturated Fat

0.5 grams
3%

Cholesterol

0 milligrams
0%

Sodium

138 milligrams
6%

Carbs

3 grams
1%

Fiber

0 grams
0%

Protein

0 grams

Calcium

5 milligrams
1%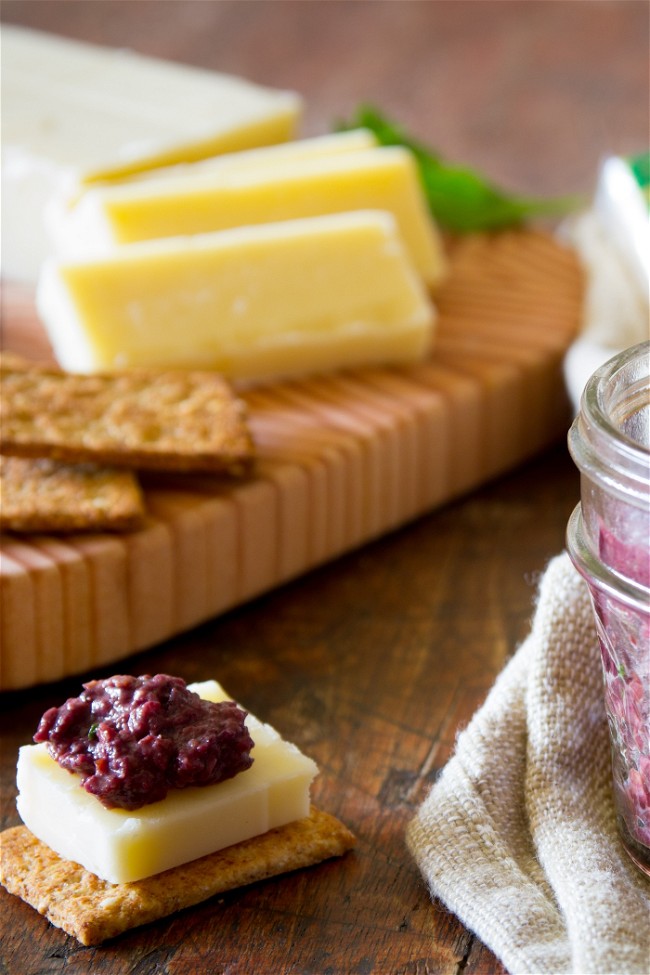 Recipe Tips
This recipe pairs nicely with the Cabot Alpine Cheddar or Cabot Seriously Sharp Cheddar.