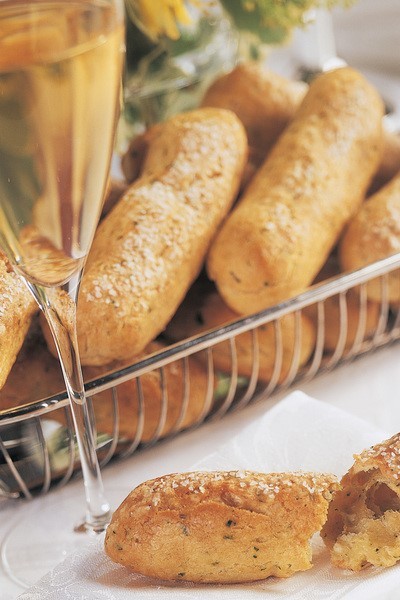 Cabot Cheese & Chive Matzo Meal Breadsticks
Whether you're looking for matzo meal recipes to serve at a Passover celebration or to enjoy with dinner any day of the week, you're going to go nuts for this matzo meal breadstick recipe. Featuring a flavorful combination of chopped fresh chives and Cabot Extra Sharp Cheddar, these breadsticks are guaranteed to be a hit with family and friends. And, since it only takes a half-hour to bake 12 of them, you can easily make more batches if you'll be entertaining a crowd. Feel free to share this yummy cheese breadsticks recipe on Facebook, Twitter or Pinterest.
Wondering how to make cheese breadsticks? You won't believe how simple the process is! First, you'll need the following ingredients: a half cup of peanut oil, some water, chopped fresh chives (you can use dried chives, but we always recommend using fresh herbs, if possible), salt, matzo, four eggs and Cabot Extra Sharp Cheddar.
Once you have all your ingredients ready, preheat your oven to 400°F and spray a baking sheet with non-stick cooking spray. Follow our step-by-step instructions below and then bake for 25 minutes. You'll know that the breadsticks are done once they turn a rich, golden color.
If you're on the hunt for other delicious breadsticks, try our Cheesy Cauliflower Breadsticks next. Did you know Cabot is a co-operative of over 800 farm families who continuously strive to produce the best dairy products around? If you love these matzo meal breadsticks as much as we do, we'd really appreciate it if you could rate and review the recipe when you have the chance.
Ingredients
½ cup peanut oil

1 cup water

3 tablespoons chopped fresh chives or 2 ½ teaspoons dried

2 ½ teaspoons kosher salt, divided
2 cups matzo meal

2 ½ ounces Cabot Extra Sharp Cheddar, grated (about ⅔ cup)

4 eggs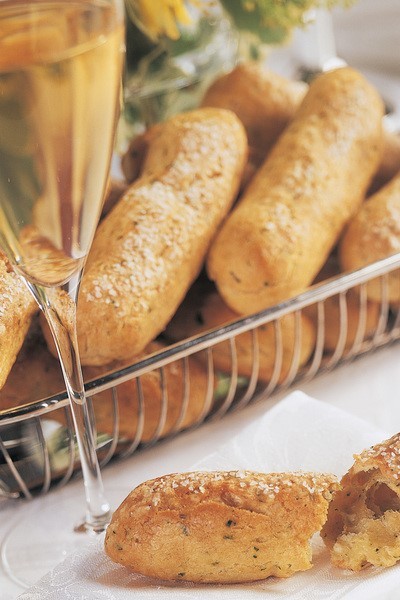 Directions
PREHEAT oven to 400°F. Spray a baking sheet with non-stick cooking spray.
BRING to a boil in a medium saucepan oil, water, chives and ½ teaspoon salt over high heat.

REMOVE from heat and stir in matzo meal all at once. Add Cabot Extra Sharp Cheddar, stirring briskly until mixture leaves the sides of pan.

TRANSFER to a food processor. Add eggs, one at a time, processing to mix well after each addition.
SHAPE dough into 12 sticks, about 4 inches long and ¾ inch thick with wet hands. Place on prepared baking sheet. Sprinkle with remaining salt.
BAKE in preheated oven until puffed and golden, about 25 minutes. Cool on a wire rack before serving.
Nutrition
Amount/Serving
% Daily Value
Fat

13 grams
20%

Saturated Fat

3 grams
15%

Cholesterol

77 milligrams
26%

Sodium

454 milligrams
19%

Carbs

18 grams
6%

Fiber

1 grams
0%

Protein

6 grams

Calcium

60 milligrams
6%