Servings
Prep Time
Cook Time
This healthier version of the "Kitchen Sink" cookie uses whole-wheat flour, puffed rice cereal, coconut, nuts, and dried fruit instead of candy, cookies or salty snacks.
Ingredients
1 cup Cabot Unsalted Butter (2 sticks)

¾ cup packed brown sugar

¾ cup granulated sugar

8 ounces Cabot Extra Sharp Shredded Cheddar

2 large eggs
1 teaspoon vanilla extract
2 cups whole-wheat flour 
1 teaspoon baking powder

¾ teaspoon baking soda

¾ teaspoon salt

⅓ cups old-fashioned rolled oats

½ cup puffed rice cereal, such as Rice Krispies or Rice Chex.

½ cup unsweetened coconut flakes

½ cup toasted unsalted chopped nuts, such as almonds, walnuts and/or pecans

½ cup dried fruit such as raisins, cranberries, blueberries, chopped dates and/or cherries
Directions
LINE a large rimmed baking sheet lined with parchment.

BEAT butter, brown sugar, and granulated sugar with a stand mixer on medium speed, scraping down the sides of the bowl as needed, until the sugar is dissolved and has lightened in color, about 3 minutes.

ADD shredded cheddar and beat until combined, about 30 seconds. Add eggs one at a time, scraping down the sides of the bowl between additions, and beat until incorporated. Add vanilla and beat until combined.

STIR flour, baking powder, baking soda, and salt in a medium bowl until combined. Add the flour mixture to the butter mixture and beat on medium until just combined, about 30 seconds. Add oats, cereal, coconut, nuts and dried fruit and mix until just combined.

FORM the cookie dough into 36 balls and place onto the prepared baking sheet. Refrigerate for 1 hour to overnight (for best results refrigerate overnight).

PREHEAT the oven to 350°F when ready to bake. Place 12 cookies on a large rimmed baking sheet lined with foil. Bake the cookies on the middle rack in batches, rotating the pan half-way through, until the cookies are golden on the edges and shiny and wet looking in the middle, about 10 minutes. Let cool on the pan for 5 minutes then transfer to a cooling rack and let cool an additional 10 minutes before serving.
Nutrition
Nutrition
Serving Size

1 cookie or 1/36 of recipe
Amount/Serving
% Daily Value
Fat

9 grams
14%

Saturated Fat

5 grams
25%

Cholesterol

30 milligrams
10%

Sodium

135 milligrams
6%

Carbs

17 grams
6%

Fiber

1 grams
4%

Sugar

10 grams

Protein

3 grams

Calcium

65 milligrams
6%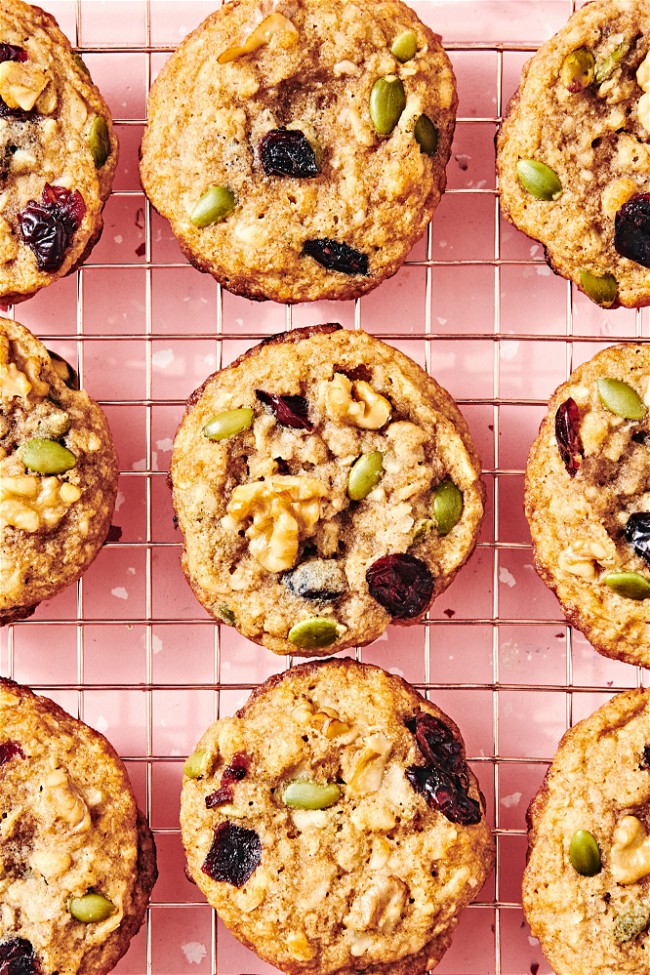 Recipe Tips
Check your pantry and fridge for healthy ingredients to
bake into a cookie including Cabot Cheddar cheese!
Cabot's Kitchen Sink Cookie is another, more decadent version using kitchen
pantry items like chocolate candies, potato chips or other left-over sweet and salty snacks.