Cheddar, Thyme, and Caramelized Onion Hand Pies
Servings
Prep Time
Cook Time
Ingredients
Pie Dough

3 cups unbleached all-purpose flour
1 ½ teaspoons sugar (optional)
1 teaspoon salt

1 cup cold Cabot Unsalted Butter or Cabot Extra Creamy Premium Unsalted Butter, cubed

½ cup ice cold water

Caramelized Thyme Onions

2 medium white onions, sliced

1 tablespoon Cabot Unsalted Butter or Cabot Extra Creamy Premium Unsalted Butter

½ teaspoon fresh thyme, leaves removed from stems
¼ teaspoon salt
1 teaspoon balsamic vinegar (optional)
Water or broth, as needed

Cheddar Thyme and Caramelized Onion Hand Pies

Pre-made pie dough

4 ounces Cabot Extra Sharp White Cheddar, shredded (1 cup)

⅓ cup caramelized thyme onions
1 teaspoon fresh thyme, leaves removed from stems
1 large egg
½ tablespoon milk
Directions
Pie Dough
WHISK the flour, sugar (optional), and salt together in a large mixing bowl.
CUT cold, cubed butter into flour mixture using a pastry blender or your fingertips until the butter is the size of peas.
MIX ice cold water 1 tablespoon at a time into flour-butter mixture just until dough comes together. When you squeeze some of the dough in your hand and it holds its shape, the pie dough is ready. You may not need to use all of the water.
TRANSFER dough to a work surface, divide into two equal parts and shape into 1-inch thick flat discs. Tightly wrap each disc with plastic wrap and refrigerate for at least 2-3 hours or overnight.
Caramelized Thyme Onions
MELT butter in a medium frying pan on medium heat.
ADD onions and thyme to pan and stir to coat in butter. Sprinkle onions with salt and stir once more.
REDUCE heat to low and stir onions intermittently (about 2-3 minutes) allowing them to cook and caramelize. If onions look like they are drying out, add 1 tablespoon at a time of water or broth to deglaze and rehydrate the onions. Make sure to gently scrape the base of the pan once water or broth is added. This will add more flavor to the onions as it caramelizes. Continue this process of stirring and rehydrating the onions (if needed) until onions take on a deep golden brown color, about 30-45 minutes.
STIR the balsamic vinegar (optional) into caramelized onions before transferring to a bowl to cool to room temperature. Leftover caramelized thyme onions may be stored in an airtight container and will last up to one week in the refrigerator.
Cheddar Thyme and Caramelized Onion Hand Pies
LINE two large baking sheets with parchment paper. Set aside.
MIX the cheddar cheese and thyme together in a small mixing bowl.
WHISK the egg and milk together in a separate small bowl.
ROLL one of the discs of pie dough into a 12 inch circle.
CUT ten 4 inch circles from 12 inch pie circle using a large circle cookie/biscuit cutter. You will need to re-roll and repeat cutting process 2-3 times to get a total (10) 4 inch circles.
APPLY egg wash to the outer rim of the pie cutouts using a pastry brush.
ADD 1 teaspoon of cheese and ½ teaspoon of caramelized onion to the top half of each pie cutout. Bring the opposite end of pie dough over the filling to enclose it. Gently press the outer ends of the pie dough together and use a fork to crimp.
TRANSFER hand pies to one of the prepared baking sheets. Repeat this process with the remaining disc of pie dough and fillings for a total of twenty hand pies.
PREHEAT oven to 400F.
PLACE hand pies in the freezer for at least 30 minutes to allow butter to harden/firm up before baking. If you do not have enough space in the freezer for two baking sheets, all 20 hand pies may be placed on one large baking sheet to freeze. Once ready to bake, divide hand pies between two baking sheets or bake in batches.
MAKE three small slits on the tops of each hand pie with a paring knife. Next, brush the tops of each hand pie with remaining egg wash using a pastry brush. Ensure that each hand pies are spaced at least 1-2 inches apart with no more than 10 hand pies per baking sheet.
BAKE hand pies for 22-24 minutes, rotating the pans halfway through bake time. Cheddar thyme caramelized onion hand pies are ready when the crust appears golden brown and flaky.
COOL cheddar thyme and caramelized onion hand pies on baking sheets for 4-5 minutes before transferring to a cooling rack to cool to room temperature. Alternatively, hand pies may be served warm.
Nutrition
Nutrition
Serving Size

1 Hand Pie
Amount/Serving
% Daily Value
Fat

10 grams
15%

Saturated Fat

6 grams
30%

Cholesterol

35 milligrams
12%

Sodium

150 milligrams
6%

Carbs

15 grams
5%

Fiber

1 grams

Sugar

1 grams

Protein

3 grams

Calcium

13 milligrams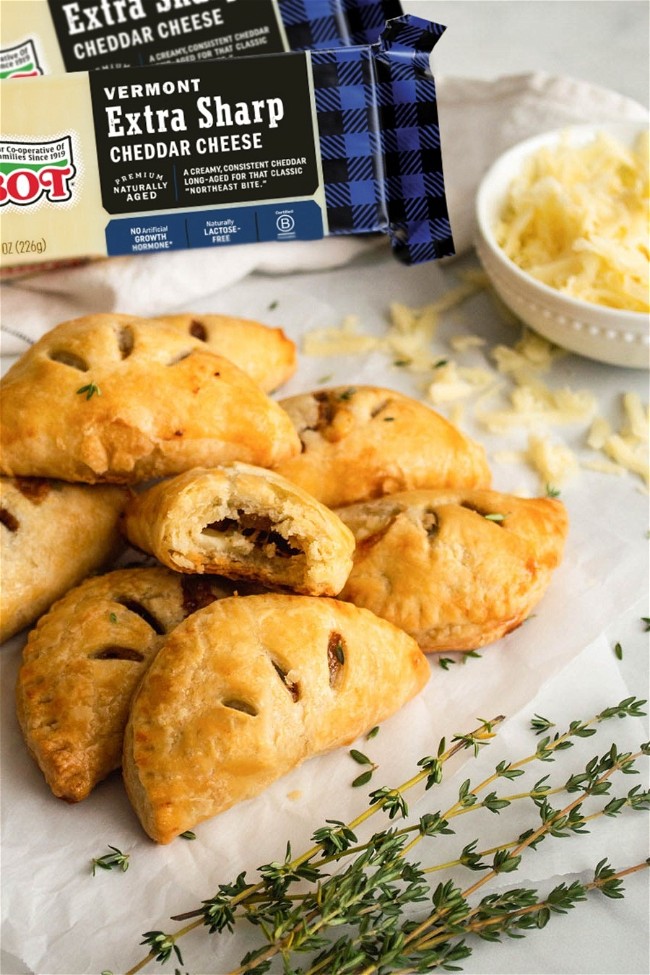 Recipe Tips
Tip: If pressed for time, homemade pie crust may be substituted with store-bought pie crust.