Cheesy Breakfast Sausage Casserole
There's nothing quite like a hearty breakfast, and our sausage casserole recipe is filling and absolutely delicious—it's what we like to call an authentic farm family recipe! A sausage casserole is simple to make, and you can cook it up quickly too. The recipe, which serves eight, uses basic pantry staples like bread, sausage, and cheddar cheese—we recommend using Cabot's Seriously Sharp Cheddar, Seriously Sharp Shredded Cheddar or 2 Year Cheddar cheese. The dish saves well so you can snack on the leftovers for a good long while. Do you know a family member or a friend who might like to try our delicious sausage casserole? If so, please feel free to share the recipe with your friends and family on Facebook, Pinterest and Twitter. We're positive that they're going to love it!
This breakfast sausage casserole is one of our most popular dishes, and we're excited to share our recipe with you. Once you're ready to start cooking, you'll need to pick up some whole grain or white bread, one pound of sausage, eggs, milk, yellow mustard, salt, ground black pepper and some Cabot Seriously Sharp Cheddar, Seriously Sharp Shredded Cheddar or 2 Year Cheddar cheese. The great thing about sausage casseroles is that all you need to do is combine all of the ingredients into a baking dish and then pop it into the oven for 45 minutes—then you're all done. Honestly, how much easier does it get than that?
We love sausage recipes, and if you're a big fan of sausage dishes, then we recommend you check out this recipe for Sausage Cheddar Balls. Also, did you know that Cabot is a dairy cooperative of New England and New York farm families? So, we're pretty much experts when it comes to producing top-notch dairy products. We're confident that you're going to love our breakfast sausage casserole recipe, but we'd love to hear your feedback. If you think there might be a way to improve this recipe, or if you just want to tell us how much you loved it, then go ahead and rate and review it.
Directions
PREHEAT oven to 350°F. Coat 8-by-10-inch or similar-sized baking dish with nonstick cooking spray.
TEAR bread into small pieces and scatter over bottom of dish. Top with sausage.

WHISK eggs in a medium bowl until combined; whisk in milk, mustard, salt and pepper. Pour over bread and sausage. Sprinkle cheese over top.

BAKE uncovered for 35 to 45 minutes or until set all the way to center (knife inserted in center comes out clean).
SERVE warm drizzled with maple syrup if desired.
Nutrition
Nutrition
Serving Size

1/8 recipe
Amount/Serving
% Daily Value
Fat

21 grams
32%

Saturated Fat

7 grams
35%

Sodium

690 milligrams
29%

Carbs

9 grams
3%

Fiber

1 grams
4%

Protein

23 grams

Calcium

215 milligrams
22%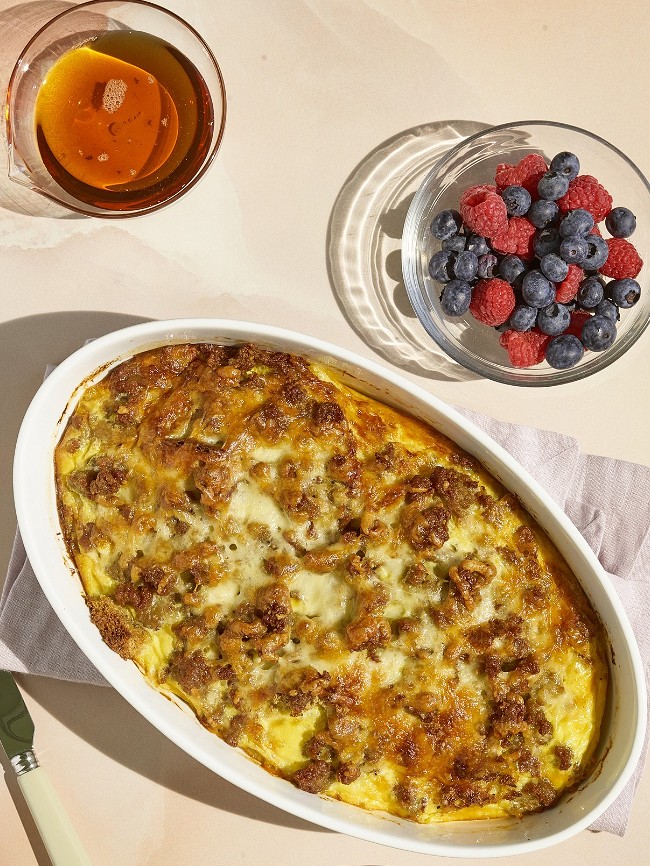 Recipe Tips
Also, try these tasty recipe variations – as seen in the video above:
Chorizo Sausage and Pepper Jack:
Use ground chorizo instead of the sausage, and then try swapping in Cabot Pepper Jack cheese instead of the Seriously Sharp. You can also top this zesty & slightly spicy casserole with fresh guacamole and salsa.
Bacon and Colby Jack:
Use cooked chopped bacon in place of the sausage and try our creamy Colby Jack Cheese in place of the Seriously Sharp! This variation is extra delicious when topped with our Sour Cream and chopped scallions.
Ham and Vermont Sharp Cheddar:
Use cubed ham in place of the sausage and try our smooth Vermont Sharp Cheddar instead of Seriously Sharp. We love this classic combo topped with freshly chopped tomatoes and basil.